By Nate San Nicolas
There's a certain name that has gone under the radar in the football community, and no, it's not just Will Williams. Jordaine "DaeDae" Sablan is a former Guam resident who has shined on the soccer field during her high school years in San Diego, and after she graduated in 2012, she decided to cleat up for a much different sport where she continued to impress spectators. After hitting the books at Mesa College in San Diego, DaeDae is crushing bones and scoring touchdowns for the San Diego Surge Women's Professional Football team.
DaeDae's footwork from soccer made her the perfect fit at the running back position, and given her speed and agility, you could see her on both sides of the line playing outside linebacker as well. However, football is a tough sport to transition in to.
"Soccer is all about footwork and when I transitioned over to football they positioned me as a running back, so the drills weren't that much different. However, it took me awhile to get used to the hitting and tackling," replied DaeDae when asked how her introduction to football went.
That physicality and rough play can be very daunting for rookies of the game, but her athletic prowess and amazement for the game motivated her to continue strapping up for practice. 
"The most intriguing thing about watching women's football was watching women play football. It blew my mind in general, and had I not known those were women on the field, I would have never guessed. They were killing it out there too," said DaeDae.
The attachment of masculinity to football is a common stereotype, but DaeDae, along with other female athletes, continue to the break barriers with every touchdown scored and every tackle made on that field. With DaeDae's 13 TD's in the 2013 season, she earned the 2013 Offensive Player of the Year for the Women's Football Alliance (WFA).
The SD Surge is an impressive team to be a part of as well, as they finished the 2014 regular season undefeated, blowing teams out by as much as 99 points. The Surge also moved on to the WFA National Championship, where they fell short of the trophy losing to the Boston Militia. However, at only 19 years-old, it shouldn't be surprising if DaeDae and the Surge get another run at the National Championship.
Women's football has grown in popularity on Guam throughout the past couple of years, shining light on the island's toughest female athletes. Rough and tough is definitely what these ladies put out on the field, and each weekend during the season they do not disappoint. DaeDae is a part of that group to get dirty in the trenches and fight for every year and every inch.
"The one thing I enjoy about playing football is putting my trust in my teammates by running behind their blocks. It truly is an amazing feeling, knowing your teammates have your back like that. I have never felt that with any other sport I've played."
These words from DaeDae are especially powerful to anyone who has put on a helmet and pads. There's more to the game than just tackles and touchdowns. It extends towards to will to put your teammates before self, and DaeDae is definitely living that experience.

2022 GSPN I MÅS METGOT COMPETITION
I Mås Metgot Athlete Spotlight: Tim Nauta
2022 GSPN I MÅS METGOT COMPETITION
I Mås Metgot Athlete Spotlight: Tim Nauta
2022 GSPN I MÅS METGOT COMPETITION
I Mås Metgot Athlete Spotlight: Tim Nauta
QUICK HITS
Guam boys Kekoa Toves and Matias Calvo went head-to-head on the rugby pitch as American International College took on Dartmouth College, both top-ranked men's rugby programs in the country.
Calvo (FD) is the captain of Dartmouth and scored, but Toves (Sanchez) and his AIC squad came away with the win in Springfield, Mass.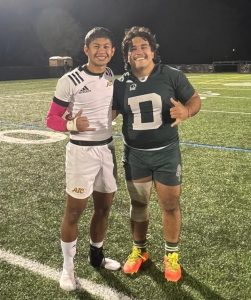 ———————————————–
1LT Belizabeth Nicole V. Rengiil is known to be the first female from Guam and Palau to make the All-Army Women's Rugby Team. She is an active duty Signal Officer with the US Army and is stationed at Joint Base Lewis-McChord in Washington.
Her team won the Armed Forces Women's Rugby Championship with a 4-0 record.
Belizabeth is the daughter of Edwin and Juliana Rengiil with siblings Johanna and Edwin-Isaiah Rengiil from Mangilao.