By GSPN Staff
Merry Christmas GSPN fans! Tis the season to be very jolly, and though there will be no sports being played on Christmas day, the staff of GSPN wanted to share some cool stories with you to spread some holiday cheer!
It's become a rarity, at our staffs current age, to receive toys on Christmas so we're taking a trip down memory lane. The topic this time around was to think way back, when you were a kid, and recall a toy, or toys, you received and why it was the 'coolest' one from those younger years. Here's our responses!
GSPN CEO Patrick Lujan 
There was no internet back then and chonka was still the Chamorro game to play. I'd have to say my favorite toy was a cool Spiderman doll, which was later stolen by my neighbor. Up to today, I'm still mad at him for stealing it :).
Sports Director Robert Balajadia 
Before my Christmas gifts in my preteen/teenage years consisted solely of video games and clothes, the coolest toys I received between the ages of 5-10 for Christmas was a collection of Ninja Turtles (old school ones), Street Sharks, Biker Mice from Mars, The Animated Mighty Ducks Series, and Earth Worm Jim action figures. I was an only child, so my mother spoiled me just a tad bit every Christmas. Mom was also not too great at hiding my gifts so I was always able to get a sneak-peak a few days before Christmas because she always hid them in the same spot. If you don't know who the Street Sharks, Biker Mice from Mars, The Animated Mighty Ducks Series, or Earthworm Jim are, then you obviously didn't grow up in the 90's! (That, or your cartoon game was weak!). I still have a bunch of them stored away at my parents house. Now-a-days, kids want tablets, phones, and other tech stuff, though receiving action figures was ALWAYS the best gifts back then!
Reporter Jesse Pinkston Santos  
When I was 11 I remember sneaking into my parents' closet to try and find presents.  I found this small stuffed animal, a horse.  A conversation came up between my mother and me, asking what I wanted for Christmas.  Not thoroughly thinking about my answer, I told her I wanted a stuffed horse.  Obviously I was busted.  To this day I still have that stuffed horse.  Terrance is 20 years old already and I plan to give him to my child one day.
Photographer Joey Blas  
When I was at the age of 5 years old, the coolest toy that I received for Christmas was a baseball bat and glove. Baseball was a passion of mine and till this day it will always be a passion. The baseball bat and glove was a gift that will never be forgotten. It was the start of my passion and the golden ticket for being a baseball player. Baseball and softball still lingers in the family tradition with my two children. This is one of the reason why this gift was the coolest toy and gift that will ever be a sentimental value to me.
Reporter Asha Robles 
The "coolest" toy I received as a little girl was one of those "Life-sized Barbies". They were awesome because I always loved the dresses they had on and since they were life-sized, I could wear them! The only downfall was that I was scared as hell from the huge Barbie that was standing in the corner of my room. Eventually, the Barbie would be stuffed in the closet! I hate dolls! Just wanted one for her clothes!
Reporter Mike Nauta Jr.
Christmas as a kid was always filled with good and fun times.  It was when I was seven years old that I got what I've always wanted as a kid, a complete set of HE-MAN action figures with castle grayskull and battle cat. Christmas was and always has been great since then.
Reporter Jeff Ochavillo 
When I was between the ages of 5-10 the coolest toy I got for Christmas was probably my Nintendo DS. For me, I've always been the one who gets on the famous trend very late. When I was around that age, every kid had the latest gaming consoles like the PSP, Xbox, and Playstation. I only had my torn up Nintendo Advanced SP. I was always ashamed to take it out in front of my friends because they always had something better. But once I had my Nintendo DS, I was able to join IN the fun that every kid was enjoying with the friendly wireless gaming connection games, and it lasted me for a couple of years. It was one of the few gifts that gave me years of entertainment, and I usually got tired of my Yu-gi-oh cards and I always outgrow the clothes my relatives give me.
But Christmas isn't not about the gifts you get. Always keep in mind the love you share with the people you are with because that will always be irreplaceable. Merry Christmas and Happy Holidays!
Reporter Michael Cruz 
The coolest toy I ever got was the Atari 2600 in 1983. I played pac man and yars revenge so much the machine overheated.
Reporter Jose Terlaje
The first toy I can remember getting was a power wheels jeep. I used to drive that thing all over my yard with my older sister riding shotgun. I always drove around until the battery died out. It made me feel like speed racer.

QUICK HITS
3rd place: Big ups to the Para Todu Rugby Club for finishing 3rd out of 16 teams in the Manila 10's Rugby Tournament today. Biba Guam Rugby!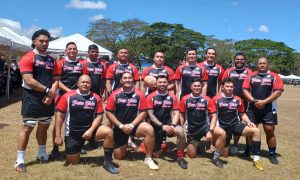 ——————————————
Guam MTB National Championship: Edward Oingerang and Jennifer Camacho are your 2023 MTB national champions. Oingerang finished the course in 1:13:24 while Camacho won her second straight title in 54:08.