[useful_banner_manager_banner_rotation banners=55 interval=5 width=200 height=200 orderby=rand]
By Robert Balajadia
In less than 24 hours of repeating as girls basketball champions, the Southern Dolphins baseball team held off a 6th inning rally by the GW Geckos at the Paseo Stadium Saturday afternoon to get their back-to-back baseball title in a 4-3 victory.
The Geckos dug themselves into a deep hole in the bottom of the first inning after five errors eventually led to the only four runs the Dolphins would score all game.
Despite getting into the big hole, the Geckos managed to score their first run off a pass ball in the top of the 5th inning which would begin their comeback. The bases were loaded for Dolphins starting pitcher Cody Terlaje for the second time all game in the 5th, but calm heads prevailed to allow the Geckos from getting more than one run.
"I've encountered situations like that when we met in the regular season and I just thought to myself, 'throw your stuff and let it work,' and it did," said Terlaje.
A dry 6th inning as both teams went three up, three down set up a dramatic finish.
Gecko Calvin Valentine got on base as Terlaje had trouble securing the grounder, causing a late throw to first base. A balk allowed Valentine to take second base which set up teammate Isaiah Nauta to knock in an RBI single through the right side of the field, bringing Valentine home to cut the lead 4-2.
Terlaje then made a strong stand getting his fourth strikeout to put the Dolphins within a single out to win it all. In the process of a strike, Nauta advanced to 3rd base which proved to be a pivotal play. A wild pitch allowed Nauta to score the much needed run to get within 4-3.
Terlaje was then a single strike away from ending the game until he got his third strikeout on the Geckos catcher, but a pass ball on play allowed the Gecko to advance to first.
Southern then elected to retire Terlaje with 4K's to bring in Nicholas Sablan.
"I had faith in [Terlaje] and wanted to leave him in, but our coaches made the decision and I trusted them. But when [Sablan] came in, he came in and played good," said the Dolphins birthday boy and catcher Anthony Chaco.
Sablan didn't need much time as his pitch was met with a grounder by the Geckos as Dolphin Isaiah Cruz scooped up the grounder, tossing it to second base to wrap up the game.
No ERA's
Not a single run through the first six innings were earned runs. Southern quickly went up 4-0 after the first inning, which proved to be the biggest inning at the end.
Dolphins Nicholas Sablan got a lead single followed by another hit by Nathan Sablan to put two Dolphins on base in the first. Then the errors ensued for GW.
An error from the shortstop allowed Nic Sablan to bring in the games first run. A pass ball allowed Nate Sablan to get the Dolphins up 2-0 followed by an errant throw to first base to tack on another run for Southern.
Before the innings end, a pass ball allowed the Dolphins to punch in the final, eventual game winning run.
"It was a very emotional inning. After I got those two outs, the crowd was going wild. My teammates kept telling me to keep calm. Everytime I got on the mound, a different member of my team came to calm me down and it motivated me," ended Terlaje.
PHOTO GALLERY:

QUICK HITS
Guam MTB National Championship: Edward Oingerang and Jennifer Camacho are your 2023 MTB national champions. Oingerang finished the course in 1:13:24 while Camacho won her second straight title in 54:08.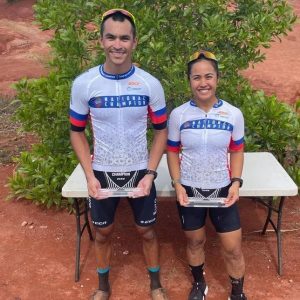 ——————————————
Kobe Miyashita, with St. John's coach Arvin Flores, was named the 2023 IIAAG Middle School Boys Volleyball MVP!