[useful_banner_manager_banner_rotation banners=9,17 interval=8 width=120 height=600 orderby=rand]
By Robert Balajadia
The Southern Dolphins girls softball team's quest for a five-peat got underway Saturday morning by beating the Sanchez Sharks 15-2 via 10-run mercy rule on a perfect sunny morning.
Though the game moved at a slow pace, Dolphins' Brielle Meno was just happy to get out on the field.
"It feels good to start the season, it's been a while since we all played. It just felt good to get out there. The games that were canceled were a bummer since we've been practicing for so long," said Meno.
First game jitters along with rust seemed to affect the Sharks from the go. The first inning was a tough one for Sharks pitcher Monica Mendiola who walked the first eight Dolphins batters while giving up eight runs in the opening inning.
Southern nearly got through their full batting rotation and some while Dolphins' pitcher Elyze Pocaigue allowed no runs through three innings.
The Dolphins captured a double-digit lead off an errant pitch that brought in Leona King with Momilani Cruz and Meno adding two more runs to go up 12-0.
Sanchez needed to score four runs in the bottom of the fifth inning for the game to continue, but the Dolphins closed out the fifth by striking out all three Shark batters to end the game.
"We're all rusty right now and we're just trying to get in tune. In order for us to get this five-peat we're going to have to work a lot harder because teams will be coming out to get us," said Meno on starting off the season strong.
With a portion of the season already missed due to rain, the coaches and IIAAG President Martin Boudreau to discuss how to approach the rest of the season.
Other Scores
GW 7, Academy 6
PHOTO GALLERY:

2022 GSPN I MÅS METGOT COMPETITION
2022 GSPN I Mås Metgot Competition Recap
2022 GSPN I MÅS METGOT COMPETITION
2022 GSPN I Mås Metgot Competition Recap
2022 GSPN I MÅS METGOT COMPETITION
2022 GSPN I Mås Metgot Competition Recap
COMING SOON …
Sat: Origin Power Lifting Meet 
ISA Girls Volleyball/Boys Soccer Finals
QUICK HITS
Guam runners complete London Marathon. Former Guam top runners Charlie Epperson and Aysha Perez Epperson along with Cameron ONeal completed the 42nd London Marathon.
Charlie 2:47:56
Cameron 2:59:49
Aysha 3:51:04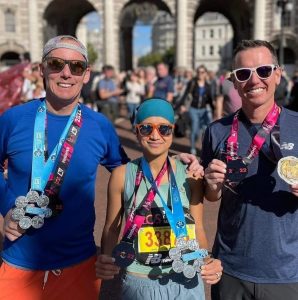 ———————————————–
Trevin Jones drops a unanimous decision 30-25, 30-27, 30-27 to Raoni Barcelos in UFC Fight Night 211 in Las Vegas.