By Robert Balajadia
Former NBA Champion and NBA head coach Sam Vincent spent his first day on Guam speaking to members of the media at the Hilton Hotel Friday afternoon while also visiting the St. Anthony Catholic School, who is responsible for bringing Vincent to Guam.
Vincent is on Guam to host basketball clinics for the youth while hoping to spread knowledge of how important it is to have a goal and work as hard as you can to achieve that goal. Along with basketball, Vincent will look to instill importance of education as well as molding the youth in become responsible individuals.
"I can honestly say it's these programs I'm most excited to be a part of. Not the scoring baskets, but to share with the kids how important it is to have an education and life skill development, work ethic, sacrifice, and discipline. The 18-hour flight means nothing compared to the time I'll spend here," sad Vincent.
In many ways, Vincent will be Guam's ear to the NBA. He assured that his visit is not a one-time deal, like the previous NBA clinic held in the 90's when asked by GSPN CEO Patrick Lujan, nor is it a personal vacation. St. Anthony's Leah Metra played the key role in getting Vincent to Guam and the two have been in talks already for a possible second and third visit.
"I believe we can put together a sustainable program. We want to make sure that we have a presence here moving forward and it's not just the professional opportunity but also the educational opportunity. We want to provide the youth all the tools they need to be successful."
When asked by Lujan about how he will be aiming to steer the dreams of Guam's NBA hopefuls given the major height difference compared to NBA players, Vincent responded by referring to the basics of basketball.
"Basketball at any level is all about the fundamentals. The speed and power may be different, but the core fundamentals are the same. Even though athletes here might be shorter we still want to teach them proper shooting technique, defensive techniques, and proper worth ethic are transferable regardless of size."
Vincent shared that a lot of retired professional athletes had a story on how they got the their respective pro sport and Vincent's was no different. He was inspired by his older brother Jay Vincent, who was teammates with Magic Johnson in Michigan State, and fell in love with the sport after watching the countless battles they had.
Vincent was also teammates with Michael Jordan in the Chicago Bulls and Larry Bird from the Boston Celtics.
After a lunch at Hilton, Vincent headed over to the St. Anthony school where he received a warm welcome from the entire student body.
"In all my years of playing professional sports this is definitely the most special feeling I've ever had," said Vincent after the school greeted him with a pep rally.
Vincent's interactions with the kids were comical and fun allowing the kids to shake hands with him and ask him questions.
A kindergardener opened the floor with the first question asking Vincent, "What is your name?," which garnered a big laugh from Vincent.
Clinics with Vincent will begin Saturday morning and will continue on through Tuesday before he is scheduled to leave next week Friday.
Here is a line-up of the clinic sessions:
Saturday, April 12th
Clinic session I, 9am-4pm (Intermediate Level)
Lunch 12-1pm
Sunday, April 13th
Clinic session II, 9am-4pm (Advanced Level)
Lunch 12-1pm
Monday, April 14th
Clinic session III, 9am-4pm (Intermediate Level)
Lunch 12-1pm
Tuesday, April 15th
Clinic session IV, 9am-4pm (Advanced Level)
Lunch 12-1pm
PHOTO GALLERY:

QUICK HITS
The Guam Smokin' Hot women's softball team captured first place in the Asia Cup Softball Championships 2023 in Bangkok, Thailand.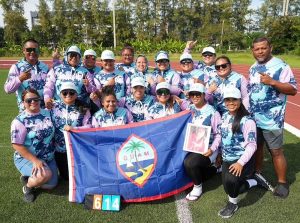 ——————————————————-
Roque Martinez gets the unanimous decision win Saturday night in his debut fight in South Korea's Black Combat promotions.
The 37-year-old controlled the tempo all three rounds and bloodied his opponent with some 3rd round ground and pound.