By Michael Cruz
Lewis Harris took advantage of his invitation to the first ever Life Champion Senior Bowl. Harris caught two passes for 42 yards and returned two punts for positive yards. His team won 42-35 in overtime. The game consisted of 87 players from the State of Hawaii and Guam. The players had the chance to learn under college coaches and play 15 minute quarters. He started at wide receiver, kick returner, and punt returner. His performance garnered the interest of it least six colleges and they encouraged him to apply to their schools.  The bowl is open to having more players from Guam apply in the future.
Opportunity Knocks
I regularly follow high school football on my Facebook blog. On October 25th, I saw a senior bowl game open to the smaller Hawaiian Islands outside of Oahu. I reached out to Doris Sullivan, president of the Pacific Island Athletic Alliance, and asked if they would open a slot for Guam. She reached out to the bowl committee and they said yes.
The deadline to apply was November 7, and time was short. I posted the application on Facebook and hoped for the best. The biggest challenge was getting video of footage of players on Guam. Fortunately, Guam High School had accessible footage to their players. I saw Lewis Harris HUDL highlights and sent them to Chad Ikei. Ikei had some positive feedback and gave the go ahead for Lewis to apply.
Guam High football coach Jacob Dowdell was excited and had Lewis apply. Harris was invited to the Bowl. Next, Chad Ikei visited Guam in November for vacation. During that time he had a chance to evaluate Lewis with some drills. Ikei, who is a renowned strength and conditioning coach, also hosted a strength and agility clinic. He followed up with a football combine. Harris excelled and won the best athlete at the combine (Ran a 4.62 40 yd dash) also with a 9'4″ broad-jump and 4.45 shuttle run time.
671 Represented
Harris arrived on the Big Island and was selected to play for the black squad. His team even adopted a nickname and called themselves the Aztec Coqui Frog Bags. He bonded with his new teammates and practiced three straight days. Game day included a recruiting education work shop. The turnout for the game was decent about 1,500.
The live crowd and fans watching online were treated to a great game. In the end, he represented Guam High and the football talent this island can produce. GW, FD, Okkodo, JFK, Sanchez, Southern, and Guam High have the talent to play college football, it may not be Oregon or Alabama, but it could be a college that plays NCAA, NAIA, or NJCAA.
Quotes
"As a coach you want your kids to have a chance to move to the next level and go off to college and live out their dreams.  Lewis is an all-star student athlete who will get that chance.  But more importantly to me personally is that through his efforts he has opened the door for athletes from Guam to realize their dreams.  We have to do our part as adults and put into place an island wide program that will produce more college ready athletes.  Although I am extremely proud to say he is a Guam High Panther, this is bigger than Guam High School. It is about all the Athletes on Guam." – Guam High Head Football Coach Jacob Dowdell
"I would like to thank God, my mom and dad, Coaches and friends for their support and belief in me.  Special thanks to Michael Cruz, Coach Chad Ikei and all the coaches in Hawaii for giving me the opportunity to go Hawaii and show them what Guam football players can do.  I gave it 110% every day – Lewis Harris
The school showing Harris interest:
Alabama A&M (Division I FCS and John Stallworth's alma mater).
Menlo College (NAIA and EJ Calvo's alma mater).
Western New Mexico (Division II)
Pima Community College
Dickinson College (Division III)
Briar Cliff University (NAIA)
http://westhawaiitoday.com/sports/local-sports/life-champion-senior-bowl-big-crowd-great-action-hilo-s-kelley-shines
[youtube id="mBl4nCFA5H0″ width="620″ height="360″]
[youtube id="bEQx488ZZKI" width="620″ height="360″]
[youtube id="cBishY8pQc4″ width="620″ height="360″]

QUICK HITS
3rd place: Big ups to the Para Todu Rugby Club for finishing 3rd out of 16 teams in the Manila 10's Rugby Tournament today. Biba Guam Rugby!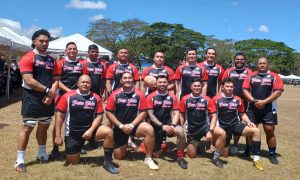 ——————————————
Guam MTB National Championship: Edward Oingerang and Jennifer Camacho are your 2023 MTB national champions. Oingerang finished the course in 1:13:24 while Camacho won her second straight title in 54:08.