[useful_banner_manager_banner_rotation banners=55 interval=5 width=200 height=200 orderby=rand]
By Brad Hewitt
On Guam, many students are eligible for athletic scholarships, yet few are obtained. There are a list of reasons/excuses for this. With the school year now underway, its time to revisit this important process.
In looking for an upper hand in the recruiting process, its all about getting become familiar with the system and then apply that knowledge in a proactive and effective way for oneself. I recently sat down with Southern High School graduate Sean Cruz, a pitcher for Indian Hills Community College in Iowa.
Many of the things we discussed are mutual frustrations within the Guam school system, student athletes not knowing what to do in order to make it to the next level, because there is a lack of administrative guidance. Cruz mentioned nothing about assistance from an athletic director, or other school administrator but did note, "My high school coach Kin Fernandez and also Shon Muna (from an outside organization), were an extremely big help with helping stay on track and to not lose track of pursuing my college baseball career. For that I am forever thankful to them."
Another player, Saipan's star pitcher Josh Jones, now at University of West Alabama was recommended by IBAF player development officer Ray Brown. Jones' pitching talent had generated enough discussion, and he caught the eye of Brown, saying "Ray Brown hooked me up with a school in Kansas (Colby County Community College). A lot off island tournaments got me recognized by everyone which I didn't know about." These tournaments Jones refers to is what garnered interest from colleges in various US locations.
Unfortunately, due to the general lack of interest in baseball player development, Ray Brown doesn't come to Guam anymore. But, Brown still keeps in contact with several key elements in the Oceana region and with Jones "I was suppose to play on his summer team in (Canada) with the prospects but I pulled out for micro games."
To begin his process, Cruz turned to those who had experiences previous aspirations, "Through out high school I was always interested and driven to go to college and pursue my college education and baseball career. With the assistance of a few former college baseball players, it was able to open my eyes to different opportunities on how to actually get to where I wanted to be. They informed me about different baseball programs all over the U.S. And that widened my view on college selections. Taking the time to learn and gain the necessary information has nothing to do with talent level or performance on the field, and therefore can be done equally by anyone willing to put in the work."
For Jones, getting into his 3rd year of school was based on the recommendation of his Colby County coach "Well none of the Alabama coaches came down to see me pitch, but my stats and my coach knew where I belong. Which is to play at the Southeast Gulf Conference".
College recruiting is all about being separated from the thousands of other players out there, everyone is always looking for an edge over the competition. Unfortunately, this often leads players to start focusing on the little details and minutia of the recruiting process and they lose sight of the big picture. From the coach's perspective, being able to recruit successfully outside of their school's local area or region can make a huge impact on the quality of talent on the team. Across college baseball, coaches rely on networking and personal relationships when recruiting players more than simply going after the best players they read about in the local newspaper.
It's obvious both Cruz and Jones used connections and their talent to get to where they are now. These 'connections' are based off playing experience and work ethic. There is nothing special or personal about it. Put in the effort, continue to show improvement, and talent will get noticed. Jones adds "being out here made my talent worth it by working hard in the gym and on the field, also (concentrating on) my academic grades
No question it is crucial to have name recognition as a player, but people often don't realize that they aren't going to outsmart any college coaches when it comes to judging talent and finding players. For Cruz, his personal initiative helped him "all it took was a phone call…and the door opened for me. Actually taking the initiative to send the email or even a phone call to these coaches will make the difference in getting noticed and recognized as a potential student athlete." The fact is that college coaches lean heavily on their personal network of contacts, whether it be high school/travel coaches, other college coaches, or professional scouts, when looking for potential recruits. College coaches have seen thousands of players and usually know the exact type of player to fit with the team.
On Guam, most players, parents, and coaches just do not understand recruiting, and most of the time aren't great judges of talent either. While things like how long and from what camera angles a player should make during recruiting videos, how to present stats to coaches, and what to include in an extensive personal bio can help put the best possible foot forward, in the larger scheme of recruiting these are minor details. Producing a good video to show off playing skills surely won't hurt. Players though have to realize that when a coach watches it each are going to be judging to the talent on the tape and that is it. Sure, that runner may have been thrown out stealing second base, or a touchdown pass caught for 85 yards in the game footage, but college coaches could really care less about how good plays look against average high school talent, coaches want to know what is the potential to perform in college.
When thinking of recruiting most think of coaches going around watching players, not so anymore. On the baseball side, because the options range from elite Division I NCAA programs like the University of Texas or Vanderbilt down to small Division III, NAIA or Junior Colleges divisions, players will get a first hand view of the differences between athletic classifications. This is especially important for young baseball players to see, because there are many small Division I, Division II, and Division III colleges outside of the major conferences that offer great baseball programs and quality academics, but otherwise go unheard of to many.
Saipan's Josh Jones who led the CNMI national team to a gold medal in the 2010 Micronesian Games, attended a small community college in the middle of Kansas. Now he is attending a Division II 4-year university in Western Alabama where they have had 13 players go on to play professional baseball since 1990. Not everyone can play at that top 25 school they dream of, but traveling to and touring to experience these less-famous schools firsthand can help open your mind outside of what you see on TV and add to your opportunities to play at the next level.
After a tour like this, the player will be armed with the knowledge to put together a great list of schools that they will be a great fit for them academically, socially, and athletically. From a recruiting angle, the player will be able to use this knowledge to have a clearer idea on what type of schools they want to focus on when being proactive and contacting coaches on your own as well as attending college camps.
(office of postsecondary edication 2012)
Something to remember is not everyone is lucky enough to play at their short list of dream schools, but with over 1500 college programs across the country, those really committed to playing in college can do so. If a student athlete from Guam wants to play baseball, football, basketball, tennis, or any other individual or team sport there is an opportunity somewhere. Sometimes you may require traveling across the country, but if an athlete really wants to play at the next level it's more likely than not to find a good fit for both the player and the program.
The trend in college baseball recruiting is that prospects are committing earlier and earlier as a whole. Schools are building relationships with prospects as early as their freshman year and in some cases you are getting verbal commitments at the beginning of their sophomore year. Now a verbal commitment is just that verbal, it is not binding and is only the prospects word that he will come to that school. Early signing period for baseball is November 8-15 of their senior year, which means a lot of things can change in that time. Schools are putting a big emphasis on getting commits earlier.
With prospects continuing to commit earlier, players need to be proactive in the college baseball recruiting process, the longer you wait the more spots are filled. Cruz points out "Taking the initiative and taking the risk also sacrificing time away from family are the most important things I have to stress. There's going to come a time in life where you're going to have to make those moves." Take the time to find the place to play that is right for you. The Southern High grad adds "Also venturing out of just the West Coast will open many more opportunities in succeeding in college athletics and also education. I attend one of the best programs for not only baseball, but in education. So there is more to just California or Washington!"
At the end of the day, while the process of recruiting and marketing oneself is very important, it is even more important to never lose sight of the bigger picture, which is constantly working to become a better player and prospect. It can be tough to look in the mirror and realize it's not just a matter of lack of name recognition that is keeping an athlete from reaching the next level, but that one has to improve to get where they want to go- it may be on the field, perhaps in the weight room, or getting the grades up in the classroom. Once this is realized, the athlete will be able to put the time and effort into working on the right things.
Jones has an important message for players who want to attend college and play sports "All I gotta say to the up and comers back in the pacific is to be humble, be yourself and love the sport you love playing. It takes a lot of hard work and commitment."
As we ended the interview with Cruz he reiterated his main point, "Take the initiative to become educated on this process. Don't wait for someone to inform you of potential avenues to take that will get you into college. Do it yourself!" This is especially true when the lack of high school guidance is severely lacking, thus leaving many otherwise qualified student athletes a chance to play a sport in which they love at the next level and obtain an advanced education at the same time. "Playing it safe all the time will get you no where, but actually taking the risk to grow will bring you more opportunity to succeed" he added. Well said!
Important links to check as the journey begins
For more information on the entire student athlete recruiting process, please visit: http://www.hsbaseballweb.com/players_parents.htm
Information pertaining to financial aid: http://www.forbes.com/sites/troyonink/2014/01/31/2014-guide-to-fafsa-css-profile-college-aid-and-expected-family-contribution/"http://www.forbes.com/sites/troyonink/2014/01/31/2014-guide-to-fafsa-css-profile-college-aid-and-expected-family-contribution/
NCAA Clearinghouse will verify your eligibility:
http://web1.ncaa.org/ECWR2/NCAA_EMS/NCAA_EMS.html?test=1″http://web1.ncaa.org/ECWR2/NCAA_EMS/NCAA_EMS.html?test=1#
Contact Brad Hewitt at mail to: [email protected] for any further questions.

QUICK HITS
Guam MTB National Championship: Edward Oingerang and Jennifer Camacho are your 2023 MTB national champions. Oingerang finished the course in 1:13:24 while Camacho won her second straight title in 54:08.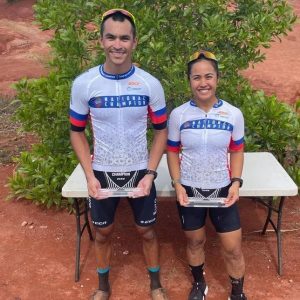 ——————————————
Kobe Miyashita, with St. John's coach Arvin Flores, was named the 2023 IIAAG Middle School Boys Volleyball MVP!