[useful_banner_manager_banner_rotation banners=36 interval=8 width=120 height=600 orderby=rand]
By Kolby Chang
It's a bittersweet homecoming for Pacific X-treme Combat welterweight contender Josh Calvo. The former Guam resident is happy to be back on his home soil but this trip to the island is certainly no vacation.
"It's weird because I'm here and I'm trying to remember I'm here for business," the Brazilian jiu-jitsu black belt said. "It's really a business trip."
The business in which the mixed martial artist nicknamed 'Killa' is referring to is his title fight this Friday night at PXC 44. Calvo, currently residing in Washington state, will be going toe-to-toe with Zebaztian Kadestam at the UOG Field House for the vacant welterweight championship and everything seems surreal for the former Jose LG Rios Middle School Voyager. Calvo made his pro MMA debut in 2009 and after competing in the Pacific Northwest regional circuit for a couple of years he finally got the chance to fight in PXC last March.
"I did expect someday that I would be fighting in PXC but it's crazy to actually fight for the belt back home. Everything just kind of lined up," Calvo said.
Calvo notched two wins last year fighting in PXC and improved his pro record to 8-3 after dispatching Johnavan Vistante via armbar in PXC 36 and earning a unanimous decision nod over Ultimate Fighting Championship veteran Anthony Torres at PXC 38. It was his win over Torres that Calvo said put him in the front of line for title contention.
"I just got notice after Anthony Torres. I was stoked," Calvo said.
Even though Calvo said he's in the gym on a regular basis, the 24-year old began his training camp about 10 weeks ago with Combat Sports and Fitness and Ivan Salaverry MMA. 'Killa' is spending the final week of camp at Spike 22 for what could arguably be his most important professional fight to date.
"Physically and mentally everything is good. I'm ready to go," Calvo said.
Calvo thanks his training partners at Combat Sports and Fitness, Ivan Salaverry MMA and at Spike 22 for helping him prepare for his fight. He also appreciates the support he has received from Crowns, Cauliflower Culture, Artlete and Fokai Industries.

QUICK HITS
The Guam Smokin' Hot women's softball team captured first place in the Asia Cup Softball Championships 2023 in Bangkok, Thailand.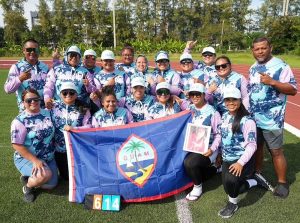 ——————————————————-
Roque Martinez gets the unanimous decision win Saturday night in his debut fight in South Korea's Black Combat promotions.
The 37-year-old controlled the tempo all three rounds and bloodied his opponent with some 3rd round ground and pound.