PRESS RELEASE – Following a successful year under the name Slammed Society in 2013, Fatlace announced on February this years tour "Offset Kings" the official Slammed Society and Hellaflush showcase, an event created for all makes and models that live the low lifestyle. Classics, VIP's, Low Riders, Drift & Race Cars.
Offset Kings has already toured across the US, Canada, Hawaii, Fuji Raceway Japan, and making it's second to last stop of its tour on Guam before ending the year in Okayama Japan.
Upshift Entertainment is proud to team up again with Fatlace / illest brand clothing and AN films to bring Offset Kings to Guam to showcase what the island has to show to the rest of the world.
On Saturday December 6th 2014 Offset Kings will take place at the Guam International Raceway in Yigo. Gates open at 2pm with a lineup of non-stop action for all to enjoy.
The event will feature the islands finest customized vehicles ranging from tuner cars, classics, VIP's, VW's, Race/Track prepped vehicles, mini trucks, bikes and scooters.
All participants are eligible for awards that will be given out at the end of the night.
Final day to submit vehicle registration at Proline in the Harmon industrial park is today, Wednesday, December 3 at 5pm.
Entertainment: Event goers can catch local drivers as they face off in the final round of the Proline Drift Series, a 2-on-2 illest B-Boy (Break Dancing) Battle, the Opake Can Control 2 Live art Graffiti competition, and Napa Paint & Safety's Mini Hood Art Contest showcase.
Refreshments: Tunu, Lyn's BBQ, Tony Roma's, and Maelyns Cuisine Food Truck will be on-site selling food throughout the day as well as Pacific Island Mannge Pops with their locally made organic ice popsicles to cool you down.
Model Search: illest Brand clothing has launched a Guam model search to find a female model from Guam to be featured in their 2015 Lookbook catalog. Guam's UNO Magazine will be featuring this search in their upcoming issue. http://illestbrand.com/
This event will be covered by local and off-island videographers & photographers for features on national and international websites and publications.
Patrons can find tickets to the event at every Shell station around the island, at Proline, Car Audio Image, Opake, MWR ITT, and Andersen ITT locations for $10. Admission at the gate is $15. Children ages 11 and under get in FREE.
The schedule of events is shown below and will also be published in the December issue of the Guam Super Shopper to be distributed at the event.
More information on the show can be found on:
For general info on show and model search http://fatlace.com/lacedup/offset-kings-2014-guam/
For FAQ's, vehicle rules and regulations www.upshiftent.com
Offset Kings Guam is presented locally by The Guam International Raceway, Docomo Pacific, Monster Energy Drink, Stations of KUAM.
Brought to you by: the Guam Visitors Bureau, Proline, Tropical Productions, Napa Auto Parts, Guam Supper Shopper, Kicks Hawaii Guam, Uno Magazine, Car Audio Image, Opake Shop, Hafadaze.com, Hafa Adai Signs, PIVOT, Tunu, Pacific Island Mannge Pops, Hafaloha and Graphic Center.
MEDIA PASS INSTRUCTIONS:
Please email [email protected] no later than Friday (12/5/14) 10am with the name of your media company and list the names of your reporters, photographers, videographers, or representatives and we will email you back a confirmation with a parking pass that will allow you to bring your vehicle into the VIP/STAFF parking area and entries into the event.

QUICK HITS
3rd place: Big ups to the Para Todu Rugby Club for finishing 3rd out of 16 teams in the Manila 10's Rugby Tournament today. Biba Guam Rugby!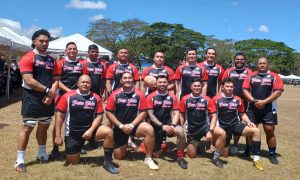 ——————————————
Guam MTB National Championship: Edward Oingerang and Jennifer Camacho are your 2023 MTB national champions. Oingerang finished the course in 1:13:24 while Camacho won her second straight title in 54:08.