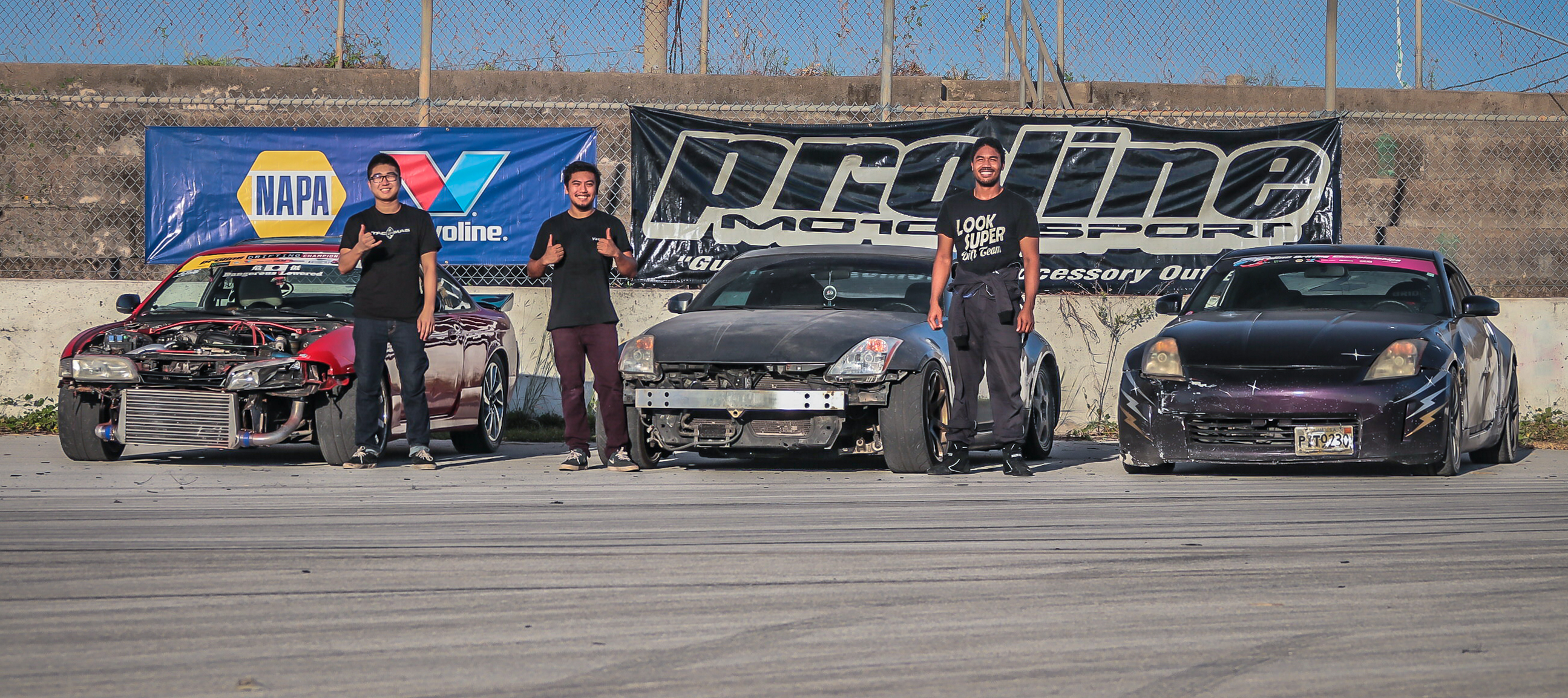 PRESS RELEASE – It was a battle of the strongest standing in Round 4 as some vehicles could not manage to come back from their collisions from the last round and a couple with issues on the day of the event it was down to 6 drivers facing off to collect their points and winnings.
Highlights were Karl Dumasig and his ballsy qualifying run that hugged the guard rail, spinout by Alex Greiner, giving away advancement and the battle between Von Burrell and Andy Passauer, where Burrell spun out of control and Passauer not having enough room to avoid a head on collision.
This was Dumasig's first time to make podium.
Round 4 of the Proline Drifting Championships is presented by Napa Auto Parts / Valvoline and Monster Energy Drink, sponsored by Fastenal and Hafa Adai Signs.
The final round of the 5 leg series is scheduled for Sunday, December 1st.
Qualifying Results (Best Solo Run out of 3)
1. Karl Dumasig 241pts
2. Andy Passauer 229pts
3. Von Burrell 222pts
4. Alex Greiner 218pts
5. Jaimee Mendiola 155pts
6. Geno Prangan 95pts
7. Jordan Salas N/A
8. Jonathan Respicio N/A
Tandem Eliminations
First Round
3.) Von Burrell 8/5 vs. 6.) Geno Prangan 2/5 = Burrell
4.) Alex Greiner 9/0 vs. 5.) Jaimee Mendiola 1/10 = Mendiola
Semi Finals
1.) Karl Dumasig 10/4 vs. Jaimee Mendiola 0/6 = Dumasig
2.) Andy Passauer 6/10 vs. Von Burrell 4/0 = Passauer
Battle for 3rd
Jaimee Mendiola 2/5 vs. Von Burrell 8/5 = Von Burrell
Finals
Karl Dumasig 6/5 vs. Andy Passauer 4/5 = Dumasig
RESULTS
1.) Karl Dumasig
2.) Andy Passauer
3.) Von Burrell
2019 Point Standings:
1.) Andy Passauer: 4 + 18 + 20 + 18 = 60
2.) Alex Greiner: 16 + 16 + 14 + 12 = 58
3.) Von Burrell: 0 + 20 + 18 + 16 = 54
4.) Karl Dumasig: 0 + 10 + 12 + 20 = 42
5.) Jasper Leong: 8 + 12 + 16 + 0 = 36
6.) Rex Deseo: 18 + 14 + 0 + 0= 32
7.) Warren Malig: 12 + 6 + 8 + 0 = 26
8.) Geno Prangan: 1 + 0 + 10 + 10 = 21
9.) Dan Aclaro: 20 + 0 + 0 + 0= 20
10.) Jaimee Mendiola: 1 + 2 + 0 + 14 = 17
11.) Luke Duenas: 14 + 0 + 0 + 0= 14
12.) Ryutaro Oe: 10 + 0 + 0+ 0 = 10
13.) Abner Flores: 0 + 8 + 0 + 0 = 8
14.) Laban Duplichan: 6 + 0 + 0 + 0 = 6
15.) Jonathan Respicio: 0 + 4 + 1 + 0 = 5
16.) Jordan Salas: 2 + 0 + 0 +0 = 2
17.) Andrew Agag: 1 + 0 + 0 + 0 = 1
18.) Ronald Avelino: 1 + 0 + 0 + 0 = 1
Judges:
Tom Akigami
Lee Webber
Jim Cruz