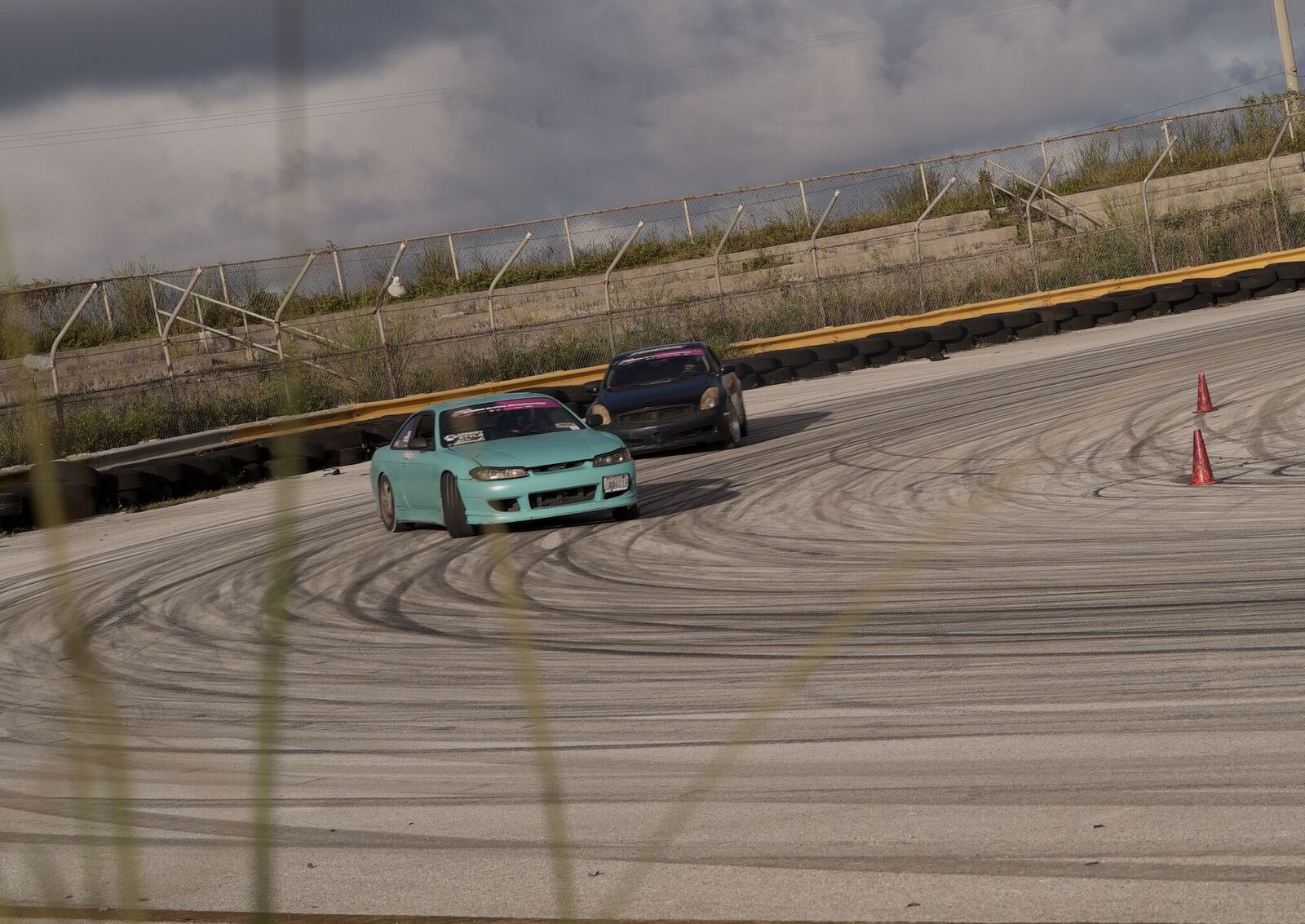 PRESS RELEASE – Sunday September 16th, the Guam International Raceway hosted the 4th Round of the 2018 Proline Drifting Championships presented by Monster Energy and Napa / Valvoline with special thanks to Fastenal and Hafa Adai Signs.
Von Burrell back on the podium claiming the win for round 4. Novice driver Andy Passauer takes 2nd and now ranks number one in season points. Matthew Palarca battled his way into 3rd against up and comer Alex Greiner.
Round 4 was judged by Tom Akigami, and guest judges Eric Manalo (former Proline Drifting Champ) and Yoshikazu Yamada from Japan (Garage Y-Style and pro competitor during Smokin Wheels)
The final Round of the Proline Drifting Championships is scheduled for November 18th at the Raceway.
Qualifying Results (Best Solo Run out of 3)
1. Von Burrell 263pts
2. Edward Aclaro 260pts
3. Matt Palarca 233pts
4. Karl Dumasig 231pts
5. Alex Greiner 226pts
6. Jaimee Mendiola 225pts
7. Andy Passauer 223pts
8. Geno Petrangan 202pts
Eight Car Tandem Eliminations first round:
1.) Von Burrell 10/6 vs. 8.) Geno Petrangan 6/4 = Burrell
4.) Karl Dumasig 5/4 vs. 5.) Alex Greiner 5/6 = Greiner
3.) Matt Palarca 10/3 vs. 6.) Jaimee Mendiola 0/5 = Palarca
2.) Edward Aclaro 7/2 vs. 7.) Andy Passauer 3/8 = Passauer
Final Four:
Von Burrell 8/3 vs. Alex Greiner 2/7 = Burrell
Matt Palarca 5.5/2.5 vs. Andy Passauer 4.5/7.5 = Passaur
Battle for Third:
Matt Palarca 7/3 vs. Alex Greiner 3/7 = Tie Score for ONE MORE TIME
Matt Palarca 77.5/5 vs. Alex Greiner 2.5/5 = Palarca
Finals:
Von Burrell 6.5/7 vs. Andy Passauer 3.5/3 = Von Burrell
Results:
1. Von Burell
2. Andy Passauer
3. Matt Palarca
2018 Point Standings:
1.) Andy Passauer 6 + 18 + 14 + 18 = 56
2.) Jaimee Mendiola 14 + 14 + 18 + 8 = 54
3.) Alex Greiner 8 + 12 + 20 + 14 = 54
4.) Von Burrell 18 + 0  + 16 + 20 = 54
5.) Dan Aclaro 20 + 20 + 0 + 12 = 52
6.) Matt Palarca 1 + 16 + 0 + 16 = 33
7.) Karl Dumasig 1 + 0 + 12 + 10 = 23
8.) Jordan Salas 2 + 10 + 8 + 0 = 20
9.) Geno Petrangan 0 + 0 + 10 + 6 = 16
10.) Ron Avelino 16 + 0 + 0 + 0 = 16
11.) Don Cabuhat 12 + 0 + 0 + 0 = 12
12.) Andrew Agag 10 + 0 + 0 + 0 = 10
13.) Rex Deseo 4 + 0 + 0 +  0 = 4
14.) Carl Bungabong 0 + 0 + 4 + 0 = 4
15.) Jasper Leong 1 + 0 + 0 + 0 = 1
16.) Warren Malig 1 + 0 + 0 + 0 = 1
17.) Abner Flores 1 + 0 + 0 + 0 = 1
18.) Luke Duenas 1 + 0 + 0 + 0 = 1