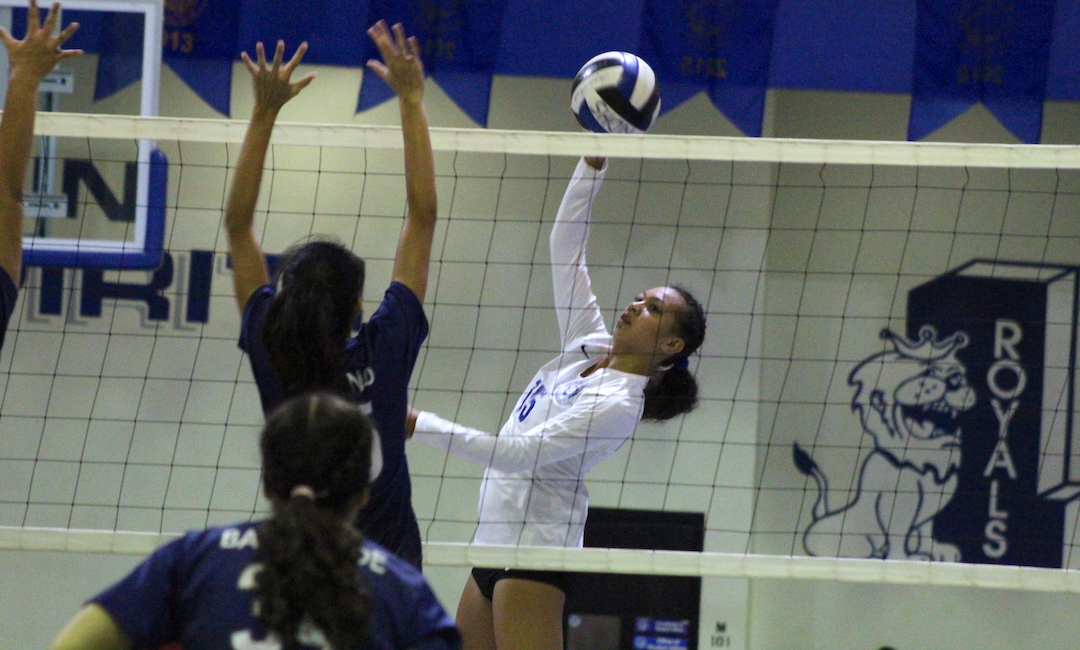 By Robert Balajadia
As the girls volleyball season begins to wind down, the ND Royals continue to stand a top the IIAAG standings. Friday evening the Royals welcomed the Academy Cougars where ND would handle the Cougars in straight sets 25-19, 25-23.
ND's Austia Mendiola and Manami Rabago each had six kills on the night with the pair of stellar sophomores taking turns doing damage in sets. Rabago helped control the opening set where she registered four of her six kills and Mendiola took over in the 2nd set with five kills.
Despite the Cougar wall of Laressa Halladay, Theisen Taimanglo and Isabella Bargfrede, the Royals smaller Rabago showed no fear. The Cougars registered seven total blocks from their wall, which made hitting for the Royals more difficult than usual.
"Their lineup is amazing. They made it very difficult for us today and we just had to adjust to it and find the gaps," said Rabago.
The teams first meeting in the first week of the season proved a closer contest than their second meeting, but it was more about the Royals hitting a stride as the playoffs near.
"We've bonded better as a team and our communication and connection has only improved throughout the season. It's been a pretty tough week, but it's a been great experience with the girls," added Rabago.
Game Recap
ND got off a strong start behind a pair of kills from Rabago to hold a 6-3 lead. The Cougars went on a 3-1 run behind Bargfrede, but it was short lived as ND found a groove behind Rabago serving. Manami notched an ace for a 17-12 lead, and a kill later to go up 21-16.
Mendiola would serve the final points as ND took the opening set 25-19.
Austia would pick up her play in the 2nd set as she registered four kills as ND held a 7-6 lead. Taimanglo tied the contest a play later, but a kill and ace from Brianne Leon Guerrero kept ND in front 12-8. Manami and Mendiola would go back-to-back for a 14-10 lead and another ace from Austia would force a Cougar timeout up 20-12.
Royal Carlie Quinata would show off some jumping by getting a kill to go up 21-12. The Cougars would make their run behind serving from Jackie Martinez and Taimanglo as Halladay would make her biggest impact. After Halladay and Bargfrede teamed up on a block, Halladay would destroy a free ball to tie the game at 21, as part of a 9-1 Cougar rally.
Errors would nix the Cougar comeback after the final two points ND scored were off Cougar mistakes.
PHOTO GALLERY BROUGHT TO YOU BY: