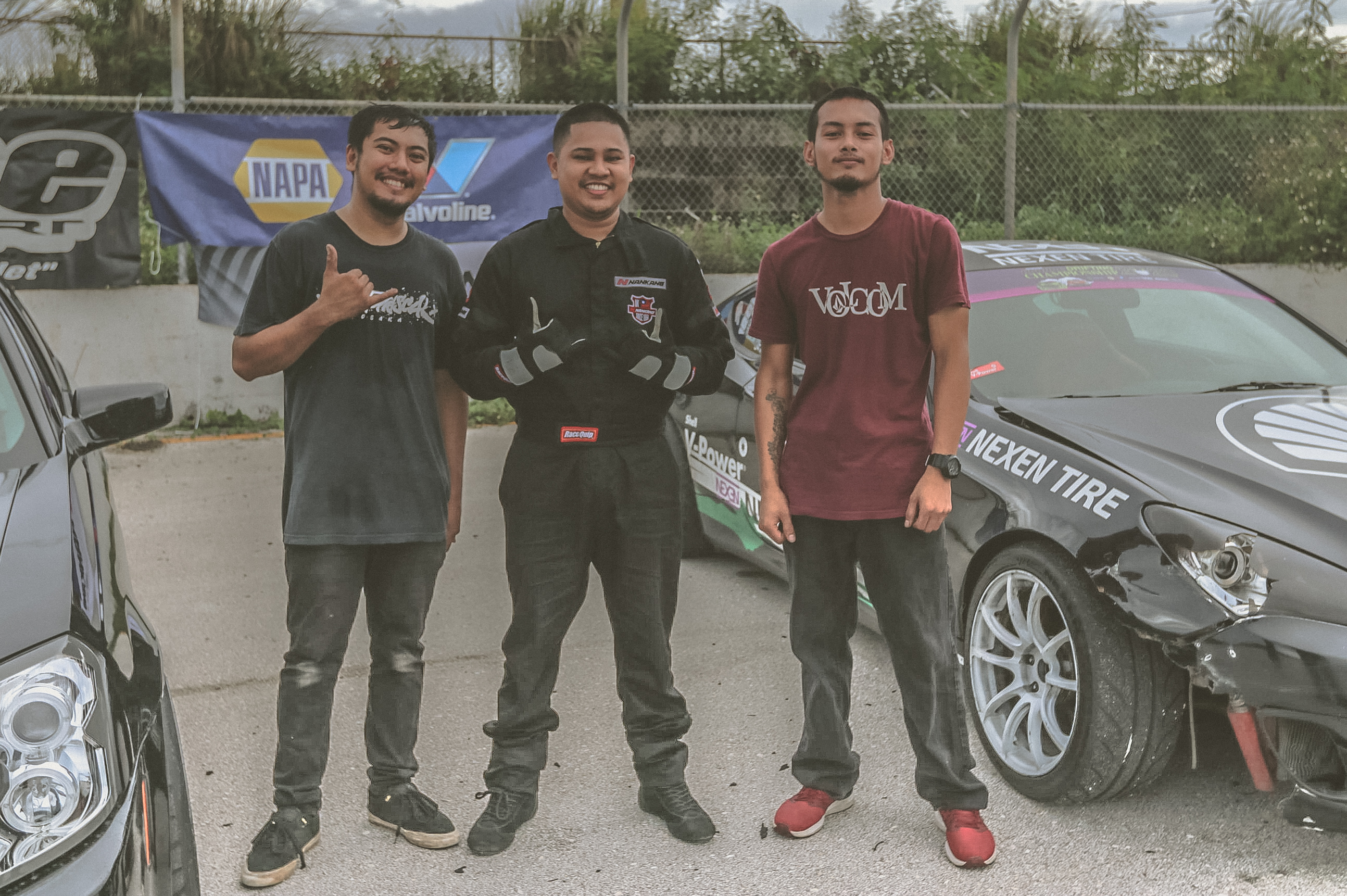 PRESS RELEASE – After a full day of rain showers it was looking like Round 2 was going to be a wet and slippery battle except it dried up and made for some really good drifting matches. 
Rex Deseo returned to the tarmac with a new machine, a Cadillac CTS-V. With this black boat, he was able to take out the top seed qualifier John Respicio and Round 1 winner Karl Dumasig (who both spun out during the battle with Deseo).
Alex Greiner held some strong runs in his supercharged G35 but was still having clutch issues that haven't been resolved since the 1st round. New comer Julius Atoigue worked his way under pressure and Josh Barcinas was trying to get used to his new 350z drift machine he transferred to from a S14.
Look out for more action during Round 3 scheduled for August 23rd.
Round 2 of the Proline Drifting Championships brought to you by Upshift is presented by Napa Auto Parts / Valvoline and Monster Energy Drink, sponsored by Fastenal, Hafa Adai Signs, Digital Kitchen, and Jones Media.
Qualifying Results (Best Solo Run out of 3)
1. John Respicio 240pts
2. Karl Dumasig 232pts
3. Alex Greiner 231pts
4. Andy Passauer 221pts
5. Rex Deseo 170pts
6. Julius Atoigue 154pts
7. Josh Barcinas 0pts
Tandem Eliminations
Great Eight
2.) Karl Dumasig 10/5 vs. Josh Barcinas 0/5 = Dumasig
3.) Alex Greiner 9/8 vs. 6.) Julius Atoigue 1/2 = Greiner
4.) Andy Passauer vs. 5.) Rex Deseo 5/7 = Deseo
1.) John Respicio [BYE Run] = Respicio
Semis
John Respicio 6.5/3.5 vs. Rex Deseo 3.5/6.5 = DRAW
*SUDDEN DEATH MATCH
John Respicio 0 (Spin Out) / 3 vs. Rex Deseo 10/7 = Deseo
Alex Greiner 3/6 vs. Karl Dumasig 7/4 = Dumasig
Battle for 3rd
John Respicio 7/4 vs. Alex Greiner 3/6 = Respicio
Finals
Karl Dumasig 5/0 (spin out) vs. Rex Deseo 5/10 = Deseo
RESULTS
1.) Rex Deseo
2.) Karl Dumasig
3.) John Respicio
Judges:
Tom Akigami
Lee Webber
Jim Cruz