By Patrick Lujan
The first professional pitcher from Guam is back home for some well-deserved rest and relaxation with his family for the first time in three years.
Pete Perez, Jr. is coming off his rookie season with the Rome Braves, the Class A team of the Atlanta Braves, where he was converted to a reliever after being a starting pitcher for practically his entire baseball life.
"It was a big eye-opener," Perez said about his first pro year. "It was fun. A couple of ups and downs. All the talent is the same but it's how consistent you can be. Overall, I'm pleased with what I did.
"I do like relieving more than starting now because I get a chance to get into every game. As a starter, you only get in every five days or so. Now, I might miss one or two games but other than that, I'll be in almost every single time. Being in the bullpen, there's a good chance you're going to get in the game."
The 23-year-old righty started his season on April 19th and pitched in 44 games through September 1st, finishing with an 0-4 record and tossing 57 2/3 innings with 59 strikeouts and seven saves.
"I started off hot and got the closer (role) then I struggled at the end," Perez said.
The 2003 Little League World Series veteran said that the long season weighs on the body and conditioning. The former starter who was used to 30-game seasons at Tarleton State said he started to feel the wear on the body two-thirds into the 142-game minor league season.
"I felt it after 100 games. They call it 'The Dog Days of August'. That's when it really kicks in and in Georgia, it's really hot and the body is tired but you have to push through it."
The oldest of four children to Peter and Renee Perez, Pete Jr. has been spending some time back home after almost 10 years of stateside living in pursuit of living his dream.
 The Big Sacrifice
Like many Guam kids, Pete Jr. had a dream of playing in the big leagues. It was when he was 14-years-old when HE decided that it would be best for him to move to the states to get better baseball training.
"The hardest part was letting him go at 14. Letting him move from Guam and not having him in my life every day. He's my first born," mother Renee Perez said. "That was my hardest, but he asked me to do it, though."
Looking back, Renee says it's been all worth it "because he's where he wants to be. He showed me that this is what he wanted."
For his father Pete Sr., the determining factor was after his successful performance at the 2003 LLWS. "I thought that if he wanted to move ahead, he had to move to the states. He could've stayed here and played, but the hardest thing was convincing mom, so he asked her. If I asked her, she would've said, 'No'."
"I did say 'No!' at first," the mom quickly said. "But it was his decision and I had to support it."
For 13-year-old brother Andrew, he sees his brother's journey in a whole different lense with his mind set on the perks. "Free baseball games and I want to meet his teammates."
The Next Step
The former Benavente Middle School and St. Paul freshman will be heading back to Atlanta after Thanksgiving and looks forward to his second year of his three-year contract.
And after talking with his Rome Braves manager at season's end, things are looking good.
"The manager was really pleased with my performance throughout the season and they've said nothing but good things," he said. As for the organization's plans for him, Pete Jr. said he's expecting a call from the front office some time this month before he heads back to get into more details about contract.
"The ultimate goal is to make it to the big leagues, but it's about being consistent and not getting hurt, because you can't do anything if you're on the bench. It's all about having fun and play my game. If I do that, I'll be fine. Staying consistent is the big thing. It's not about having a good game, have a bad game, have a good game…it's about being consistent because not everything is going to go your way all the time. "
Wherever way his baseball career takes him, it's safe to say that his moral foundation set forth by his family will have him ready for any curveball life may toss at him.
NOTES: Perez has mastered the fastball (topped at 96 mph), change up and slider…He is the fifth Guam player to make it to the pros following Keith Hattig (1994), JR Hattig (1999-2008), James Guerrero (2005-2011), Trae Santos (2013-present) and Perez (2014-present)…he and Trae Santos share the same agent.

Athletes Birthdays by W5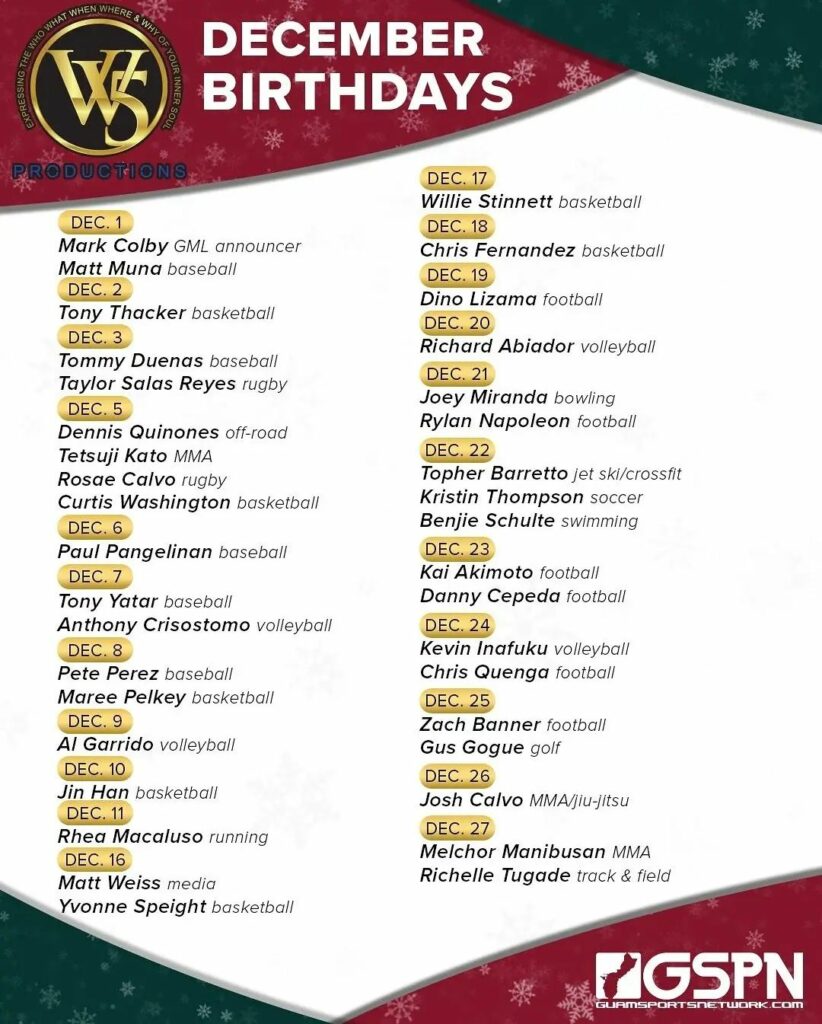 GPS Sports Calendar
SU

MO

TU

WE

TH

FR

SA
Events for December
5th
No Events
Events for December
6th
Events for December
7th
Events for December
8th
No Events
Events for December
9th
Events for December
10th
Events for December
11th
06:00 AM - 08:00 AM
Umatac
Events for December
12th
No Events
Events for December
13th
No Events
Events for December
14th
No Events
Events for December
15th
No Events
Events for December
16th
Events for December
17th
Events for December
18th
19

20

21

22

23

24

25
Events for December
19th
No Events
Events for December
20th
No Events
Events for December
21st
No Events
Events for December
22nd
No Events
Events for December
23rd
No Events
Events for December
24th
No Events
Events for December
25th
No Events
26

27

28

29

30

31

1
Events for December
26th
No Events
Events for December
27th
No Events
Events for December
28th
No Events
Events for December
29th
No Events
Events for December
30th
No Events
Events for December
31st
No Events
National Guard Athletes
Scott Eclavea
Scott Eclavea is a jiu-jitsu black belt and an accomplished MMA fighter. The Guard has given him an outlet in combatives to display his martial art skills, where he's become a head instructor for that program. Eclavea has served since coming out of high school and the Guard has only changed his life for the better.
COMING SOON …
LIVE FOOTBALL ON GSPN
Semifinals: #1 FD vs. #4 Southern (Friday 7 pm)
GSPN Preseason Basketball Tournament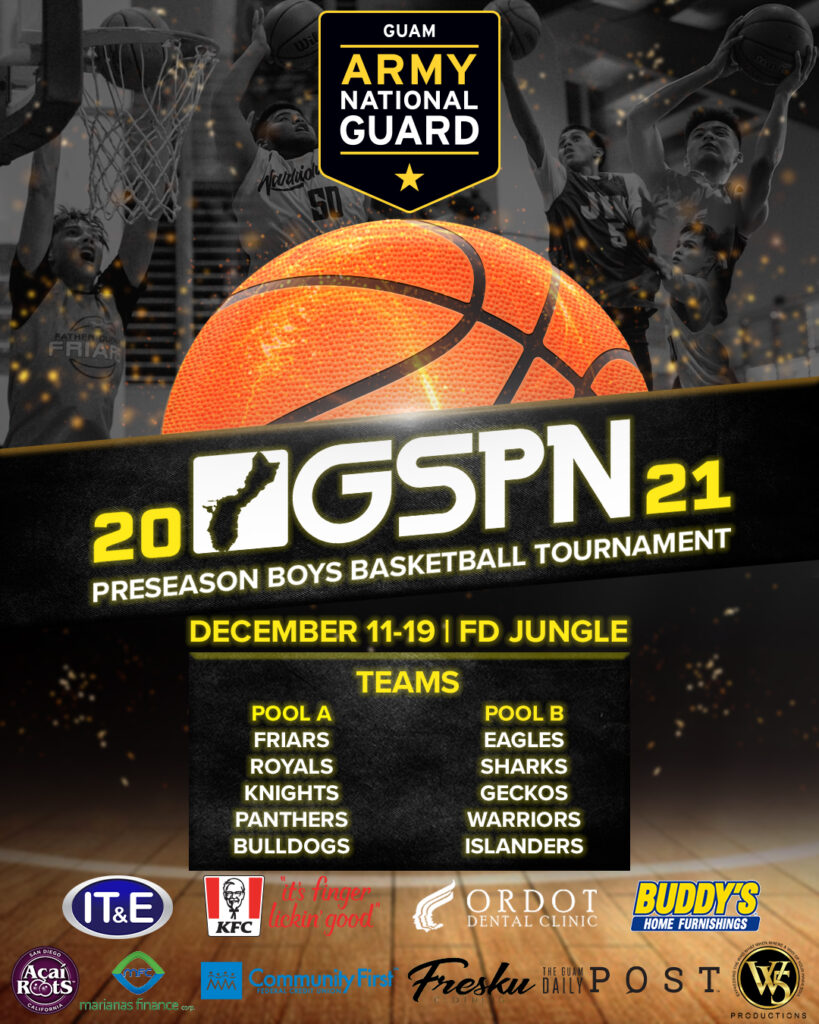 QUICK HITS
Robert Artero Maley recently captured the 182-lb. division of the Costa Mesa Classic, winning via pin in 4 out of 5 matches. Robert is a 4-year varsity wrestler at San Clemente HS (Tritons) and is currently ranked 15th in California's high school scene. He is the son of Jacque Artero Maley (AOLG 1991).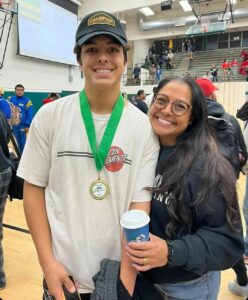 ——————————————–
Pat Taitano and Rich Abiador, teammates on the 1995 SPG volleyball team, have led their high school girls volleyball teams to the Washington State Championships in Yakima, Wa.
Taitano coaches Mt. Rainier High while Abiador leads North Creek High.
There for support is Dr. Mark Perez, a health professor at Central Washington University and a former UOG volleyball player.