By Robert Balajadia
The Girls basketball playoffs are about to takeoff with a handful of exciting games on hand to open the quarterfinals weekend. With home court advantage aiming to give the top four teams the edge, the visiting underdogs beg to differ. Eight teams, four games, one exciting weekend!
#5 Academy Cougars @ #4 ND Royals (Saturday 6pm)
All-Island Selections: ND – Destiny "Queen B" Castro (MVP, 1st team Forward), AOLG – Kali "Special K" Benavente (1st team Guard)
After playing alongside each other where the U19 girls basketball team captured 3rd place in the FIBA Oceania Tournament, Destiny Castro and Kali Benavente will lace it up for the first time against each other all season. Benavente was nursing an injury which kept her out during their first meeting, though she managed to rejoin the team in the latter half of the U19 games and is expected to be back on the floor for the Cougars playoff run.
Castro was named MVP of the league for the first time as a junior, so Saturday's game between Academy will be her first as the MVP. Benavente has yet to miss a championship game after reaching the finals in both her freshman, on the Knights with Castro, and sophomore years.
Castro admitted that with Benavente on the floor, as a teammate or an opponent, the two seem to play an elevated game. The Cougars struggled offensively with Benavente out, so Academy would be happy just knowing that their leader is back on the floor.
The two teams will wrap up the weekend in what is expected to be a very crowded Royals gym.
#6 Guam High Panthers @ #3 JFK Islanders (Friday 6 pm)
All-Island Selections: JFK – Alison "E-Racer" Bowman (1st team Center), Rufina Royser (2nd team Forward), Panthers – Jailyn Jones (2nd team Guard)
The JFK Islanders once again find themselves in the mix of being in the league's top teams. The Islanders found the identity of their team midway through the season, which is lock-down style defense combined with running the floor for transition buckets. With track stars on the team like Alison Bowman and Regine Tugade, the Islanders match up well with any opposing offense.
The Panthers are the underdogs, though they too have height that can make difficult for the Islanders to settle into their offense. Panthers guard Jailyn Jones runs the offense for her squad who are heading into the playoffs riding a two-game win streak.
Islanders Rufina Royster and Bowman make for difficult covers given their chemistry and ability to work off pick and rolls. Guam High will need to play a slower brand of basketball while taking care of the ball to prevent the Islanders from scoring in transition.
#7 St. Paul Warriors @ #2 Southern Dolphins
All-Island Selections: Southern – April "Speedy" Talledo (1st team Guard), Marlissa Taitano (2nd Team Center), Savannah San Nicolas (2nd team Forward)
Dolphins guard April Talledo has been a dominating force all season long and the team has come behind her. The defending champs have been operating like the best team in girls basketball for two seasons and betting against a winner like Talledo is not a good idea.
The Warriors, too, have a dangerous scorer in Joy "Nova" Pangilinan who was a very surprising All Island snub. Pangilinan always plays with a lot of passion so expect her to be driven to show why she is more than deserving to be noticed as one of the island's best.
The first meeting between the two had Talledo and Pangilinan erupt for 28 points with the Dolphins able to make more plays down the stretch to take the win. Southern will be playing in front of their home crowd where they haven't loss in over two years.
The Warriors are going to need big games from Kindra Young and young freshman Chloe Miranda to take some of the pressure off Pangilinan, who is coming back from nursing an injury suffered late in the season.
Marlissa Taitano and Svannah San Nicolas give the Dolphins a lot of versatility, but you can bet to see a lot of Talledo early and often.
#8 Harvest Eagles @ #1 Okkodo Bulldogs
All-Island Selections: Okkodo – Felicia "Fearless" Borja (1st team Forward), Ke'ann Castro (2nd team Guard)
The Harvest Eagles managed to squeeze into the playoffs with a win over the GW Geckos in the seasons finale, but now they have their hands full against the league's top team in the Okkodo Bulldogs.
Bulldogs Felicia "Fearless" Borja has been playing her best basketball all season which is the biggest reason Okkodo is out to their best start ever since the school opened. Borja has a unique chemistry with her team which everyone of them seems to feed off. As difficult as it is to guard a player like Borja, the Bulldogs are at their best when she starts getting her teammates involved.
The Eagles are going to need to force Borja into bad shots, which she does not often take as her game has matured over the years. Eagles forward Megan Schobat is adept at finishing layups and Harvest is going to need to generate a lot of looks for her and the Chabanne guards in order to pull off the upset.
Okkodo is on a mission to right last seasons wrongs and not many girls want to win more than Borja in her final year of high school basketball.

QUICK HITS
Guam MTB National Championship: Edward Oingerang and Jennifer Camacho are your 2023 MTB national champions. Oingerang finished the course in 1:13:24 while Camacho won her second straight title in 54:08.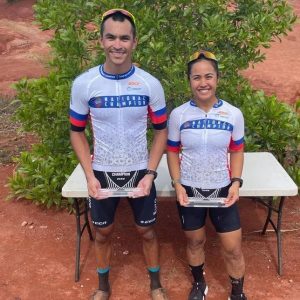 ——————————————
Kobe Miyashita, with St. John's coach Arvin Flores, was named the 2023 IIAAG Middle School Boys Volleyball MVP!