[useful_banner_manager_banner_rotation banners=55 interval=5 width=200 height=200 orderby=rand]
By Robert Balajadia
Team Guam had an impressive outing in the FIBA Oceania U19 championship tournament in Fiji with the ladies grabbing 3rd place overall while the mens team got gold in the B division. Though Guam's accomplishments were well celebrated, one player from the mens team in particular became an overnight sensation after making a play that lasted all of three seconds when Guam faced off against Australia.
5'4″, 16-year-old Okkodo Bulldog Vern Gustilo became the most popular guy at the tournament after Guam's loss to Australia when Gustilo made a defensive move no one saw coming, which now taking shape in a new move called #TheVern.
The defense was man-to-man and Gustilo had just lost his assignment during a play. Reacting on instinct, Gustilo noticed his man getting open for a shot and attempted to race to him to try and defend.
Another Australian team member, a 6'10" center, noticed Gustilo trying to get back on defense which prompted him to set a screen to free his teammate, but Gustilo ducked under the screen, through the defenders legs, making it to his man, forcing him to miss the three pointer.
[youtube id="AEPy0Iz2ro8″ width="620″ height="360″]
"I had to go to the split line because when the ball is on the opposite side I have to be in the middle of the defense. My assignment ran up, so I ran straight and saw the screen and noticed I couldn't go left or right and his legs were wide apart so I just ran under him to get to my man," said Gustilo.
The history of going through a defenders legs is not completely new to Gustilo as he credits former teammate Ben Borja, an equally tall player.
"When I saw the screen, he looked a lot like [Ben], so I just went under him. I used to do that a lot playing with [Ben]. I just did it to get back to my assignment because I would've gotten in trouble," Gustilo said.
Coach Desmond Mandell was the first to send the video viral, posting it to his vine. Gustilo's video then blew up over the internet reaching sports websites such as ESPN, Bleacher Report, and SB Nation.
Although, Gustilo's biggest recognition came directly from a professional basketball player in Dallas Maverick's all star forward Dirk Nowitzki, who tweeted out Gustilo's video while poking fun at his Maverick teammate J.J. Barea.
"When my video reached Dirk, NBA Vines, and ESPN I just reacted like 'Wow, my video is everywhere!'" admitted Gustilo.
The recognition Gustilo received was taken in stride and he has dealt with all the recognition pretty calmly. His focus never strayed with all the attention he was getting and he was still intent on just representing Guam to the best of his ability.
Now, although he's become somewhat of a FIBA celebrity, Gustilo has shifted his focus primarily on the 2015 boys basketball season as a member of the Bulldogs. Losing the 2014 title to the FD Friars still haunts him and he just wants to make up for what he considered a bad performance on his behalf.
"I felt like it was my fault we lost in the championship last year and I just want to focus on getting back there. This one is for coach Des, I owe it to him."
– Follow GSPN on Instagram @guamsportsnetwork to see the reenactment of #TheVern –
15 Seconds of Fame: The Spirit of Guam's Viral Video
By Desmond Mandell
It figures that my first experience coaching at the international level would involve an outrageous play from Vern Gustilo, one of the players I coach at Okkodo.  Vern will do something amazing that will make your jaw drop, then immediately follow it up by something amazing that will make you want to pull out your hair. That's Vern for you.
First things first, the play was spawned by terrible defense.  Vern clearly turned his head & lost track of his man.  In any other situation, he would've been nailed by that screen & his man would've had a wide open shot.  That's Vern for you.  However, what he did next was so creative, so imaginative, that it was destined to be memorable.  For Vern to instantly recognize that he could not get around the screen, then fluidly dive between the legs of the 6' 10" defender was astonishing, yet at the same time headscratching.  That's Vern for you.
From my angle on the bench, Vern was completely eclipsed by the screen of Australia's Harry Froling.  Then, out of nowhere, Vern popped up, much like the Whac-a-Mole game you would find at Chuck E Cheese's.  However, it wasn't enough that he had gone between Froling's legs, he still had the presence of mind to still contest the shot.  The scorers' table gasped, then burst in laughter.  Our bench did the same.  Vern created a showstopper.  That's Vern for you.
That night, I created the 15 second Vine video.  It was meant to create a few laughs amongst the team (we had just lost by 60 pts, so laughs were warranted).  I had no idea what would happen next.  A few of the players started Tweeting out the link to the Vine.  Within minutes, the play had taken over the Guam Twittersphere.  It was refreshing that a video that did not include a high school fight was making waves.  Little did I know, those waves would become a Tsunami.
Justin Dimla, starting Center on the Guam U19 team, sent the link out to a bunch of media outlets via Twitter.  Chances were slim that it'd be picked up, but it was a fun activity.  Could it go viral?  Boy, did it ever.  SBNation, a popular online sports website was the first to catch it.  While the story accompanying the video was less than flattering, it did include the line "UNDER THE LEGS. You win in our hearts, Guam."  The boys were pumped.
Business Insider was next.  Then Bleacher Report.  Next thing you know, every sports site was talking about it.  It was completely surreal experience, made only crazier when Dirk Nowitzki re-Tweeted it.  Vern was star.  Everyone at the athlete's village was talking about it.  Everyone at the closing ceremonies wanted his picture.  Vern obliged, but not without providing his patented boyish half-smile.  That's Vern for you.
Some may criticize the play, pointing out every defensive mistake he made on the play, believe me, I see them too.  However, that is missing the spirit of the play.  It's a testament that, despite our stature, we from Guam will fight tooth and nail to compete.  We will not give up despite being completely outclassed.  It also displayed Vern's imaginative style of play.  He literally pulled a Houdini on the court (Froling would later admit to me that he actually had no idea where Vern had gone).
As coaches, we preach to fight through screens. We preach to close out on shooters.  We preach to try and force a missed shot (the shot did miss by the way).  At it's core, in the 15 second video Vern did all of those, in the way only Vern knows how.  Thats Vern for you.

QUICK HITS
3rd place: Big ups to the Para Todu Rugby Club for finishing 3rd out of 16 teams in the Manila 10's Rugby Tournament today. Biba Guam Rugby!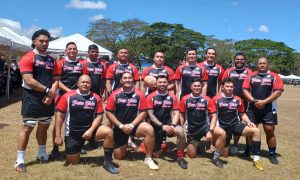 ——————————————
Guam MTB National Championship: Edward Oingerang and Jennifer Camacho are your 2023 MTB national champions. Oingerang finished the course in 1:13:24 while Camacho won her second straight title in 54:08.