PRESS RELEASE –
BUD LIGHT WOMEN'S FAST-PITCH LEAGUE
Juice  16, Bottomed Out   8    

WP: Janise Quintanilla 
POG: Colleen Cruz 4-4, 2B, 3B, 3R
 Are You Game  8, Lady Adahi   3    
WP: Meagan Maratita 
POG: Britney Blau 3-4, 2B, R, 2RBI, SB
 The Team  16, Northern Mix  9 
WP: Liberty Tajalle 
POG: Tamisha Fejeran 3-4, 2 triples, 2R, 5RBI, 3SB
(Leo Palace Park)-  Bud Light Womens FastPitch League action took to the field at Leo Palace Resort this weekend with Juice knocking off undefeated Bottomed Out 16-8 in the Saturday night cap.  Janise Quintanilla would go six innings to pick up the win and Colleen Cruz was a perfect 4 for 4 with a double, triple and three runs scored to pick up Strike Zone Player of the Game.
Meilani Quintanilla was 3 for 3 with three runs for Bottomed Out in the loss who drop their record to 3-1.  Juice pounded out 16 hits in the win and improves to 3-1 on the season.
On Sunday ARE YOU GAME stayed perfect with a 8-3 win over Lady Adahi.  Meagan Maratita went four innings to pick up the win and Britney Blau was 3 for 4 with two rbi to earn SZPOG.  Saij Duenas closed out the final three innings to pick up the save for AYG.
Koko Cruz was 3 for 4 with a run for Lady Adahi who even their record at 2-2 with the loss.  Juliana Nelson and Sirena Cepeda added two hits each for AYG who improve to 3-0 and sit atop the standings.
In the Sunday nightcap The Team downed Northern Mix 16-8 behind 5 rbis by clean up hitter Tamisha Fejeran.  Fejeran finished 3 for 4 with 5 rbi, 2 runs and 3 stolen bases to pick up SZPOG.  Libert Tajalle picks up the win with 3 1/3 innings relief.
Sherika Cabrera reached base three times for Northern Mix with a single, walk and hit by pitch  in the loss.  Northern Mix drops to 0-5 on the season.  Margaret Cepeda was 3 for 4 with 3 runs and 2 rbi as The Team improves to 1-2 with their first win of the season.
Follow Bud Light Women's Fast-Pitch League action live on Facebook/AmateurBaseballGuam and check out schedules, scores, stats and more at  HYPERLINK "http://www.guamstrikezone.com" www.guamstrikezone.com.
This Weeks Action!
Sat6pmThe Team vs Lady Rangers

QUICK HITS
3rd place: Big ups to the Para Todu Rugby Club for finishing 3rd out of 16 teams in the Manila 10's Rugby Tournament today. Biba Guam Rugby!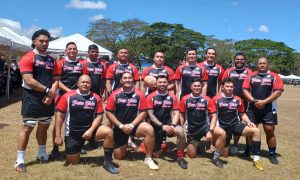 ——————————————
Guam MTB National Championship: Edward Oingerang and Jennifer Camacho are your 2023 MTB national champions. Oingerang finished the course in 1:13:24 while Camacho won her second straight title in 54:08.