By Robert Balajadia
Every Titan has their story, and in the case of Guam high school sports, the new school on the block began its story in 2014.
Guam's newest high school, Tiyan High, opened its doors to students in 2014 and the sports community welcome the new Tiyan Titans to high school interscholastic sports with a debut of four different teams in girls basketball, boys soccer, baseball, and wrestling.
The first official Titans game came from the girls basketball team against the JFK Islanders on October 28. The boys baseball team was scheduled to be the first Tiyan sports team to open the program, though two rain outs allowed the Lady Titans to be first.
"It's been a pretty amazing experience just being afforded the opportunity to be the Athletic Director, let alone for a new school. I still find it unbelievable that I played a role in putting these teams together and I'm just so thankful for being given that chance to contribute to my school community," said Titans athletic director Rommel Losinio.
The name Titans was chosen as the school team over the other fan favorite 'Typhoons', after a community decision left Titans as the last name standing.
"In the end, 'Titans'was voted by majority of the students," said Losinio.
Tiyan is Guam's newest member in the high school sporting community which also means that they have become sports' latest project. Losinio and Joel Punzalan have officially gotten the Titans through the door, though opening that door was admittedly the hardest part.
"The hardest thing is getting started. This reminds me of what Lao-Tzu said: 'A journey of a thousand miles begins with a single step.' When [Joel Punzalan] and I started our sports program last quarter, we seriously had no clue what we needed to do, let alone how to begin. I've always been a huge supporter of interscholastic sports back in GW, but my involvement was purely fan-based. I didn't have any idea of the inner workings of high school sports, but thankfully Neil Pineda and Martin Bourdreau were very helpful and accommodating to the millions of questions and curiosities we had," said Losinio.
Majority of the students of Tiyan High have come from GW, JFK and even some from Okkodo, though Losinio stated that the main feed school for freshmen came from Untalan and Jose Rios middle schools.
Small Strides, Big Plans
Not too long ago, in 2008, the Okkodo Bulldogs came on to the sports scene and, as expected, the sports program did not lift off in their first year. The school managed to capture a boys basketball title, the schools first, in 2010 and they have had a steady increase in becoming one of the stronger sports programs on island in just their 6th year.
The Titans have not jumped out to being sports power house in just their first year, though the program does have a high wave of optimism for its future with Losinio at the helm.
"We have top-notch coaches who are committed to the students and their sport and student athletes who are equally as ardent. I always tell my students (and pretty much everyone I talk to) that this year – and probably next – will be 'building years' and that they should expect our school to be in the 'championship conversation' very soon," said the confident Losinio.
The Titans lack veterans with juniors and seniors electing to stay back at their previous high schools leaving the door wide open for the Tiyan underclassmen to become immediate center pieces and role players who have proven to be as competitive as some of the leagues current standstills.
"Judging from what I have seen this quarter, I can honestly attest that we have a truly promising future for our sports program," added Losinio.
The Titans have arrived and they are here to stay. More importantly, they're not planning on being "small" for too long, so don't be surprised if the Guam sports gets taken over by Titans in the very near future.
THANK YOU
In with the Holiday Spirit, the Tiyan sports program has had many people to thank. Though it is truly impossible to thank everyone involved, Losinio did his best in a well written thank you message for the Titans family.
"First, I want to thank the Tiyan High School administrative team, most especially Mr. Joel Punzalan and Ms. Sophie Duenas, for trusting me and giving me the opportunity to serve as Athletic Director to our promising school. Thank you as well to Mr. Neil Pineda and Mr. Martin Boudreau and the rest of the IIAAG for their infinite patience and guidance during these last three months. Thank you to all my passionate coaches who make sure all our athletes are performing at their optimum level and mentor them not only to be excellent players, but outstanding community members,"
"A HUGE thank you to all THS student athletes and their parents who participated this quarter and became a part of our historical, ground-breaking year. We hope you continue to support us and develop our sports program. Last and definitely most important, I want to thank my wife and daughter who have been very supportive and understanding these past few months with all the changes in my schedule and sleeping habits; you two are my greatest inspirations. I love and appreciate you all! "

QUICK HITS
3rd place: Big ups to the Para Todu Rugby Club for finishing 3rd out of 16 teams in the Manila 10's Rugby Tournament today. Biba Guam Rugby!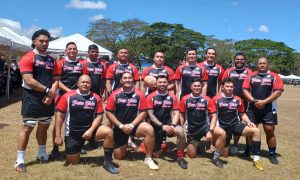 ——————————————
Guam MTB National Championship: Edward Oingerang and Jennifer Camacho are your 2023 MTB national champions. Oingerang finished the course in 1:13:24 while Camacho won her second straight title in 54:08.