Name: Derrick J. Anderson
Sports: Judo, Football
Sports Accomplishments: Judo- '88 Olympics, '87 SPG (silver medal), '88 Oceania & South Pacific Championships (2 Bronze medal) Received training and Black belt promotions (1st-3rd dan) Tokai University Judo system, Japan. Football- '84 JFK Islanders undefeated champions, MFL: UOG Tritons (three championships), Miller Bears (three championships), Basketball- GPD basketball team three GovGuam league titles
Former/current occupations: Guam Police Department, Police Officer III : Neighborhood Patrol, SWAT, Executive Security(1995-2008), Dyncorp International,High Threat  Personal Security Specialist, Iraq & Afghanistan (2008-2013), Texas Department of Public Safety, State Trooper (Jan. 2014-present)
Family: Spouse: Jevon P. Anderson; twins London Matias (son), Siena Julia (daughter)
1) What have you been up to since you left the island?
– Whole lot of overseas security working. Relocation for the family. Spending time with my family.
2) Do you still keep up with Guam sports? If so, what athlete of today impresses you the most and why?
– I follow the Guam Judo team. I also try to follow the MFL and the Men's National Basketball team and PXC results. There is a lot of up and coming athletes on island but my cousin Rick Blas Jr will always be my favorite Guam athlete which his accomplishments thus far are self explanatory. Oh, I also follow Baby Joe Taimanglo.
3) You were a high level judoka and played wide receiver under George Hernandez with the UOG Tritons. Relate the two sports.
– Judo gave me a lot of the ability I was able to use in football. Although a great part of my position in football was catching the ball, I excelled at blocking due to the balance learned in Judo. My Judo Sensei Kenji Mitsumoto/ Uncle Rick Blas and football coach George Hernandez had similar mentalities in teaching/coaching.
4) You've been in law enforcement for quite some time, starting with GPD on Guam. Did you ever imagine you'd be a Texas state trooper? How was the training?
– I was in Afghanistan working when my wife who was at home in Texas mentioned that Texas DPS were hiring. I really didn't have a clue at what a Trooper was not to mention the actual Law Enforcement tree in Texas but apparently the State Troopers are the highest in authority and respect within the state over the various Police Depts, Sheriffs/Deputies & Constables offices. The main reason I applied was to spend more time with the family and stop deploying overseas. So I went through an extensive hiring process that lasted about five  months before the Academy actually started.
As for the Academy, it was and is the toughest Law Enforcement Academy in the nation – physically, mentally and academically. To put it in prospective, we started with 145 recruits and graduated 107. It took a lot out of all of the class but to be doing it at my age was extremely taxing and upon graduation…rewarding. With this Academy you have to stay there in Austin away from your family which is always hard on both ends. After going through the Academy and learning about the history and traditions gave me a great deal of respect for those who wore the badge before me.
5) What's your fondest memories of sports on Guam?
– Walking out/through the stadium in the opening ceremony of the '88 Olympic Games and hearing the announcer call out "GUM".(laughing) Winning the team medal in Judo at the '87 SPG games with all family members Uncles Rick & Ben (deceased) Blas, cousin Frank Aquino.
Playing football on many good teams with good players so many to name but the short time I played with my brother Mark was some awesome times…don't think we won any championships together but we got "A's" for effort. Winning my first MFL championship with the Tritons playing with, in my opinion arguably the best player I ever played with and I played with/against a lot of players. Billy Stephens, man, that guy was a beast and could do it all.
6) What happens when you pull someone over with a Guam sticker on their car?
– It would probably be on purpose and a smile, a "Hafa Adai" and maybe a hug will come shortly thereafter. Out here I mostly know a handful of Guamanians/Chamorros that are associated with my wife who is a flight Attendant that relocated from the Guam base to the Houston base. Honestly, I don't know who would be more surprised…me seeing a Guam sticker or the driver seeing a Chamorro Trooper.
7) If you were to give back to sports on Guam, how would you do it?
– Well I do want to open a Judo dojo out here if its possible as an extension of my knowledge in the sport and/or assist coaching high school football here. High school football out here is huge and high powered. Coming home one day is always an option.

See other Where R They Now? Segments

Athletes Birthdays by W5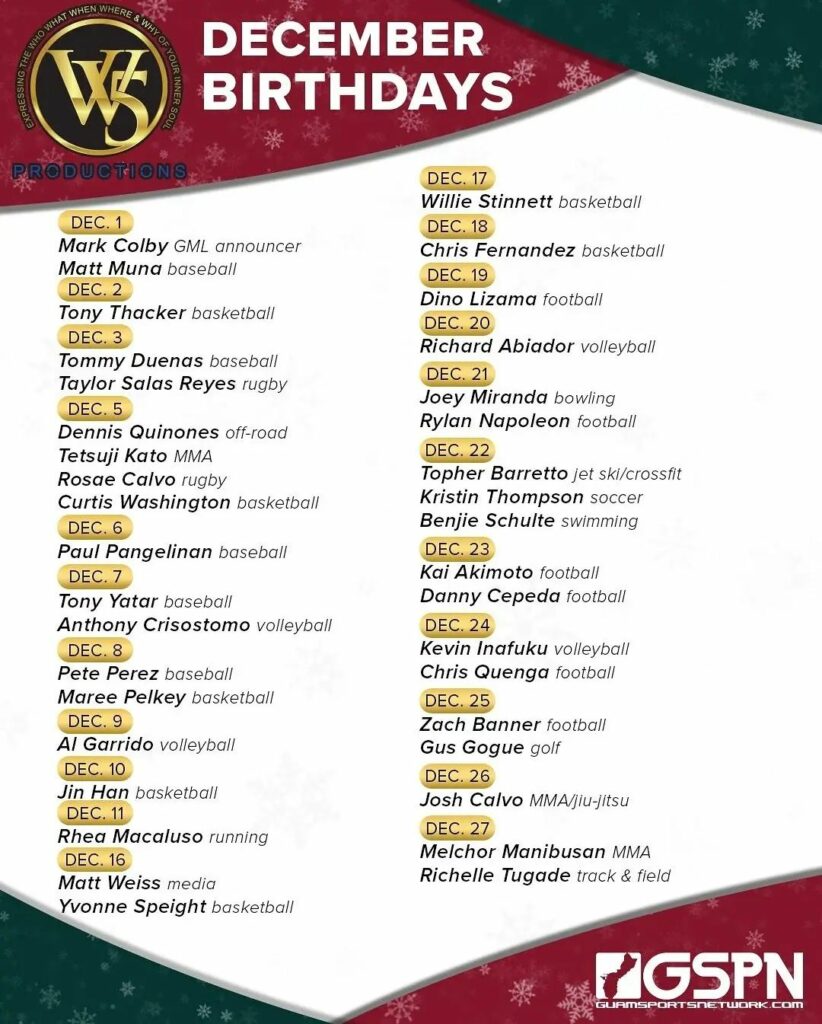 GPS Sports Calendar
SU

MO

TU

WE

TH

FR

SA
Events for December
5th
No Events
Events for December
6th
Events for December
7th
Events for December
8th
No Events
Events for December
9th
Events for December
10th
Events for December
11th
06:00 AM - 08:00 AM
Umatac
Events for December
12th
No Events
Events for December
13th
No Events
Events for December
14th
No Events
Events for December
15th
No Events
Events for December
16th
Events for December
17th
Events for December
18th
19

20

21

22

23

24

25
Events for December
19th
No Events
Events for December
20th
No Events
Events for December
21st
No Events
Events for December
22nd
No Events
Events for December
23rd
No Events
Events for December
24th
No Events
Events for December
25th
No Events
26

27

28

29

30

31

1
Events for December
26th
No Events
Events for December
27th
No Events
Events for December
28th
No Events
Events for December
29th
No Events
Events for December
30th
No Events
Events for December
31st
No Events
National Guard Athletes
Scott Eclavea
Scott Eclavea is a jiu-jitsu black belt and an accomplished MMA fighter. The Guard has given him an outlet in combatives to display his martial art skills, where he's become a head instructor for that program. Eclavea has served since coming out of high school and the Guard has only changed his life for the better.
COMING SOON …
LIVE FOOTBALL ON GSPN
Semifinals: #1 FD vs. #4 Southern (Friday 7 pm)
GSPN Preseason Basketball Tournament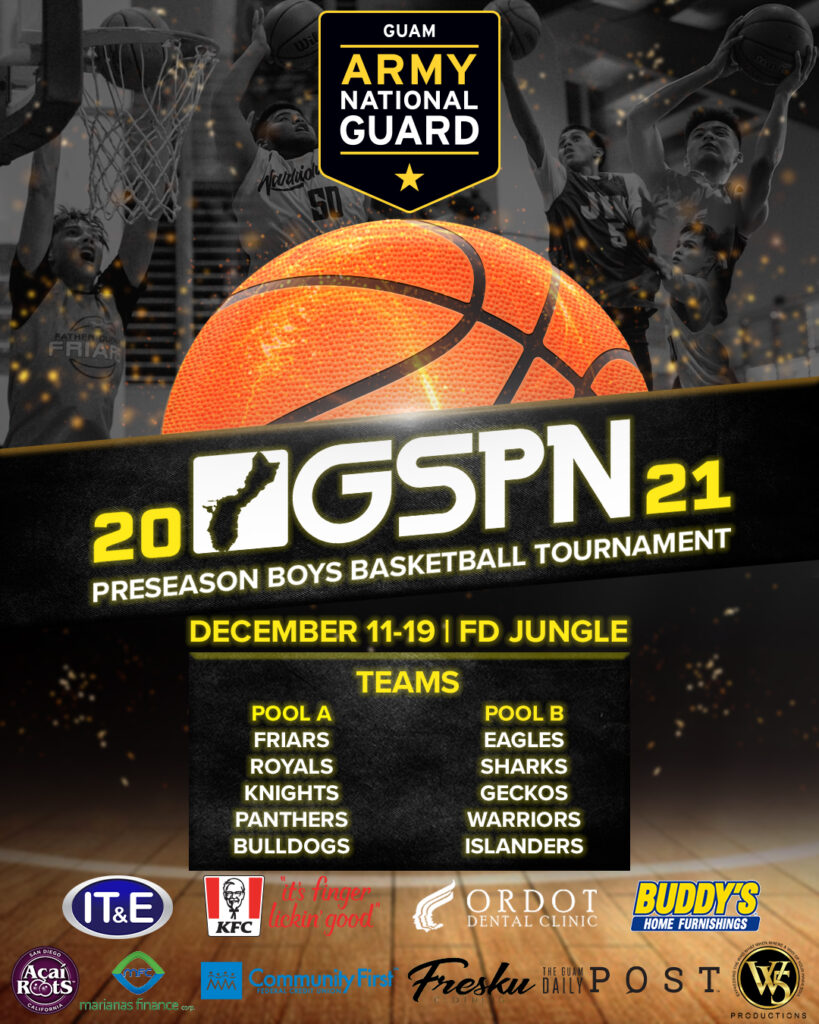 QUICK HITS
Robert Artero Maley recently captured the 182-lb. division of the Costa Mesa Classic, winning via pin in 4 out of 5 matches. Robert is a 4-year varsity wrestler at San Clemente HS (Tritons) and is currently ranked 15th in California's high school scene. He is the son of Jacque Artero Maley (AOLG 1991).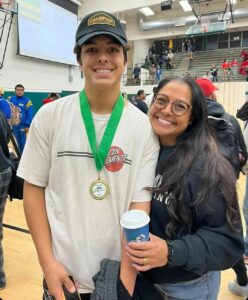 ——————————————–
Pat Taitano and Rich Abiador, teammates on the 1995 SPG volleyball team, have led their high school girls volleyball teams to the Washington State Championships in Yakima, Wa.
Taitano coaches Mt. Rainier High while Abiador leads North Creek High.
There for support is Dr. Mark Perez, a health professor at Central Washington University and a former UOG volleyball player.