Name: Linda Johnson (photo above with former NFL wide receivers Kevin Walker and Jevon Walker)
Sport(s):TennisAccomplishments: 1982-84 John F Kennedy Girls Tennis Team Champions; 1983-84 DOD Far East Tennis Tournament Girls Singles Champion; 1983 Okura Hotel Junior Girls Champion; 1983,84 Guam Open Mixed B Champion; 1986 Continental Airlines Chamorro Open Women Singles Champion, Women's Doubles Champion; 1995,96,97, Womens Chamorro Open Champion; 1990 Toyota Dueling Doubles Women's Open Champion; 1990 Micronesian Games Saipan Team Silver; 1992,94,95,96.98 Mixed Doubles Champion; 1991 9th South Pacific Games Papua New Guinea Team Silver; 1994 3rd Micronesian Games Guam Team Singles Silver, Women's Doubles Gold, Mixed Gold, Team Silver; 1998 First Lady's Cup Singles 5.0 Champion; 1998 4th Micronesian Games Palau Singles Gold, Women's Doubles Silver, Team Gold, Mixed Doubles Gold
1982 DOD Far East  Tennis Tournament. won out of 224 girls that entered
1982-84 John F. Kennedy MVP for Tennis
1983 Far East Basketball Tournament Champion
Occupation: Store Manager for Wholesale Nutrition Center
GSPN: You've been gone for a while. When did you leave Guam and what have you been up to?
LJ: Sixteen years just after Supertyphoon Paka and I'm a sports-specific Supplement Specialist in The Woodlands, Texas.
GSPN: You were a dominating force in women's tennis for years. What do you think the average Guam fan should remember you most about?
LJ: Killer forehand. (laughing)
GSPN: Do you miss playing in Guam's heat and humidity?
LJ: I live in the Woodlands, Texas and the weather isn't too far off from Guam's weather. But the winter season here is pretty brutal for me. But I do miss playing on Guam. You could show up at the Hilton and always find a drop in match. Over here you have to set things up.
GSPN: Who was your biggest rival on Guam?
LJ: Wendy Huynh. I look back and miss playing tennis against her.
GSPN: You represented Guam in numerous international tournaments. What do you remember the most about representing Guam?
LJ: Supporting all the other Guam athletes in their sports. Showing up to there matches and supporting Guam. The team village experience…watching how the Guam team always had a bottle of Tabasco a meal time.
GSPN: How much of Guam have you've taken with you to the states and how often do you talk about Guam to others?
LJ: Even though I'v been gone 16 years, Guam will always be my home. There isn't a day that goes by that it is brought up in conversation. I'm a member of the Houston MINI Motoring Society. Yes, I'm into MINI Coopers. I have a personal license plate on my MINI Cooper. She's called ISLGRL ( ISLANDGIRL) That in itself makes people ask me what island are you from. Of course, I am proud to say "The Island of Guam."
GSPN: Serena Williams in one word.
LJ: Vicious!
GSPN: OK, in a couple of sentences.
LJ: She is a power house of a player. She may get sick on the court during Wimbledon and have to withdraw. But she always comes back to win it big. She isn't one of my favorite female players. I'll always be a fan of Steffi Graf.
GSPN: Do you still play?
LJ: Not very often. If I'm lucky twice a month. Still dealing with a lateral menaces tear in my left knee.
GSPN: If there was one thing you could change about Guam's tennis, what would it be?
LJ: Keep developing junior tennis. Guam National Tennis Federation needs to hold free clinics every few months.

QUICK HITS
Guam MTB National Championship: Edward Oingerang and Jennifer Camacho are your 2023 MTB national champions. Oingerang finished the course in 1:13:24 while Camacho won her second straight title in 54:08.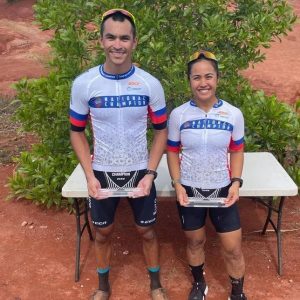 ——————————————
Kobe Miyashita, with St. John's coach Arvin Flores, was named the 2023 IIAAG Middle School Boys Volleyball MVP!