By Jay Leon Guerrero
Saturday was a good day for the Guam Basketball Confederation. After the Men's national Basketball team won the award for the most outstanding team at the Pacific Games, the Under-15 team boys team won the Marianas Basketball Tournament in Saipan, CNMI.
"The future is definitely bright for both men and women for basketball. It is really great news," said President Tony Thompson.
The U15 National team bulldozed the competition from the CNMI and Palau winning every game by double digits. Guam defeated the CNMI in the championship game 75-40 at the Gilbert Ada gymnasium to win the Gold medal.
The U15 roster:
1. De'Aundre Cruz
2. Holden Barcinas
3. Takumi Simon
4. Napu San Luis
5. Michael Min
6. Cloyd Rosas
7. Alschea Grape
8. Dreyven Salas
9. Mark Temerowski
10. Tomas Calvo
11. Shane Terlaje
12. Tony Hsieh
Head Coach – Brent Tipton
According to Coach Tipton, his group gelled really fast and the concept of team basketball was implemented into the game plan. "It was great working with this group, they are all just going into their sophomore year and are highly skilled. There is so much potential in this group and I am proud of them," said Tipton.
"Coach Tipton got us mentally prepared for every game. He never sits down on the bench during our game, he always maintains communication with us," said Napu San Luis.
Michael Min, who plays point guard, said that his squad established a brotherhood and they look to represent Guam again in the future. Min said that since their first practice, the team bonded and learned to love each other.
"Ever since our first practice we have been great learners and everyone helps each other out," said Min if the quick team chemistry. "Coach Tipton really deserves a lot of credit, he made us prepare for every game in Saipan like it was a championship game. No matter what the score was, we had to work our tails off," said Min.
"Thank you to all our parents and supporters and a huge thanks to Coach (Tipton). I'm lucky to be coached by him at Southern High school and now on (U15) team. He has really taught me to be a better player," said San Luis. San Luis is excited for the future and looks forward to more competitions with his new teammates. "This is my first trip and it is truly an honor to represent Guam".
Coach Tipton said that the Basketball Confederation has plans to send more youth teams to tournaments.
"There will be a later tournament possibly in Australia for the U16 FIBA Oceania region. This team may be sent to represent the island," said Tipton.
Thompson said that the foundation plan is set and there are tournaments with FIBA to expose these kids to high level of play which will make them better players. "Our goal, of course, is to get as many as we can into good college level programs so they can go and experience that next level and then come back and play for Guam," said Thompson.
"It's unfortunate there wasn't enough teams in Saipan to send our U15 girls out there," said Thompson. But according to Thompson, the U15 girls national team will leave on Liberation Day to play in a tournament in the Philippines. "They leave on Tuesday and coach Jimmy Yi will lead that team," said Thompson. Stay tuned to GSPN for the progress of the girls' tournament.

QUICK HITS
Guam MTB National Championship: Edward Oingerang and Jennifer Camacho are your 2023 MTB national champions. Oingerang finished the course in 1:13:24 while Camacho won her second straight title in 54:08.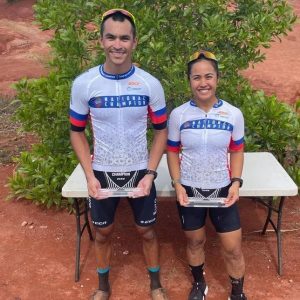 ——————————————
Kobe Miyashita, with St. John's coach Arvin Flores, was named the 2023 IIAAG Middle School Boys Volleyball MVP!