By Robert Balajadia
*All times are unofficial
Guam's Jonathan Wilde was the first solo Guam National Triathlon competitor to cross the finish line at a solid (2:11:35), though he immediately gave Kudos to two of Guam's fastest runners in Derek Mandell and Ryan Matienzo after the two zipped past Wilde during the 10k portion of the event in the scenic village of Merino Sunday morning.
"Man, I have to start coming out to your guys running practices" commented Wilde to Matienzo and Mandell after the fact.
Wilde took a wrong turn at during last years event which forced him into a disqualification, but he made all the right turns this race, bringing in the top spot.
Wilde was racing towards the finish line with baby in hand after picking up his daughter for the final 40 yards of the race. He was also the first out of the water and first to the bike rack, edging out even the fastest relay teams. At leas until the run, where Guam's speedsters equipped in 'Run Guam' gear, took complete control.
The relay team of the olympian Mandell, swimmer Alejandro Atoigue, and olympian biker Derek Horton was the first team to finish the event at (2:04:40) with the other powerhouse team of Pilar Shimizu, John Martin, and Matienzo finished close behind (2:05:03).
Professional athlete Charlie Epperson finished just a minute off of Wilde's time at (2:12:40).
Lynn Mattix was the first female to finish the National Triathlon event with her two kids cheering her on during her final stretch to the finish. Mattix posted an unofficial time of (2:43:41).
Follow GSPN on Twitter (@Guam_Sports) and on Instagram (@guamsportsnetwork) for a different kind of coverage!
Complete results to be posted when available 

QUICK HITS
Guam MTB National Championship: Edward Oingerang and Jennifer Camacho are your 2023 MTB national champions. Oingerang finished the course in 1:13:24 while Camacho won her second straight title in 54:08.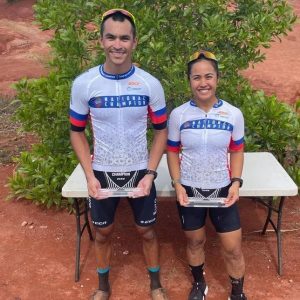 ——————————————
Kobe Miyashita, with St. John's coach Arvin Flores, was named the 2023 IIAAG Middle School Boys Volleyball MVP!