[useful_banner_manager_banner_rotation banners=72,74,77 interval=10 width=120- height=600 orderby=rand]
(Catch the live audio broadcast of the All-Star Game with GSPN's Robert Balajadia HERE)
By Jay Leon Guerrero
With 1500 fans in attendance at JFK's Ramsey Field, the island's best high school football players took the field to play the first ever All-Star game thanks to the Triple J Auto Group. The All-Island first team offense and second team defense called the Blue Raptors (coached by GW head coach Ryan Rios) went against the first team defense and the second team offense called the Silver Mustangs (coached by FD head coach Bruce Meno).
The game was as advertised, with the Silver Mustangs getting the comeback win for the 12-7 victory with both offenses getting an uptick in the final four minutes of the game.
The Mustangs managed to score early in the game to lead 6-0. After the lone first quarter touchdown, both defenses held their ground for three quarters. The Raptors and Mustangs were unable to get into the red zone until both offenses woke up late in the final quarter. With less than a minute and a half remaining, the Raptors got a huge gain from quarterback Brendan Santos (GW) connecting with Devin Sudo (FD) for a 38-yard gain to put the ball on the Mustang eight-yard line.
Game saving play
After short gains from Sage Garcia (JFK) and Ryan 'Hollywood' Quitugua (GW), the Raptors had their backs against the ropes facing fourth down just two yards from the end zone. Rios burned their final timeout and went with a familiar play with Santos hitting his favorite receiver Noah Blas (GW) for the game saving touchdown from two yards out. Jerome Artero (FD) gave the Raptors the lead with the extra point to go up 7-6 with 50 seconds left in regulation.
The Silver Mustangs did not hold back on their ensuing possession with starting quarterback Daniel Phillips (FD) taking it to the air looking for open receivers. The Silver Mustangs were unable to find an open target on two downs, but caught a break on a pass interference play to advance the ball to the Raptor 35-yard line. With 15 seconds left, Phillips went for the long ball finding Makoa Bamba (GH) for the comeback touchdown to win the game 12-7, just like the coaching staff drew it up.
"The instructions were to get the ball to our key receivers which we failed to do earlier in the game. It was a win or go home, we were going to hit them or not," said Mustang assistant coach Mike Pangelinan (JFK) regarding the final play.
"Makoa (Bamba) is a great receiver and he is an easy target. He was the receiver we were looking for as the first option and fortunately he scored a touchdown," said Phillips.
Bamba won the Player of the Game honors for his clutch performance against a tough secondary.
The Mustangs scored their first touchdown on a trick play to go up 6-0 with 3:38 left in the first quarter. Marcus Manglona (JFK) scored on a hook-and-ladder play from 15 yards out for the first touchdown of the game. Manglona cut to the right side getting the football pitched back to him from teammate Leon Shimizu (FD) after he received the ball on a quick slant from Phillips.
Defense owned a big chunk of the game with both offenses not in chemistry having only three practices together. Donovan Johnson-Coleman (GH), Terrance Aguon (SOU) and Garcia combined for 18 tackles for the Raptors. Johnson-Coleman had 2.5 sacks, Aguon had 1.5 sacks and Garcia had a sack to keep the Mustangs at bay until the final 10 seconds of regulation.
Maroon/Teal/Purple Wall?
The Mustang defense was superb, holding the Raptor running backs to minimal gains. With a defensive line made up of Pierre Aflague (FD), Cameron Callaway (SOU), RJ Rokop (FD) and Damon Hocog (GW), advancing the ball was extremely difficult. If running backs got by the line, they had a talented linebacker unit waiting to distribute a bruising hit. Jermaine San Nicolas (GW) did not need to perform his usual heavy workload with his fellow linebackers notching tackles.
"In my team, I was an independent linebacker but I got to play alongside the other great linebackers in Joaquin Mesa (FD) and Dylan Tenorio (SOU)," said San Nicolas. "It was intense out there, I got to know other players from the other teams and made good friends".
"The All-Star game is a good way to showcase Guam's best high school talent and I'm glad to be part of it," said the Mustangs Aiden Ferrera (OKK). "It was a special game because I got to play in the same team as RJ Rokop (FD) who is my good friend since middle school."
Regular season teammates go head-to-head
There was a bunch of playful trash talk and situations in which teammates went head to head on the field. Sudo went against his regular season teammates and good friends Bryton Cepeda and Roy Taimanglo in the Mustang secondary unit. Cepeda and Taimanglo double-teamed Sudo late in the game to break up a big play. The Mustangs Rokop also had some jokes to Raptor Cole Merfalen (FD) after the game asking him "how does it feel to lose?" as they both laughed since the Friars went unbeaten in all throughout 2015.
Raptors quarterback and offensive MVP Santos (GW) scrambled for a run and saw Defensive MVP Hocog (GW) from the Mustangs in front of him. Instead of laying out the opposition, Hocog went for the simple tackle against his good buddy.
"Thanks for not laying out your brother," said Raptor assistant coach Mark Mesngon (GW) towards Hocog.
The Mustangs were led in offense by Phillips, who completed four passes for 61 yards and a touchdown with Bamba catching two of those passes for 52 yards. Manglona rushed 34 yards on 5 attempts, De'Aundre Cruz (FD) rushed just three times for 26 yards. Hocog had four tackles for the Mustangs, Callaway had two tackles and a forced fumble.
Santos threw for 83 yards including the touchdown to Blas. Jesse Carl Cruz (OKK) rushed for 30 yards and had a sack on defense for the Raptors. Johnson-Coleman had a game high 8 tackles; Aguon had 4 tackles, a sack, and a blocked punt.
Entertainment
Fans were treated to a halftime throwing exhibition by two of Guam's greatest quarterbacks Tony Posadas and Sen. Brant McCreadie. Posadas wowed the crowd with his accuracy and McCreadie showed he still had a strong arm firing long bombs as fans went on the field to take pictures.
Triple J Youth Football teams also had the spotlight in between quarters with a 40-yard dash competition to find out who was the fastest sprinter in their respective divisions. Here are the winners with times:
Matua Division: Noah Diaz, Cowboys – 5.01 seconds
Metgot Division: Kyle Gogue, Raiders – 5.13 seconds
Manha Division: Sage Castro, Angels – 5.90 seconds
Mandikiki Division: Miley Santos, Packers – 6.91 seconds
Sportsmanship and fun were priorities for both teams. Winning or losing was not important, playing the game they love and showcasing their skills for the love of football was. Congratulations to all players and thank you to Triple J Auto Group for making the first ever high school football all star game a huge success.
PHOTO GALLERY BROUGHT TO YOU BY:

QUICK HITS
3rd place: Big ups to the Para Todu Rugby Club for finishing 3rd out of 16 teams in the Manila 10's Rugby Tournament today. Biba Guam Rugby!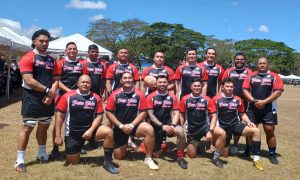 ——————————————
Guam MTB National Championship: Edward Oingerang and Jennifer Camacho are your 2023 MTB national champions. Oingerang finished the course in 1:13:24 while Camacho won her second straight title in 54:08.