[useful_banner_manager_banner_rotation banners=72,74,77 interval=10 width=120- height=600 orderby=rand]
THOUSANDS FLOCK TO TUMON TO CELEBRATE KO'KO'S 10TH ANNIVERSARY
PRESS RELEASE – (Sunday, November 8, 2015 – Tumon, Guam) In just a little over an hour, Tsukasa Kawarai from Japan, continued his winning streak at the 10th Annual 2015 Guam Ko'ko' Half Marathon and Ekiden Relay today, winning the half marathon in the men's division with a time of 1:12:43, besting his time from last year of 1:13:30.
Kawarai's bib number, #1, foreshadowed his impressive run as he maintained the top position throughout the entire race, finishing strong amidst a cheering crowd at the Joseph Flores Memorial Park (Ypao Beach). Keiko Bando from Japan from the 18-29 age division was the overall female half marathon winner with a 1:26:20 finish.
Guam's top male half marathon runners finished fourth and fifth place overall. Charlie Epperson finished with a time of 1:16:41, followed closely behind by Ryan Matienzo, who finished at 1:17:10. The first female resident marathon finisher was Manami Iijima who finished third with a time of 1:31:51.
The Guam Visitors Bureau (GVB) welcomed 2,037 total Ko'ko' Half Marathon and Ekiden Relay runners to this year's signature event. Nine hundred seventy-three (973) runners were registered for the half marathon and 1,064 runners entered the Ekiden Relay race. Guam welcomed runners from seven different countries including Japan, Korea, Taiwan, Hong Kong, Philippines, Russia and Australia.
"On behalf of GVB and our Ko'ko' partners, we would like to congratulate our participating runners for their successful finish. Ko'ko' Weekend shows how we are diversifying and growing our visitor markets to align with our Tourism 2020 objectives," said Nathan Denight, GVB General Manager. "Un Dangkulo na Si Yu'os Ma'ase to all our volunteers, first responders and sponsors who have made this event successful for the past ten years. We hope everyone had a great time and returns for the upcoming Guam International Marathon on April 10, 2016!"
"The Ko'ko' Race and the Guam International Marathon are wonderful opportunities for us to share our hospitality and warmth with our visitors. The Håfa Adai spirit of our resident runners and their interaction with visiting runners is what made this event so special. I take my hat off to GVB for making events like this possible," said Ben Ferguson, Managing Director for Guam Sports Events, Inc. "I'd like to thank everyone who made this event happen. From our marshals who looked out for our runners on the course to each volunteer who helped to keep our runners hydrated, congratulations on a job well done."
"Yoshimoto?Premium?Dreams" team from Japan was the overall fastest winner of the Ekiden Relay Race, with team members Yasuhiro Tago, Yasukazumi Yazato, Takahiro Sunada and Yusuke Inose finishing with a combined time of 1:05:20.
Of the 1,064 ekiden runners, a great majority were Guam residents. Thirty-six percent of ekiden runners were from Japan and South Korea. High school runners made up 10 percent of total ekiden runners this year. This surge in the number of participating high school teams is a testament to Bank of Guam's Spirit Contest. Bank of Guam will award $500 to Okkodo High School's senior class.
In keeping Ko'ko' Weekend festive, GVB hosted a costume contest and awarded $200 in cash to half marathoner Ronaldo Abagatan for best costume and the T'Way Ekiden Relay team for the best team costume.
This year, both the Ko'ko Half Marathon and Ekiden Relay Race and the Guam Ko'ko' Kids Fun Run were held on the same weekend. Ko'ko' Weekend kicked off Nov. 7 with Saturday's Guam Ko'ko' Kids Fun Run which awarded top male and female winners for 3K (10 – 12 year-olds), 2K (7 – 9 year-olds) and 1K (4 – 6 year-olds) races. This year, the 1K race boasted a great increase in the number of participating runners with more than 100 runners under the age of six crossing the finish line. Each Ko'ko' Kid received a finisher's medal and shirt and was treated to a post-race awards ceremony and festival.
GVB thanks our major sponsors for Ko'ko' Weekend – IT&E, T-Galleria by DFS, United Airlines, the Stations of KUAM, Hilton Guam Resort and Spa, Hyatt Regency Guam, Nikko Hotel Guam, Pacific Islands Club, Sheraton Laguna Guam Resort, and Powerade/Fruita+ – for their support. GVB also thanks Playport and Ambros, Inc., the main sponsors for the Guam Ko'ko' Kids Fun Run.
This event would also not be possible without the assistance of our supporters – Bank of Guam, Calvo's Selectcare, Cars Plus/Cycles Plus, IP&E, Pacific Daily News, Synergy Studios and G4S Secure Solutions (Guam), Inc., with special thanks to the Offices of the Governor & the Lieutenant Governor, A.B. Won Pat International Airport Authority, Guam International Distributors Inc., Japan Guam Travel Association, Micronesian Brokers Inc., Pay-Less Supermarkets, Run Guam, Department of Agriculture, Department of Parks & Recreation, Guam Fire Department, Guam Police Department – Highway Patrol Division and the Mayors Council of Guam.
Ko'ko' Weekend continues to spread awareness for Guam's indigenous Guam Rail, also known as the ko'ko' bird. Efforts in conjunction with the Department of Agriculture, Division of Aquatic and Wildlife Resources raise awareness of the plight of the flightless bird and help preserve this endangered species. Che'lu' is the official mascot for the Guam Rail and interacts with the community of Guam and visitors endearing them to Guam's territorial bird.
Official 2015 race results will be posted on guamkokoroadrace.com.

QUICK HITS
Guam MTB National Championship: Edward Oingerang and Jennifer Camacho are your 2023 MTB national champions. Oingerang finished the course in 1:13:24 while Camacho won her second straight title in 54:08.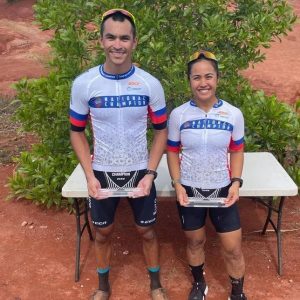 ——————————————
Kobe Miyashita, with St. John's coach Arvin Flores, was named the 2023 IIAAG Middle School Boys Volleyball MVP!