[useful_banner_manager_banner_rotation banners=72,74,77 interval=10 width=120- height=600 orderby=rand]
By Patrick Lujan
Earning a black belt in any martial art is a symbol of honor and hard work as one reaches the pinnacle of that respective art.
Who you earn your black belt from is a story all in itself.
Guam native Jason Palacios earned every step in his jiu-jitsu journey before finally putting on his black belt in November 2011 by none other than the legendary Master Royce Gracie.
"When I first ever watched Royce fight in UFC 1 I thought like most people that it was amazing to see someone smaller beat a person twice his size," said the Army veteran Palacios. "It was that moment that my curiosity became my reality. I never would have thought to myself coming from a small island that I would ever receive a black belt from the legend himself – Royce Gracie!"
The 2001 JFK graduate started training in jiu-jitsu right out of high school as he joined the Army. "The path I chose initially of jiu-jitsu was to improve my well roundedness as a fighter.  My first encounter with Royce was in North Carolina. By the grace of God and the military I was able to share my journey under many great mentors and most especially Royce himself."
Palacios , who attended Ulloa Elementary and Dededo Middle School, began most of his professional fighting and jiu-jitsu career out in San Antonio, Texas. While out in Texas he trained with guys such as Travis Lutter and Buddy Clinton, who was one of Royce Gracie's first black belts.

"I then moved to North Carolina in 2007 where I met up with another one of Royce's first black belts named Greg Thompson. It was through Greg Thompson that I met Royce. Since then the rest is history."

Palacios currently runs a business teaching combatives and jiu-jitsu for US Army Special Forces in Lacey, Washington. "This is my way of showing appreciation and giving back to these brave men and women! I am a current competitor in jiu-jitsu but no longer pursuing mixed martial arts. However, I am a huge fan and enjoy supporting and cheering our local fighters."
As for what the Guam fans can expect when Royce arrives on Guam on Nov. 14th: "He's easy going and great! At first he can seem like an intense guy but he truly is a joker. You all will enjoy his humor! Although I won't be on island to see Master Royce, I'm excited for him to visit and enjoy what our people, beautiful island and culture will teach and show him."
How cool is that. Guam boy gets his black belt from jiu-jitsu royalty – the same royalty that will grace our island with his presence in a matter of days.

QUICK HITS
Guam MTB National Championship: Edward Oingerang and Jennifer Camacho are your 2023 MTB national champions. Oingerang finished the course in 1:13:24 while Camacho won her second straight title in 54:08.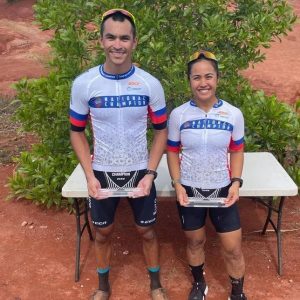 ——————————————
Kobe Miyashita, with St. John's coach Arvin Flores, was named the 2023 IIAAG Middle School Boys Volleyball MVP!