[useful_banner_manager_banner_rotation banners=72 interval=5 width=120- height=600 orderby=rand]
By Robert Balajadia
Guam's basketball gold medal in the Pacific Games not only granted them a chance to play in the upcoming FIBA world tournament in 2017, but also an opportunity for a couple of local ballers in Joe Blas and Willie Stinnett to get a chance at playing professional basketball for the New Zealand Basketball League (NBL).
The two, along with teammate Seve Susuico, were gathered at the iFit training center Thursday afternoon to greet the press for their scheduled 3×3 tournament and to announce their trying out for the pro teams as well.
Blas and Stinnett are scheduled to meet with at least four professional teams in the New Zealand, to try out for a shot at making their roster for the 2016 season in March. The schedule fell in line with the 3×3 tournament in the Gold Coast, Australia, allowing for two monumental basketball outings in a two-week span.
Men's National team head coach EJ Calvo was contacted from several teams saying that they were interested in Blas and Stinnett after showcasing their all-around talent during their pursuit of the Pacific Games gold.
iFit had jumped to the opportunity to get involved with the athletes and their run during the 3×3 tournament as well as their pro try outs. Blas stated that the sponsorship from iFit proved a big step in just how much everyone is behind them and rooting for their success.
It's a chance of lifetime for both men, but it won't likely be their last given the season is still ways away from starting. Still, the two know what kind of opportunity lies before them and are ready to pioneer a shot at professional basketball for Guam.
"I just have to stay confident. I need to stay disciplined and hopefully use the 3×3 tournament as a tune-up to get into a game mode for competition," said Blas on the shot.
The two would be the first local grown talent to ever make it professionally, and Blas would do so being the first with a Chamorro bloodline.
"It's always been a personal dream of mine to play professionally, but it also opens up a door for everyone after. There is an immense amount of pressure, but I just have to stick to my disciplines," added Blas.
The same goes for Stinnett, who has become one of Guam's most accomplished ballers in his history with the team. The opportunity to play professionally is at his doorstep and he's ready to make the commitment.
The invitation went well in hand with the opportunity to play in the 3×3 basketball tournament, which would only help the two better prepare for their tryouts.
3×3 Tournament
The three of Guam's best male ballers, along with one pro talent, will venture off to the Gold Coast, Australia next week to compete in the 2015 FIBA 3×3 Oceania Championships on September 12-13.
National team members Blas, Stinnett, Susuico and former Guam native and pro basketball player Makeli Wesely will be the four representatives for Guam in the tourney.
3×3 basketball is no stranger to the likes of Guam's young female basketball players (U19) having competed in a handful of tournaments over the past five years. The door had always been open for Guam to compete in the tourney and the men's team is ready to commit to the newest basketball opportunity.
The 3×3 Splash Basketball tourney held at PIC over the weekend was an official FIBA sanctioned event, giving Guam more standing and 3×3 reputation.
Top level talent like Australia and New Zealand will have teams representing which gives Guam a chance to compete with two of the worlds top level basketball talent.
Guam's first game will be against Fiji, the team they defeated in the gold medal game of the 2015 Pacific Games.
For more info, check out the official press release on the 3×3 team headed out next weekend!

QUICK HITS
Guam MTB National Championship: Edward Oingerang and Jennifer Camacho are your 2023 MTB national champions. Oingerang finished the course in 1:13:24 while Camacho won her second straight title in 54:08.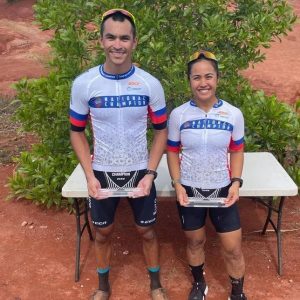 ——————————————
Kobe Miyashita, with St. John's coach Arvin Flores, was named the 2023 IIAAG Middle School Boys Volleyball MVP!