Blue Jays. Bzzz stay unbeaten
Bud Light Women's FastPitch action continued on Saturday with the Blue Jays and Bzzz both picking up wins to stay atop the standings at 2-0 in the young season.
The Bzzzz (2-0) scored seven runs in the 5th inning to stun Lady Adahi (0-2) 14-6 for a 5 inning mercy rule win.  Stephanie Henry picked up the win on the mound and Bzzz Leftfielder Morgan Watson was Strike Zone Player of the Game going 3 for 4 with two runs and four rbi.  Susan Mannino was 2 for 2 with three runs scored as the Bzzz pounded out fifteen hits in the win.
Juliana Santos was 2 for 3 with a double and triple for Lady Adahi in the loss.  Adahi drops to 0-2 on the season.
In the Saturday night game the Blue Jays (2-0) stayed unbeaten with a 15-1 drubbing of Northern Mix (0-1).  The Blue Jays scored twelve runs in the bottom of the 1st inning and the Northern Mix never could make up the difference falling via the 8 run mercy rule in five innings.
Vanessa Cruz slugged two triples and had four rbi to snag SZPOG and Cara Afaisen closed out the final three innings on the mound to get the win for the Blue Jays.  Colleen Quinata chipped in three hits and scored three runs.
Sherika Cabrera had two hits and Shannon Santos was 1 for 2 with a double for Northern Mix who drops their first game of the season.
The 2015 Bud Light Women's Fast-Pitch League plays Saturday and Sunday at the friendly confines of Leo Palace Softball Field.  Follow games live on Facebook/Amateur Baseball Guam.
This weekend's action @ Leo Palace Resort:
16-MaySat3pmNorthern MixvsBoonie Bzzz
16-MaySat6pmLady AdahivsBottomed Out
In the only game of the weekend the Barrigada Crusaders came back to defeat the Guahan Soldiers 9-5 in Budweiser Amateur Baseball League Saturday night action.   Crusader's starting pitcher Eric Lizama went the distance on the mound for the win and Napu San Miguel was 2 for 3 with 3 rbi to pick up Strike Zone Player of the Game honors.   The Crusaders improve to 3-2 on the season and the Soldiers drop to 1-4.
This week's action @ Leo Palace Resort:
13-MayWed7pmChalan Pago AmigosvsAgat Cardinals
14-MayThu7pmTalofofo RangersvsVipers
16-MaySat3pmYona RedhawksvsGuahan Soldier
16-MaySat6pmSakudeevsSumay Braves

QUICK HITS
Guam MTB National Championship: Edward Oingerang and Jennifer Camacho are your 2023 MTB national champions. Oingerang finished the course in 1:13:24 while Camacho won her second straight title in 54:08.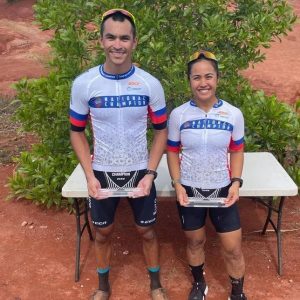 ——————————————
Kobe Miyashita, with St. John's coach Arvin Flores, was named the 2023 IIAAG Middle School Boys Volleyball MVP!