By Robert Balajadia
The Andersen Bombers rode the hot hand of Ledget Glover en route to a semifinals routing of the Tooth Fairies in the Tamuning Summer Jam varsity league. Glover netted 23 points as the Bombers rolled through with a 73-45 win Saturday evening.
"I had a good game earlier this morning playing against the ship that pulled in," said Glover.
He's friends with the majority of the Tooth Fairies, in being that they play pick-up games at the FD Jungle and members of the Fairies are National Team players.
"It's real fun when we get to play this guys and it's just good fun. What we play for is bragging rights," added Glover.
The Bombers wasted no time firing out to a 9-0 start forcing the Fairies into a quick timeout with Glover scoring seven of the opening points. Joe Blas connected on two straight buckets, but four straight turnovers still had the Bombers up 17-8.
Glover then connected on a pair of three pointers from the left wing in transition as a part of a 10-2 run to go up 27-14. Glover then cashed in on another deep three as the Bombers held a 32-14 lead, which turned 36-18 at the half.
The Fairies couldn't recover in the second half with the Bombers opening up with another 10-2 run stretching their lead even further 44-20 with layups from Glover and teammate Barry Endsley.
Andersen's largest lead grew as big as 30 points, 73-43, before games end.
With the win, the Bombers will now face the Tamuning Typhoons in the Summer Jam Finals Sunday night at 7:30 pm. Glover's big game has given him confidence for the finals as he already made his finals prediction.
"Tomorrow's game is already won," said Glover with a smile. "We'll handle what we need to. We only beat them by about 11 points in the regular season, and it's odd that we're the smaller team, but we'll take care of business," said Glover.
Joe Blas led the Tooth Fairies with 10 points and the Bombers got 12 points from Brian Cooper off the bench.
PHOTO GALLERY:

QUICK HITS
3rd place: Big ups to the Para Todu Rugby Club for finishing 3rd out of 16 teams in the Manila 10's Rugby Tournament today. Biba Guam Rugby!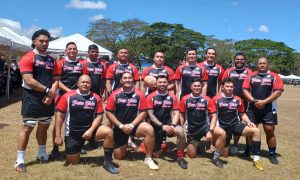 ——————————————
Guam MTB National Championship: Edward Oingerang and Jennifer Camacho are your 2023 MTB national champions. Oingerang finished the course in 1:13:24 while Camacho won her second straight title in 54:08.