PRESS RELEASE – In less than a month, Guam has once again ascended to its highest-ever FIFA/Coca-Cola World Ranking – No. 146 in the world – with the latest release published by FIFA.com Aug. 6.
The new ranking comes ahead of the Matao's next set of 2018 FIFA World Cup Russia and AFC Asian Cup UAE 2019 Joint Qualification Round 2 fixtures – Sept. 3 against I.R. Iran in Iran and Sept. 8 against Oman in Guam.
"This is a very exciting time for Guam football – just last month I was praising Guam's national program for reaching the 150s in the world for the first time in history," said Richard Lai, Guam Football Association President. "Now, we're in the 140s and ranked above countries like Hong Kong, Singapore, and Indonesia, all with a long history of football achievements in Asia. I am looking forward to see what more we can do. We couldn't have accomplished what we have in recent years without the full support of FIFA, AFC, EAFF, the local community and business sponsors."
With the rise in world rank, Guam is also ranked No. 22 in Asia, surpassing 25 other more established football countries in the continent.
"I'm very pleased with the progress the team continues to make in recent years, though I truly feel that Guam has not yet reached its peak," said Gary White, head coach of the Guam men's national team. "There really is no limit as to what Guam can achieve in international football as evidenced by the national team's recent first-ever victories over Turkmenistan and India in June to lead Group D in the joint qualification and many other 'first-ever' results in recent years. In fact, before the June matches, hardly anyone took me seriously when I stated that I believed Guam would lead Group D – a group that includes Asia's No. 1 country, I.R. Iran – at the conclusion of the opening matches of its 2018 FIFA World Cup campaign.
"With every historical milestone we achieve, we'll continue to set our standards even higher. This is not only for the team, but for Guam's entire national football program. There are now certain high expectations to meet each time Guam competes," White added.
Following the FIFA World Cup Qualifier matches in September, next on the Matao's schedule is its second fixture against Turkmenistan, scheduled for Oct. 13 in the Central Asian country, followed by a match against India on Nov. 12 in Bangalore. The team returns to Guam for a Nov. 17 match against I.R. Iran at the GFA National Training Center, before waiting until Mar. 24 next year to face Oman in Oman.
Tickets for the upcoming Guam vs Oman match scheduled for Sept. 8 may be purchased beginning this week at GFA. Ticket prices range from $20 to $40 based on seating sections.
For more information about upcoming FIFA World Cup Qualifier matches and other GFA events, call the GFA Main Office at 637-4321.

QUICK HITS
Guam MTB National Championship: Edward Oingerang and Jennifer Camacho are your 2023 MTB national champions. Oingerang finished the course in 1:13:24 while Camacho won her second straight title in 54:08.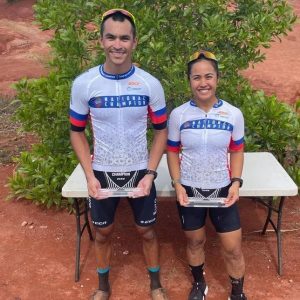 ——————————————
Kobe Miyashita, with St. John's coach Arvin Flores, was named the 2023 IIAAG Middle School Boys Volleyball MVP!