By Robert Balajadia
It didn't take the fighters too long to get through PXC 49 as the night featured seven 1st round finishes and two unanimous decision wins in the main event.
Mike Puccini snuck in a submission victory after getting out struck in the stand up game to open PXC 49 as the amateur fight. More submissions took place as Mike Sanchez, Ricky Camp, and Shane Alvarez all submitted their opponents in the 1st round with Alvarez fighting with a heavy heart for Saipan.
Koyomi Matsushita earned the first KO victory of the night with a vicious slam only to be followed by another KO slam victory from Tyrone Jones. Frank 'The Crank' Camacho's return to the PXC was brief as he quickly finished his opponent in under one minute, also fighting for Saipan.
The main events were won by unanimous decision with Trevin Jones using his 'grind them out' gameplay over Mark Abelardo and Brogan Walker improved to (2-0) with her UD win over a very tough Gabby Romero.
Amateur Bout
Mike Puccini def. Frank Meno via 2nd round submission (guillotine choke)
RD1: Meno scores on a takedown but Puccini grabs a tight guillotine attempt. Meno breaks loose and works from the guard. Meno attempts a slam but Puccini breaks fall and lands a reversal and is now on top in the guard. Fighters exchange shots with Puccini corner calling for elbows. Ref stands both fighters up, prematurely to the crowd. Meno getting the better of the leg kicks. Meno checks a Puccini leg kick and successfully lands a double-leg takedown followed by hard elbows. Puccini beginning to bleed from the nose with Meno trying to pick away at him. Round ends with Puccini landing near fight-stoppage shots.
RD2: Meno begins the round with another takedown, currently 3-3 on takedown attempts. Fight now standing with Meno holding Puccini in the clinch. Meno trying to finish the fight with Puccini swinging wildly trying to defend. Fighters showing fatigue as action has slowed. Puccini lands a kick to the body as Meno grabs and takes him down. Puccini sneaks in a tight guillotine choke while on top to end the fight.
Main Card
Mike Sanchez def. McKlane Alfred via 1st round submission
RD1: Sanchez opens up with a kick to the body as Alfred wraps up Sanchez against the cage. Sanchez stuffs a takedown and attempts to pull off a submission from the guard. Sanchez working on the ground with Alfred defending. Sanchez grabs the arm of Alfred, trying to crank out an americana, eventually forcing Alfred to tap.
Shane 'Pikaboo' Alvarez def. Jessie 'the Finisher' Rafols via 1st round submission (rear naked)
RD1: Fighters both open with kicks that don't land. Alvarez presses Rafols against the cage, but Rafols ends up on top as both wrestle to the ground. Rafols attempted a standing guillotine, but Alvarez breaks loose and slams Rafols to the canvas. Rafols working on a triangle from the bottom with Shane defending. Rafols transitions to an armour attempt, but Alvarez breaks loose once more. Rafols relentless in submission attempts from the bottom, but Alvarez steps into side control. Alvarez takes the back of Rafols with two hooks in. Alvarez sinks in the choke for a first round finish.
"This is probably the most important fight of my career. That storm got us really good so I had to do this for my island," said Alvarez fighting with a heavy heart.
Ricky Camp def. Jarome Cruz via 1st round submission (rear-naked)
RD1: Camp opens with a high leg kick and Cruz tries a leg kick of his own. Camp checks a Cruz leg kick and punishes him with strikes as both fighters wrestle to the ground. Cruz gets on his knee to briefly attempt a guillotine. Camp in side control and works towards the back of Cruz. Camp now peppering away at Cruz from the back with Cruz attempting to break free. Camp gets the rear naked choke from the top to end the fight.
Koyomi Matsushima def. Eric Gatmen via KO (slam)
RD1: Koyomi comes flying in with a superman punch attempt. Gatmen takes no damage and wrestles Koyomi to the canvas. Gatmen pressing down on Koyomi, using knees to open him up on the ground. Koyomi uses a double-leg to drive Gatmen to the ground. Both fighters exchange punches in the guard with Koyomi on top. Koyomi picks up and slams Gatmen to the canvas knocking him out. Koyomi with the KO slam victory.
Frank 'The Crank' Camacho def. Kengo Ura via 1st round TKO
RD1: Frank tags Ura with a hook that drops him. Ura never regained himself as Frank peppered shots at Ura eventually forcing the referee stoppage within the first minute of the fight.
Tyrone Jones def. Takayuki Kobayashi via 1st round KO (slam)
RD1: Yashi first to create contact and wrestles Jones to the ground. Jones quick to get up but Yashi attemping to sneak in an armbar. Jones breaks free of the armbar with two vicious slams knocking Kobayashi out in the process.
"This is natural Guam talent right here, no off-island training, all done here! Give me my respect!" said Jones to the crowd as he was showered in cheers for his knockout victory.
Trevin Jones def. Mark Abelardo via Unanimous Decision
RD1: Mark creates first contact with a leg kick. Jones presses Mark against cage. Jones trying to box Mark in the clinch. Ref pulls fighters from cage as two quickly go into boxing. Jones lands a combination and follows up with a double leg takedown. Mark the more aggressive striker, Jones trying to counter. Jones escapes a combination from Mark with a double-leg takedown. Jones pressing Mark against the cage to end the round.
RD2: Mark lands a kick to the body followed by a nice exchange. Jones avoids more damage by scoring with a double leg. Jones works his way to the back of Mark. Jones trying to get the hooks in for a submission. Jones gets the hooks in and now works on the head. Abelardo doing a good job keeping Jones away from securing the choke. Fighters exchanging short jabs before Abelardo breaks free of the hold. Fighters back up to their feet but Jones presses Mark against the cage to end the round.
RD3: Mark opens with leg kicks followed by a shirt combination that stuns Jones. Jones quick to grab the legs of Abelardo but eats elbows on the way down. Jones regains himself with Mark still pressed against the cage after their brief beginning round exchange. Crowd beginning to boo as the fight has never left the cage.
Main Event
Brogan Walker def. Gabby Romero via Unanimous Decision
RD1: Romero welcomes the exchange and drags Brogan to the floor. Romero ends up on her back with Brogan getting the reversal. Romero sneaking to try and get the back of Walker. Romero grabs hold of Walkers leg during a standup, bringing her back to the ground. Walker in trouble with Romero cranking on a heel hook, but Walker escapes and ends up on top of Romero. Walker in side control as the fight pace slows down. Walker and Romero quickly moving around on the ground before a brief standup presses Romero against the cage. Romero flips Walker against the cage. Walker landing knees that get the crowd heightened. Romero on top of Walker as both fighters fall to the canvas. Walker and Romero get a giant applaud from the crowd ending the round striking each other from the ground.
RD2: Both girls use leg kicks in short distance. Romero trips up Walker, but Brogan ends up on top in full guard.  Romero attempting to sink in a submission, Walker fully aware and defending. Walker escapes a possible armbar by stepping into and over Romero's leg. Romero still holding on tightly to the arm of Walker. Walker gets her arm free and fighters roll into the guard. Walker trying to strike from atop the guard but Romero defending well to end the round.
RD3: Romero aggresivley seeks to strike. Walker scores another takedown, but Romero grabs hold of Walkers leg. Brogan tags Romero in the face with a kick while on the ground, ref lets them fight on. Walker stands up and kicks Romero's legs after Romero was waiting for Walker to meet her on the ground. Fighters stand up while trying to feel each other out on the ground. Romero scores a single leg takedown. Romero's corner yelling for her to open up strikes on the ground. Round ends with Romero on top landing short combinations.

QUICK HITS
Guam MTB National Championship: Edward Oingerang and Jennifer Camacho are your 2023 MTB national champions. Oingerang finished the course in 1:13:24 while Camacho won her second straight title in 54:08.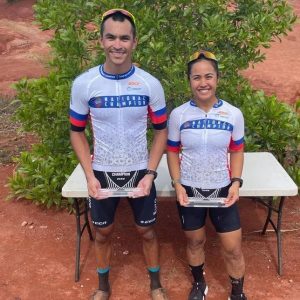 ——————————————
Kobe Miyashita, with St. John's coach Arvin Flores, was named the 2023 IIAAG Middle School Boys Volleyball MVP!