By Robert Balajadia
The Guam National Olympic Committee held a 'special meeting' last Thursday, July 30th, with the main topic discussed being the allegations against GSPN on the use of the GNOC official logo as well as the editorial about GNOC, according to sources who asked to remain anonymous.
The meeting was well-attended by the different sports federations with the focus on GNOC's response to the controversial editorial.
According to the sources, a statement letter was drafted with all the federations expected to sign in a unified agreement in response to GSPN's comments. The intent, according to the sources, seems to be that the GNOC will be taking this issue out to the media and the public with an ad in the local newspaper to justify the GNOC's actions.
"It's interesting how the GNOC has to have a special meeting to formulate a unified approach on sharing factual information," GSPN owner Patrick Lujan said. "All we've asked all along is for transparency. Provide the media interviews and information. Instead, they use the athletes' resources to pay for a lawyer to go after a small business and now this.
"I'm sure once that letter is signed, probably forcibly, it will be a full-page ad in the newspaper. That's historically how this organization has operated. More spending that won't go to the athletes."
GSPN attorney Peter Sgro expands on the topic with this message to GNOC attorney Pat Civille via email:
"I understand the GNOC is going to take an advertisement out in the paper and take this case to the media and the public. Doing a PR campaign to justify Rick (Blas') numerous unilateral decisions or with one other officer would be a huge mistake. If done I assure you that a Bill will be introduced by at least three senators to make lotteries illegal on Guam. These are legal issues and propaganda is something Rick and (GNOC Secretary-General) Bob (Steffy) should seriously consider. Especially with me and numerous parents and athletes with growing frustration no matter how many Federations they get to support their propaganda campaign."

Athletes Birthdays by W5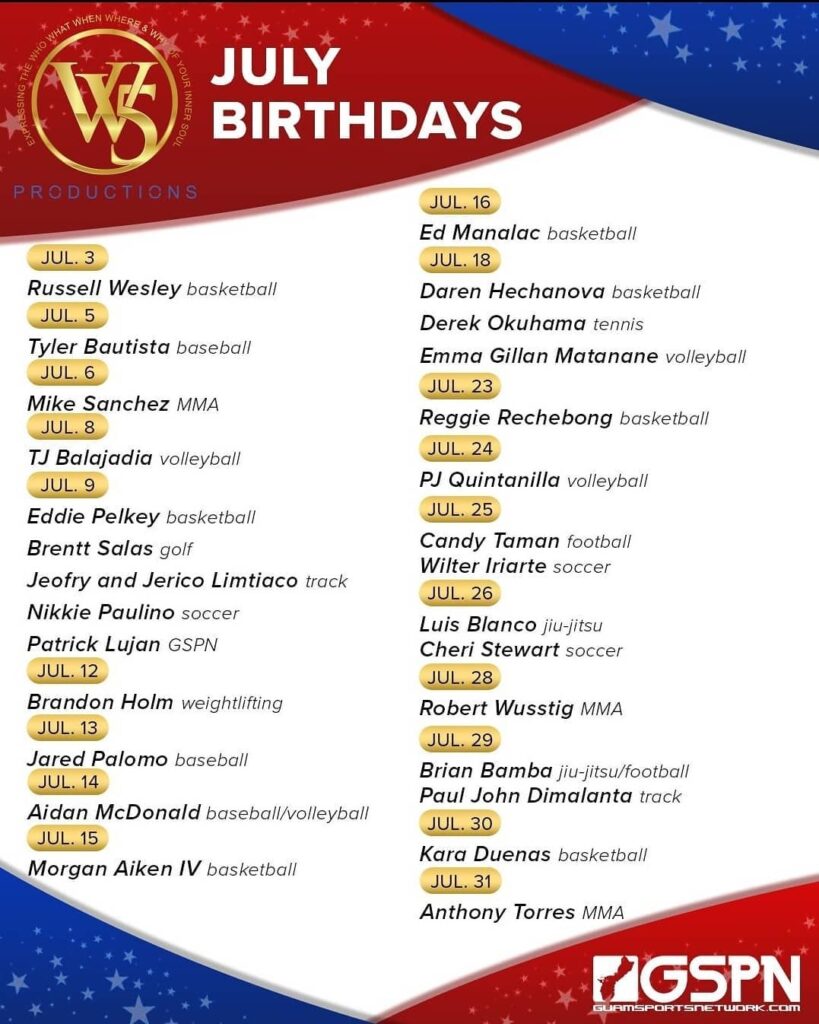 Foody's Fun Facts
Favorites From Year 2
COMING SOON …
2020 Tokyo Olympics
UFC Fight
Aug 1: Trevin Jones vs. Tony Kelley
QUICK HITS
——————————————————–
Guam's Joey Miranda met up with Chamorrita Softball Star Bubba Nickles and Olympic Teammates Dejah Mulipola and Aubree Munro out in Tokyo as we approach the Olympics!
Photo credit: GNOC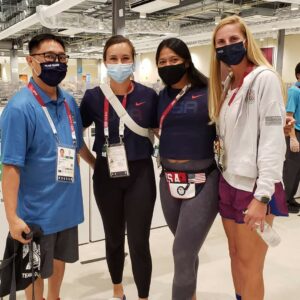 ——————————————————–
Former Guam resident Tre Taylor has committed to play cornerback for the Southwestern Junior College Jags.
Turner attended Harvest and FD before transferring to Hawaii where he played for Saint Louis, the 5th ranked team in the nation.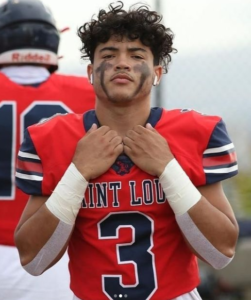 ——————————————————–
The big man Zach Banner getting to throw out the first pitch earlier today for the Pittsburgh Pirates!