By Jay Leon Guerrero
The 'Terror Dome' will feature 8 professional MMA fights and 1 amatuer fight tomorrow night at the Calvo Fieldhouse.
For the first time ever, a female straw weight bout will headline the event which is stacked with local talent and strong contenders from the U.S., Japan, Saipan and the Philippines.
Guam's Brogan Walker will take on New Mexico's Gabby Romero in the main event. Walker's fiancée, Mike Sanchez, will open up the "Fight Night Friday" and take on Guam's McKlane Alfred in the first professional bout of the evening.
Here is the card with official weigh-in results:
Frank Meno (156) vs Mike Puccini (150) – Amatuer Bout
Mike Sanchez (125) vs McKlane Alfred (125)
Shane 'Pikaboo' Alvarez (127) vs Jessie 'the Finisher' Rafols (125)
Ricky Camp (134) vs Jarome Cruz (136)
Koyomi Matsushima (154) vs Eric Gatmen (153)
Takayuki Kobayashi (154) vs Tyrone Jones (155)
Frank 'the Crank' Camacho (156) vs Kengo Ura (155)
Mark Abelardo (136) vs Trevin Jones (136)
Brogan Walker (126) vs Gabby Romero (124) – Main Event
Romero, who arrived on Monday, said that she will not be fazed by the home crowd and promises a good show.
"I've done many Jiu Jitsu tournaments dominated by Brazilian crowds so I'm not really worried about not having the crowd behind me," said Romero. Romero, who is 2-0 as an amateur, will make her professional debut. "It's going to be good main event fight, it will be worth watching," said Romero.
PXC alumni and current Bellator fighter 'Baby' Joe Taimanglo urges local fans to come and support the Guam fighters on "Fight Night Friday."
"People that know the sport should come out and support local fighters. All of these fighters have been working diligently for months and I'm confident they will all give a good show," said Baby Joe.
Jarome Cruz will have the biggest fight of his career as he enters the 'Terror Dome' with Spike 22's Ricky Camp in their battle at 135 lbs. "Come fight night, I'm going to give everything I got. I've worked so hard for this and I will leave the cage with no regrets," said Cruz.
"Every one of these fighters put so much effort into this. For my fight, I really can't go into much detail but I plan to go out there and work to get the finish."
Japanese veteran fighter Kengo Ura said that he plans to go out and do his best against crowd favorite Frank 'the Crank' Camacho. Ura said he will not be affected by the cheers for Camacho because he is used to fighting outside of Japan.
"It's doesn't matter to me, I've fought before in the U.S. and the crowd has many loud cheers for my opponent," said Ura.
General Admission tickets are still available at all 76 Circle K locations, Andersen ITT, MWR and online via the tropical productions website at www.tpiguam.com for $30. VIP tickets are $50 and are only available for purchase at Cars Plus in Maite.
According to PXC staff, tickets will still be available for purchase on fight day. VIP purchasers can still purchase their tickets at Cars Plus in Maite on Saturday during store operation hours. General admission tickets will also be available at ticket outlets and at the PXC door.
PHOTO GALLERY:

QUICK HITS
Guam MTB National Championship: Edward Oingerang and Jennifer Camacho are your 2023 MTB national champions. Oingerang finished the course in 1:13:24 while Camacho won her second straight title in 54:08.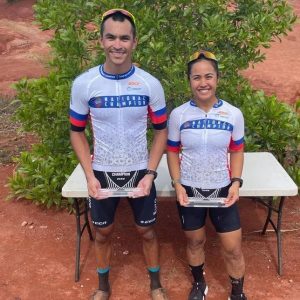 ——————————————
Kobe Miyashita, with St. John's coach Arvin Flores, was named the 2023 IIAAG Middle School Boys Volleyball MVP!