PRESS  RELEASE – Braves hold off Rays to stay unbeaten
Sumay Braves  4, Rays    3
Mark Parks and Jess Alerta combines to hold the Rays to just three hits and the Braves stayed unbeaten with a exciting 4-3 win over the Rays in Sunday Budweiser Fall Wood Bat League action.
Braves' Leo Eber was 3 for 3 and Brent Blau was 2 for 3 with a game saving defense play to end the game to share Strike Zone Player of the Game.  Up 4-3 with two outs and the tying run on 3rd base in the top of the 7th inning Blau playing 3rd base would range far to his left to snag a one hopper off the bat of Vic Fernandez and throw to first to preserve the win.
Alerta would blank the Rays over the first 2 2/3 innings but give way to Parks after feeling discomfort in his arm.  Parks would struggle with his control giving up six walks but limited the damage with great defense behind him to get the win.
The Braves stay unbeaten and improve to 6-0 with the win and sit atop the Budweiser Fall Wood Bat standings.  The Rays drop to 3-2 on the season.
Blue Jays  9, AutoSpot Orioles   3
Marcus Certeza would go the distance allowing just two earned runs and nine hits as the Blue Jays would down the AutoSpot Orioles 9-3.
The Blue Jays took advantage of errors and scoring opportunities to jump out to an early 5-2 lead.  Josh Perez and Brian Santos added two hits and Tony Borja reached base three times and scored two runs to lead the offense.
Oriole's Ryan Martinez was 3 for 3 with three runs scored as the Orioles even their record at 2-2.  The Blue Jays improve to 2-3 with the win.
Barrigada Warriors  14, Sinajana Giants  4
In other action the Barrigada Warriors improved to 4-2 with a 14-4 six inning mercy rule win over the Sinajana Giants.  Napu San Miguel was 4 for 5 with 4 runs and 3 RBI to earn SZPOG.  Gavin Salas notches with win allowing one earned run over 4 2/3 innings for the Warriors.  The Giants fall to 2-4 with the loss.
For more info on the Budweiser Fall Ball– Masters and Wood Bat Leagues including live game updates, schedules and stats check us out on Facebook @ AmateurBaseball Guam.
YOUR LOCAL BASEBALL/SOFTBALL COMMUNITY NEEDS UMPIRES
Ever thought about what it takes to become an umpire?  Ever wonder when watching a baseball or softball game how the officials do it, are they correct, or even ask yourself when watching the game, "I can do a better job than that Blue."  Well, that time is now. Guam Amateur Baseball Umpires Association (GABA) is calling all umpires with as little as zero experience to 30+ years officiating experience to join for the upcoming Masters, Amateur, Wood Bat Leagues, High School Baseball, youth leagues and Fast Pitch Softball seasons.
In the next 12 months over 250 GABA games will be played which requires a solid team of umpires to officiate them.  Did we mention that you get "Paid" to be a baseball official!! Earn extra money as an adult baseball/softball league umpire, stay involved in the community by becoming an umpire official.
"Making instantaneous, decisions, resolve conflicts, and deal with the rigors and pressure of the game. You are in a position to be a positive role model around children and young adults. Taking the challenge of umpiring can also provide some great personal rewards. We look forward to having anyone interested in becoming an umpire come out," states Bill Bennett, a senior Guam Umpire.
Bennett continues; "Baseball officials must be able to bring control to chaos; understand fairness; promote safety and encourage good sportsmanship. An umpire must have the positive characteristics of a police officer, lawyer, judge, accountant, reporter, athletic and diplomat. If you are ready to start enjoying officiating then certified training is a step you must take."
Become a Certified Baseball/Softball Umpire. GABA will be hosting three day certification training for baseball/softball umpires in October. Day 1 – Monday, October 26, 6:00 pm – 10:00 pm  and Day 2 – Tuesday, October 27, 6:00 pm-10:00 pm, at the office of Senator Tina Muna Barnes, Guam Legislative Building in Agana. Day 3, on-field training Sunday, November 1st. 2:00 pm –5:00 pm at Okkodo High School Baseball Field. Anyone interested in umpiring for Guam Baseball and Softball should attend the three day course. Course fee of $10.00 is required for both returning officials as well as new members. Snacks and beverages will be provided on Day 1 & 2 of the course.
GABA Chief Umpire Trainer John Howe will lead the training; "Game umpires need a strong knowledge of the rules and nuances of the game, the ability to handle emotional players and occasionally coaches and parents. A love of the game is an essential tool for umpires, excellent eyesight and being in generally good physical condition, including having the stamina to stand and squat for long periods of time."
Guam Amateur Baseball Association hosts two seasons of Adult and Youth Baseball and Softball Leagues during the year with over 250 games accommodating 50 teams.  Games are typically played in the evenings and on weekends.
For more information or to register for training, contact Bill Bennett at Strike Zone Batting Cages, 649-9663
BASEBALL UMPIRE CERTIFICATION TRAINING SCHEDULED
Guam Amateur Baseball Umpires Association will be holding its second open baseball/softball umpire certification training course. The three day Level 1 course will be conducted by Chief Umpire and Trainer John Howe. Day 1 and 2 of the  course will be classroom curriculum based training covering the 2 Man-Mechanics system, intermediate fundamentals of an umpire, uniform requirements, basic understanding of rules and interpretation of rules that are commonly seen on the diamond. Day 3 will be application of classroom curriculum with on-field mechanics training.  The instruction will lead the umpires through proper plate mechanics, proper movement within the 2-Man system.
Day 1 & 2– Monday, October 26, 2015 & Tuesday, October 27, 6:00 pm – 10:00 pm, at the office of Senator Tina Muna Barnes, Guam Legislature Building in Agana. Beverages and snacks will be provided.
Day 3 – Sunday, November 1, 2015, 2:00 pm – 5:00 pm, Okkodo High School Baseball Field.
Advanced Registration available at Strike Zone Batting Cages. A $10.00 registration fee is required.
Contact Bill Bennett at 649-9663 for further information.
BENEFITS TO OFFICIATING

There are many benefits in becoming an FHSAA Official.

Make Extra Money on the Side
Become Physically Fit
Give Back to the Community
Make New Friends and Develop Camaraderie
Learn More About the Sports You Love

For more information on how to start,Click Here!

Athletes Birthdays by W5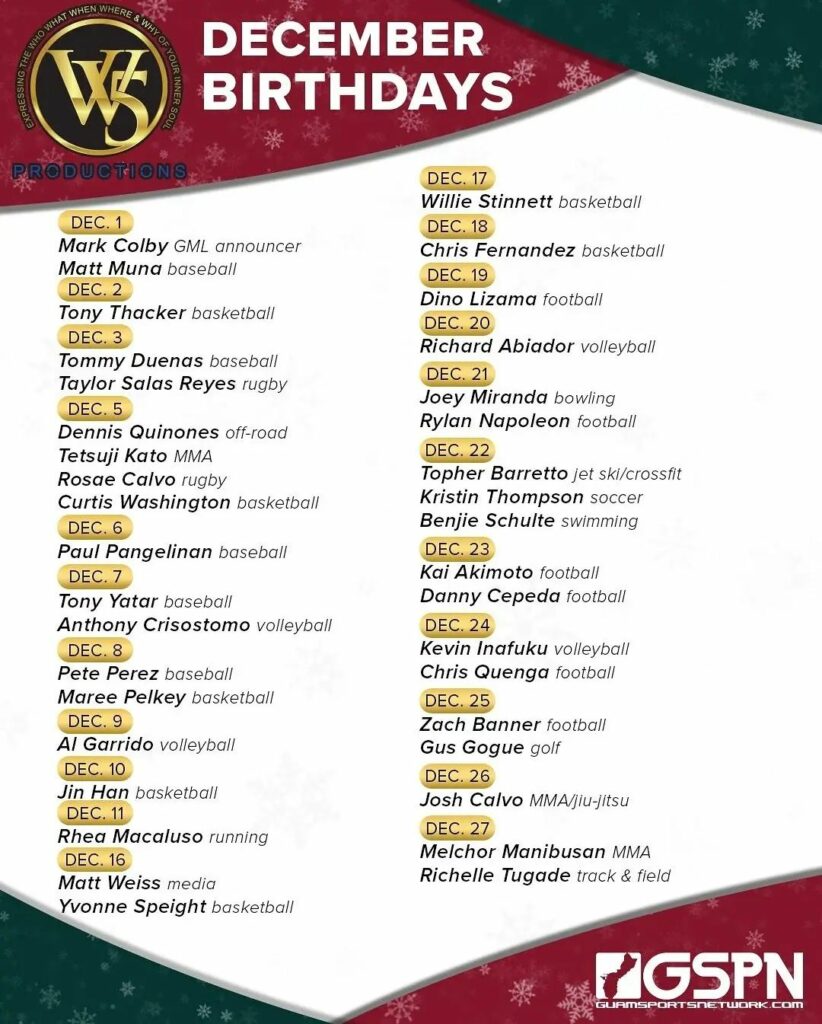 GPS Sports Calendar
SU

MO

TU

WE

TH

FR

SA
Events for December
5th
No Events
Events for December
6th
Events for December
7th
Events for December
8th
No Events
Events for December
9th
Events for December
10th
Events for December
11th
06:00 AM - 08:00 AM
Umatac
Events for December
12th
No Events
Events for December
13th
No Events
Events for December
14th
No Events
Events for December
15th
No Events
Events for December
16th
Events for December
17th
Events for December
18th
19

20

21

22

23

24

25
Events for December
19th
No Events
Events for December
20th
No Events
Events for December
21st
No Events
Events for December
22nd
No Events
Events for December
23rd
No Events
Events for December
24th
No Events
Events for December
25th
No Events
26

27

28

29

30

31

1
Events for December
26th
No Events
Events for December
27th
No Events
Events for December
28th
No Events
Events for December
29th
No Events
Events for December
30th
No Events
Events for December
31st
No Events
National Guard Athletes
Scott Eclavea
Scott Eclavea is a jiu-jitsu black belt and an accomplished MMA fighter. The Guard has given him an outlet in combatives to display his martial art skills, where he's become a head instructor for that program. Eclavea has served since coming out of high school and the Guard has only changed his life for the better.
COMING SOON …
LIVE FOOTBALL ON GSPN
Semifinals: #1 FD vs. #4 Southern (Friday 7 pm)
GSPN Preseason Basketball Tournament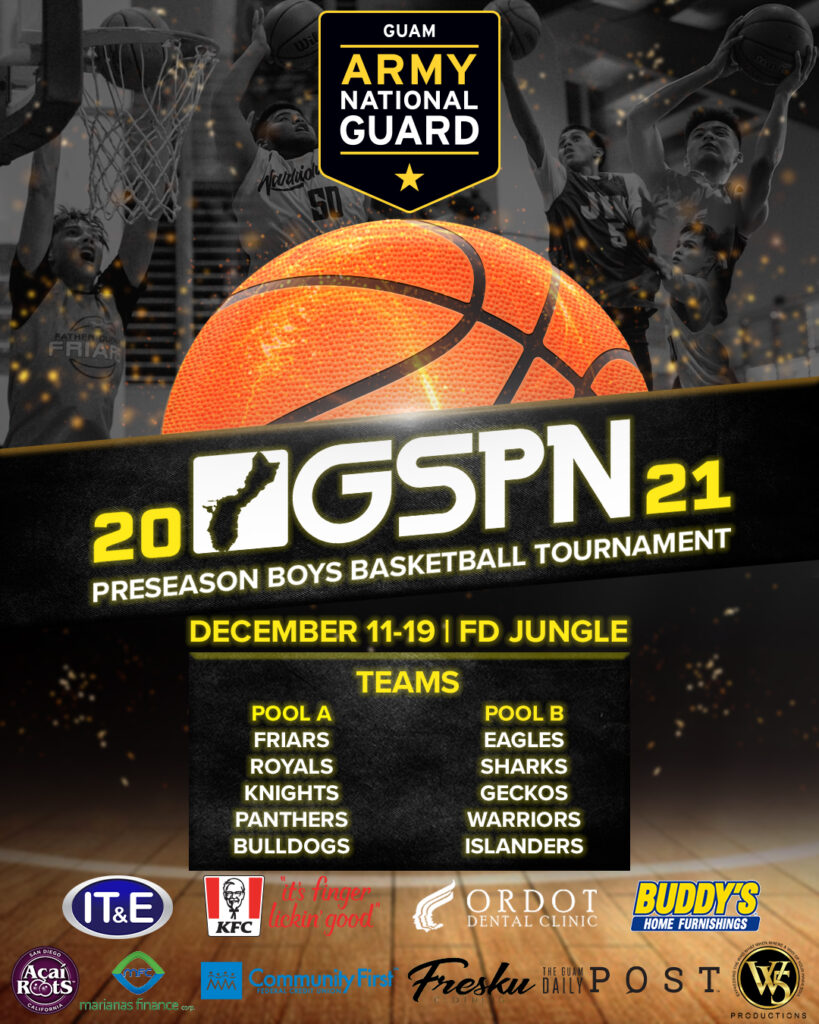 QUICK HITS
Robert Artero Maley recently captured the 182-lb. division of the Costa Mesa Classic, winning via pin in 4 out of 5 matches. Robert is a 4-year varsity wrestler at San Clemente HS (Tritons) and is currently ranked 15th in California's high school scene. He is the son of Jacque Artero Maley (AOLG 1991).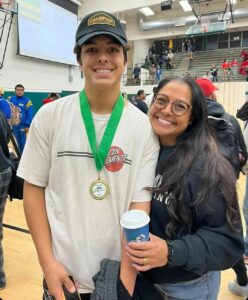 ——————————————–
Pat Taitano and Rich Abiador, teammates on the 1995 SPG volleyball team, have led their high school girls volleyball teams to the Washington State Championships in Yakima, Wa.
Taitano coaches Mt. Rainier High while Abiador leads North Creek High.
There for support is Dr. Mark Perez, a health professor at Central Washington University and a former UOG volleyball player.