By Jay Leon Guerrero
With three minutes left, a ticket to the championship game was at stake in a heated March Madness basketball game between the Guam National Team and the visiting Camp Humphrey's Bulldogs last night at the Coral Reef Gym in the Andersen Air Force Base.
Despite team Guam coach EJ Calvo rotating his best scorers and defenders in the final minutes of the game, the Bulldogs were able to break the press, make shots, and force turnovers to pull away in the end for the 81-72 victory. The margin of victory was not indicative of how close the game was, there were 11 lead changes throughout the contest.
The Bulldogs, a visiting military team from Korea, now advance to the championship game and will await the winner of the Andersen Bombers vs Team Guam losers bracket game. The Bombers kept their tournament life alive eliminating the Tamuning Typhoons 111-78 later in the evening.
The Bulldogs and Team Guam battled it out in the first half to a 30-all tie. Guam's scoring duo of Joe Blas and JP Cruz each hit from downtown in the first quarter as both teams took turns at taking the lead early. Guam's Seve Susuico and Michael Sakazaki scored in the paint mid-way through the second quarter to take a 24-20 lead.
Camp Humphrey's barked back to tie the game at halftime going on a 4-0 run in the final 50 seconds with Ray Johnson hitting a mid-range jumper and Kuniko Moore slashing his way to the basket for a lay-in with 3 seconds left to tie the game going into the locker rooms.
Guam Changes Game Plan in Second Half
Guam shot well in the third period and took its largest lead of the game, a 54-46 advantage, with the help of scorers coming off the bench. Guam went to the full court man-trap defense and that led to good offense with John Chaco and Dominic Sablan becoming the beneficiaries of open looks. Chaco scored off steals from guard James Stake and Sablan scored in transition off turnovers forcing Camp Humphrey's to regroup and burn a timeout.
The Bulldogs did not allow Guam to go on any runs in the final quarter and made it a single possession game after Antonio Pate hit a three pointer.
Daveon Allen gave the Bulldogs the lead collecting offensive rebounds that gave his team second chance opportunities with three minutes remaining in regulation. Allen converted on a put back and later collected another offensive rebound that led to a bucket by Johnson for the 66-65 lead.
After a made shot by Guam's Sakazaki, Pate raced down court and made an "and-1" lay-in to seize momentum. After Guam turned the ball over, Allen continued to give the Bulldogs second chance points with his rebounding.
Deron Scott scored six points in the final two minutes to go up 76-67 with Guam missing highly contested shots on offense. Moore closed the game out at the free throw line for the eventual 81-72 victory.
"We had to dig in. We knew if we had lost this game, it would be hard coming back up from that losers bracket," said Scott.
Moore led all scorers with a game high 21 points. He said his team did a good job at executing and hustling for loose balls in the final two minutes of the game.
"We were in a zone and we had to try and contain number 12 (Blas) because he is their primary scorer," said Moore. "Coach told us to limit our turnovers, that was our problem at the beginning of the game."
The tides had turned in the final moments of the game after Team Guam committed two turnovers to close out the game. "It actually reversed and we took better control of the ball to end the game," he added.
Moore, a first time visitor to Guam, said his island experience is a memorable one. "The culture here and people here are very nice," said Moore. "I also love the seafood."
In the ladies game, the Lady Bombers defeated the Tooth Fairies 68-62. Destiny Castro scored 14 points, Derin Santos chipped in 13 points for the Tooth Fairies.
Stats:
Bulldogs
Kuniko Moore – 21 PTS, 3 AST
Antonio Pate – 16 PTS, 11 REB, 5 AST
Daveon Allen – 11 PTS, 9 REB
Deron Scott – 11 PTS, 6 REB, 5 AST
Ray Johnson – 11 PTS, 5 REB
Guam:
Joe Blas – 20 PTS, 7 REB
JP Cruz – 16 PTS, 5 AST
Seve Susuico – 7 PTS, 5 REB, 2 BLK
John Chaco – 8 PTS, 2 STL
Dominic Sablan – 7 PTS, 5 AST
PHOTO GALLERY:

Athletes Birthdays by W5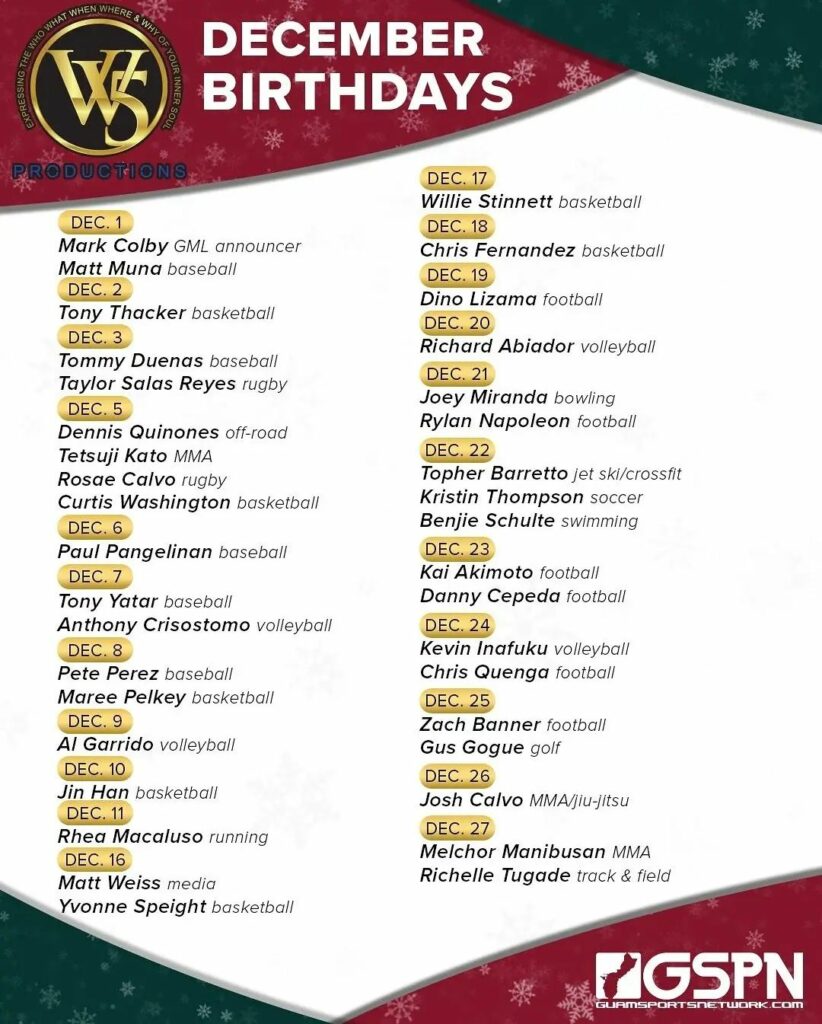 GPS Sports Calendar
SU

MO

TU

WE

TH

FR

SA
Events for December
5th
No Events
Events for December
6th
Events for December
7th
Events for December
8th
No Events
Events for December
9th
Events for December
10th
Events for December
11th
06:00 AM - 08:00 AM
Umatac
Events for December
12th
No Events
Events for December
13th
No Events
Events for December
14th
No Events
Events for December
15th
No Events
Events for December
16th
Events for December
17th
Events for December
18th
19

20

21

22

23

24

25
Events for December
19th
No Events
Events for December
20th
No Events
Events for December
21st
No Events
Events for December
22nd
No Events
Events for December
23rd
No Events
Events for December
24th
No Events
Events for December
25th
No Events
26

27

28

29

30

31

1
Events for December
26th
No Events
Events for December
27th
No Events
Events for December
28th
No Events
Events for December
29th
No Events
Events for December
30th
No Events
Events for December
31st
No Events
National Guard Athletes
Scott Eclavea
Scott Eclavea is a jiu-jitsu black belt and an accomplished MMA fighter. The Guard has given him an outlet in combatives to display his martial art skills, where he's become a head instructor for that program. Eclavea has served since coming out of high school and the Guard has only changed his life for the better.
COMING SOON …
LIVE FOOTBALL ON GSPN
Semifinals: #1 FD vs. #4 Southern (Friday 7 pm)
GSPN Preseason Basketball Tournament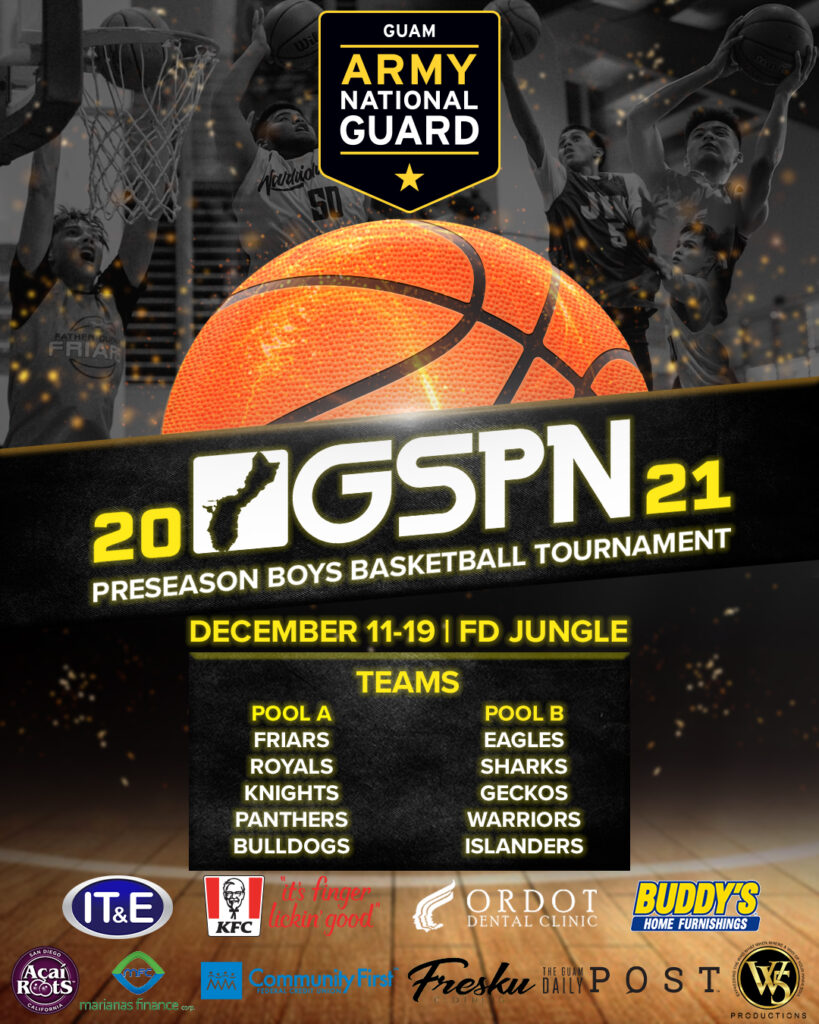 QUICK HITS
Robert Artero Maley recently captured the 182-lb. division of the Costa Mesa Classic, winning via pin in 4 out of 5 matches. Robert is a 4-year varsity wrestler at San Clemente HS (Tritons) and is currently ranked 15th in California's high school scene. He is the son of Jacque Artero Maley (AOLG 1991).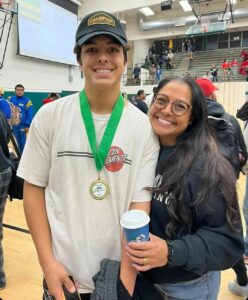 ——————————————–
Pat Taitano and Rich Abiador, teammates on the 1995 SPG volleyball team, have led their high school girls volleyball teams to the Washington State Championships in Yakima, Wa.
Taitano coaches Mt. Rainier High while Abiador leads North Creek High.
There for support is Dr. Mark Perez, a health professor at Central Washington University and a former UOG volleyball player.