[useful_banner_manager_banner_rotation banners=72,74,77 interval=10 width=120- height=600 orderby=rand]
By Robert Balajadia
The Okkodo Bulldogs overcame a monstrous 30-point performance from St. Paul Warriors guard Joy 'Nova' Pangilinan before fouling out to stay undefeated (3-0) in the girls basketball early goings, beating the home team Warriors 46-43.
Leading the way for Okkodo was Shania Bulala, scoring 22 points while pick-pocketing the Warriors for 6 steals. Bulala and the Bulldogs were down 39-32 with less than four minutes in the final quarter before closing out the 4th with a 14-4 run to steal the game.
"The only reason why we were able to push this hard was because coach [Arleen Mad] always makes us work hard in practice to prepare for the last 10 minutes of the game. Coach always says that we need to have constant reminders so I believe if we didn't keep reminding the girls that we needed to push hard in the last 10 minutes then we wouldn't have won the game," said Bulala on the game's dramatic ending.
Pangilinan was stuffing the stat sheet with 30 points, 12 rebounds, 6 steals, and 5 blocks before fouling out on an inbounds play with 1:55 left to go in the game. The run started with Pangilinan in the game where the Bulldogs quickly used a 6-0 run to pull within 39-38 with buckets from Bualala, Nica Mojas, and Caren Mesias.
The Warriors called a timeout to stop the bleeding, but they would end up losing Pangilinan on the play after the timeout when a potential breakaway pass led to a fight for the ball between Mojas and Pangilinan. The play ended in a fifth foul for the Warriors star which completely shifted momentum.
That, and Bulala was in full attack mode with her offensive groove clicking all night.
"I didn't do so well in the first game of the season, so I told myself that I had to kick my own butt and that I had to push hard in this one for the team," added Bulala.
With only seven players on the Warriors active roster, losing the lead scorer Pangilinan in the games most crucial moment also meant losing the teams best ball carrier. Two straight turnovers by the Warriors trying to bring the ball up court allowed the Bulldogs to score on easy baskets from Bulala and freshman Zaria Garrido to take the 42-40 lead.
Bulala converted on a pair of three throws to take a 46-40 lead until the Warriors turned to sophomore guard Chloe Miranda with 16 ticks left in the game. Miranda hit a corner three pointer with 5.6 seconds left, before fouling Bulala to send her to the line for a 1-and-1.
Bulala missed her first freebee still leading 46-43 and Miranda grabbed the rebound while racing down court with a game tying shot in mind. Miranda was two feet behind the arch, but got a decent look, with the crowd holding their breathe as Miranda's shot sailed high and just off hitting the rim.
Holding down the relentless Pangilinan wasn't easy for Okkodo, but it was an all-around team effort.
"[Joy] is an extremely good player, but as coach said, five girls can always stop one. If it wasn't for my teammates then we wouldn't have been able to stop her. I've got to give a big shoutout to my teammates," said Bulala, who spent most her night guarding Pangilinan.
The Bulldogs play their fourth game against the Sanchez Sharks Saturday night with hopes of staying unbeaten. Even without one of the leagues best scorers in Felicia Borja, the Bulldogs are still finding success amongst the leagues best teams thanks to a different game plan.
"We know this year we're not going to be as successful on offense as we were last year, but we're still going to play hard on defense and we know that's what is going to get us into that top four at the end of the season," Bulala added.
Other Scores
Academy 41, Harvest 25 – guard Kali 'Special K' Benavente made her season debut with just 13 minutes of play.
PHOTO GALLERY BROUGHT TO YOU BY:

QUICK HITS
Guam MTB National Championship: Edward Oingerang and Jennifer Camacho are your 2023 MTB national champions. Oingerang finished the course in 1:13:24 while Camacho won her second straight title in 54:08.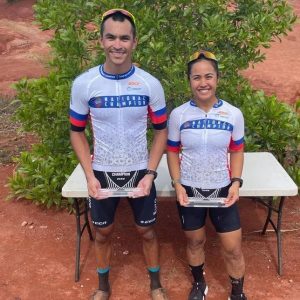 ——————————————
Kobe Miyashita, with St. John's coach Arvin Flores, was named the 2023 IIAAG Middle School Boys Volleyball MVP!