[useful_banner_manager_banner_rotation banners=72,74,77 interval=10 width=120- height=600 orderby=rand]
By Mike Nauta Jr.
Headed into the final day of pool play in the 2015 Far E.A.S.T. Girls Volleyball Tournament, four of five Guam teams each held identical records. Therefore, with one game left before the finals, each team knew the importance of their performance and what needed to happen to advance.
"We knew that playing one more game would be a make or break situation depending on the results," said GW's Samantha Quinata. "It was pretty much a due or die situation for our team. Our coaches just told us to have fun and continue working hard throughout the match."
After dropping their final pool play games, both the St. John's Knights and JFK Islanders lost any chance of playing in the playoffs. With such a resilient approach to their game, the Knights were hoping to garner their first win of the tournament. However, a very tough De La Salle-A had their own intentions.
Not willing to let down and fighting for their respective seeding in the Philippines side, La Salle dispatched their opponents 25-8, 25-10. Playing on court 2, the Islanders tried to keep their hopes alive but to no avail. Taking on UST, the Islanders weren't able to find answers against a very tough opponent and found themselves on the receiving end of a 25-4, 25-7 loss.
Geckos defeat De La Salle-B
The GW Lady Geckos went to battle against De La Salle-B on court one, while the Notre Dame Royals took on De La Salle-Antipolo on the adjacent court two. Both the Geckos and Royals knew that a spot into the final day was at stake and each went to work.
The Lady Geckos got things going immediately in the opening set as the hitting of Colleen Quinata sparked the early offense building a 3-0 lead. La Salle responded not too long after and managed to overtake their opponents making it a 10-7 game in their favor.
As first set action continued, fans witnessed several lead changes and ties. Late in the set, GW held a decent 23-17 lead but that didn't last took long as La Salle's Jan Potenciano and Michelle Magaoay combined for seven points from the service line to put their team at (24-23) set point. The defending IIAAG champions proved their strong mental game as they managed to dig out three points to take the opening set win.
Competitive action went back and forth between both teams as neither could solidify a lead worth holding on to. It was La Salle who managed to grind out points late in the second set to take the 23-25 victory. Heading into the final and deciding set, the Geckos knew that it was "do or die" time for them. Despite holding on to a good 18-12 lead, the Geckos found themselves on the brink of losing a match after La Salle put themselves at match point late in the game. Led by Samyra Duenas' serving and Jasmine Almoguera's hitting, the Lady Geckos fought hard to a 26-24 win.
"Notre Dame was playing on the court next to us and when we saw that they won their match, we knew that we needed to pull out a win just as well," said GW Libero Anna Aguon. "Our defense is what kept us in the game, but it was great teamwork that got us there."
Royals grind out three-set victory
Needing a win to keep the Guam bracket interesting, the Notre Dame Royals took on De La Salle-Antipolo. From start to finish it was anyone's game and it came down to which team wanted the most. Playing a well-rounded match, the Royals got nearly every player involved the entire game.
A see-saw battle in the opening set saw the Royals eventually find some late-set rhythm to defeat their opponents 25-23. Whatever the excuse or case may be, Notre Dame found some difficulty putting their opponents away as they succumbed to the excellent play of their opponents who eventually evened things up after the 17-25 second-set victory. The Royals came firing away in the final set and managed to end the game with the scoreboard reflecting a 25-16 final score.
With their records tied at the end of pool play, both the Geckos and Royals needed to turn to the tie-breaker system for seeding purposes. When the tally was made and the decision was announced, it was the Geckos who earned the right to play in the championship game, while the Royals will battle for third. The consolation game is scheduled for Friday at 11am Guam time (9am Philippines). Championship is scheduled for 12:30 Guam time (10:30 Philippines).
Other results from Day 3
• De La Salle – LIPA defeated AOLG Cougars 25-9, 25-14
Results from Thursday (Day 2)
• JFK defeated DLS-Antipolo 13-25, 26-24, 25-17
• UST defeated GW 25-18, 25-22
• DLS-Zobel (B) defeated AOLG 25-16, 25-17
• UST defeated St. John's 25-6, 25-18
• Notre Dame defeated DLS-Zobel (B) 25-19, 25-19
• DLS-LIPA defeated SJS Knights 25-9, 25-2
• DLS-Zobel (A) defeated Notre Dame 25-14, 25-15
• DLS – LIPA defeated JFK 25-5, 25-5
• DLS – Zobel (A) defeated GW Geckos 25-19, 25-13
• AOLG Cougars defeated DLS-Antipolo 25-23, 23-25, 25-23
PHOTO GALLERY BROUGHT TO YOU BY:

QUICK HITS
Guam MTB National Championship: Edward Oingerang and Jennifer Camacho are your 2023 MTB national champions. Oingerang finished the course in 1:13:24 while Camacho won her second straight title in 54:08.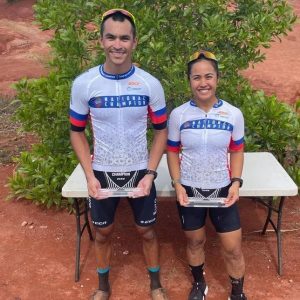 ——————————————
Kobe Miyashita, with St. John's coach Arvin Flores, was named the 2023 IIAAG Middle School Boys Volleyball MVP!