By Robert Balajadia
The 2015 Pacific Games are going to be huge for the Guam Men's National Basketball team. For the first time ever, FIBA has declared the 2015 games a qualifier for FIBA Oceania as the top two teams will qualify for the 2019 Asia-Oceania competition.
With the biggest stakes on the line, Guam will need to pull out their big guns in order to get a shot to compete against the likes of New Zealand and Australia.
As Guam tries to narrow down their roster, one consistent star in former IIAAG Boys Basketball MVP Michael Sakazaki will suit up for the island as he makes his way back from playing college basketball for the Chaminade Silverswords. Though, Sakazaki won't be the only Silversword competing for gold in the PG's.
6'11 Frankie Eteuati is the starting center for Chaminade and he will lace up for American Samoa come June even though Eteuati has never actually been to American Samoa.
Along with these games being a qualifier, FIBA has asked to implement their own set of residency rules which differ from the standard National Olympic Committee rules. American Samoa will be exercising FIBA's residential rules as Eteuati's father and grandparents were born in American Samoa, granting Eteuati eligibility.
The current NOC rules state that an eligible player has to be living in the state/island he or she is playing for for no less than five years. Sakazaki would still be eligible to play for Guam still under the NOC rules due to his status as a collegiate student moving from Guam. The Eteuati scenario is different in that he was born and raised in California and just made the transfer to Chaminade his senior year.
This rule is exercised on a national level as well as we see current stars of the National Basketball Association still suit up for their country in the Olympics despite living and playing in the USA. The Gasol brothers Pau and Marc always play for Spain as does Tony Parker for France. Star Kyrie Irving has the option to play for Australia, where he was born, but has elected to play for the USA instead.
With the FIBA rules in effect, Sakazaki and Etuati will have to briefly put aside their Chaminade bond as Guam and American Samoa get set for an important run at the most important PG's to date.
There has been no official word whether GNOC will be adopting the FIBA rule for residency or sticking to the standard five-year living requirements.

QUICK HITS
3rd place: Big ups to the Para Todu Rugby Club for finishing 3rd out of 16 teams in the Manila 10's Rugby Tournament today. Biba Guam Rugby!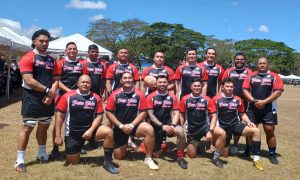 ——————————————
Guam MTB National Championship: Edward Oingerang and Jennifer Camacho are your 2023 MTB national champions. Oingerang finished the course in 1:13:24 while Camacho won her second straight title in 54:08.