By Robert Balajadia
The Okkodo Bulldogs have completely put everything about their 2014 volleyball title behind them, except for winning of course. Okkodo played host to the GW Geckos on opening night Tuesday and the defending champs shook off the off-season rust to win in two sets 26-24, 25-21.
"This season is a new season so we don't even mention last season. It's great to get a win on the first night since you can really see what tweaks need to be made," said Bulldogs head coach Don So.
Okkodo jumped out to a 17-13 lead  in the first set after three straight Gecko errors. Bulldog Aiden Ferrara then smashed home a kill that bounced off the Geckos libero for an 18-13 lead.
Geckos Allen Camacho then sparked a big run to pull GW back from what was beginning to be a big hole tying the game at 18-13, registering three kills in the 4-0 run. Camacho and teammate Noah Blas fired home heavy hits to give the Geckos their first lead at 23-22 before So called a timeout.
Ferrara responded out of the timeout by giving the ball a disciplined spanking to tie the game at 23. An error by the Geckos gave Okkodo back the lead until Camacho knotted the game at 24. Ferrara again answered the calling by putting an unblock able ball past the Gecko front line for a 25-24 lead. An eventual error by the Geckos did them in with the Bulldogs taking the close first.
"We made changes on defense to get a better edge. We need to work on chemistry, we're still figuring things out. A lot of us were really nervous about the opening game, but now we're just glad it's over and we know where we are now and what he have to do," said Bulldogs Gary Aromin.
The Geckos responded better in the 2nd set by battling to a 12-11 lead after three saves by Devin San Augustin highlighted the volley. Errors hurt the Geckos again as Okkodo took a 17-15 lead after an error and Ferrara kill.
Errors by GW allowed the Bulldogs to run off four more points until a final error gave Okkodo their 25th and game winning point.
"We need to improve on talking on court and teamwork. It felt good to win tonight and I'm just looking forward to the season," said Ferrara
Other Scores
FD def. St. John's 25-18, 23-25, 25-18
Southern def. St. Paul 25-4, 25-16
PHOTO GALLERY:

Foody's 5 Fun Facts
ND Royals Volleyball Setter Gabrielle Piper
DID U KNOW?
Guam National Track & Field sprinter and St. John's Cross Country/Track Star Madison Packbier is the daughter of former Track Star Tara Steffy granddaughter of GNOC's Bob Steffy.
COMING SOON …
– Marianas Open Aug. 31
– FIFA: Guam vs. Maldives Sept. 5
– Submit VI on Sept. 6
QUICK HITS
Former JFK All-Island lineman Christopher Parker transfers to De Anza College in Cupertino, CA. De Anza finished last season 10-1 and won the American Conference Championship Bowl. Good luck Chris!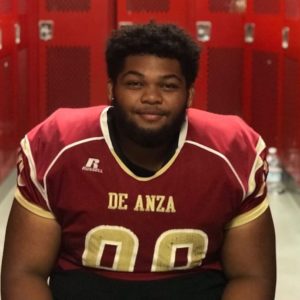 —————————————————-
Die-hard Rams fan Kenny Artero is in Hawaii to catch his beloved team play the Cowboys at Aloha Stadium in a preseason NFL game. Artero got a chance to meet Hall of Fame running back and Rams legend Eric Dickerson.