[useful_banner_manager_banner_rotation banners=72,74,79 interval=10 width=120- height=600 orderby=rand]
(catch the live audio broadcast of the game with Robert Balajadia and Brent Tipton on the call HERE)
By Jay Leon Guerrero
After a two year drought, the Academy Cougars reclaimed glory and cut down the nets to reclaim the IIAAG Girls Basketball championship. The Cougars used a huge third quarter to pull away from the Notre Dame Royals to celebrate at the Southern High gym with the 52-35 victory, finishing their season undefeated.
As the final buzzer sounded, it marked the end of an era with good friends Kali 'Special K' Benavente from Academy and Destiny Castro from ND going head-to-head in a battle they both will never forget.
Rewind three years earlier, the friends were in the championship game as freshmen for the St. John's Knights only to come up short to the Cougars. Friday night, they were on the court again but we're on opposite sides. As the final buzzer sounded, it was Benavente who walked away with the title which ended an era of two talented players.
Young Mia shines
When one door closes, another opens. Enter freshman center Mia San Nicolas. With the crowd watching Castro and Benavente, San Nicolas stole the show on both ends of the court. San Nicloas had 18 points, 11 rebounds, and four blocks; two of which denied Castro in the paint.
"Mia was huge today, she really grew up tonight," said Academy coach Eddie Pelkey. "Mia played a good all-around game, she has been consistant like that all season."
The nail-biter was tied at 17-17 at halftime with neither team gaining clear momentum. It was Pelkey's halftime speech that motivated his team to come out and play like champions.
"Coach told us to go out and do our best. We needed to play really hard in the second half to win the championship," said San Nicolas. "It's an awesome feeling to win the title, I'm happy our team pulled it off."
Explosive 3rd quarter
The Cougars came out roaring in the second half with Cami Hattori, Meagan Cruz and San Nicolas each hitting transition baskets to start the third quarter on a 6-0 run. ND's Caley Chargualaf hit a three-pointer to stop the run, but the Cougars immediately answered with Benavente making a pair of short jumpers to force ND coach Dominic Sablan to burn an early timeout with his team down 27-20.
The Cougars' swarming defense did not allow Castro to get clean looks as they continued to score with their early offense plays. Academy pushed the lead to 32-22 with freshman sensation San Nicolas scoring another bucket in the paint.
The Royals adjusted their defense to stop the transition points but the Cougars countered with guards Kiersten Pangelinan and Rosita Duenas both hitting three-pointers to open up a huge 38-22 lead after three quarters.
The Royals' Demie Brennan and Brianne Leon Guerrero scored five quick points to start the final period of regulation to start the comeback, trailing 38-27.
Benavente, this year's IIAAG MVP, controlled the tempo of the game and set up her teammates with high percentage shots as they traded baskets with Castro to maintain a double digit lead throughout the quarter to secure the title. Brennan had 6 points and 6 rebounds, Leon Guerrero contributed 4 points and 3 assists. The Royals shot a dismal 23 percent from the field while Academy made 46 percent of their shots.
"It feels really good, I'm still trying to sink everything in," said Benavente immediately after cutting the nets down. "Going into the third quarter coach Pelkey told us the score was 0-0 and we need to relax and play good defense."
"We had to get stops, one cannot beat five," said Pelkey of the strategy going into the third quarter. "We had to make the necessary defensive adjustments and force Destiny into some tough shots. If we did that, we knew we can get into our transition game and that's what happened in the first four minutes of the second half."
Pelkey, who is also Castro's coach for the Guam National Women's team, consoled his player after the game.
"I told her God has a bigger plan for her. It's a shame that my team had to end her season but I told her I want to be apart of the plan for her as she moves on."
"It's hard because we don't want to see each other lose. Destiny will always be an amazing player, she really gives everything when she's out on the court," said Benavente.
Benavente had eight points and dished out a game-high seven assists for the Cougars. She also had six rebounds and three steals. Pangelinan had nine points and nine rebounds.
Sablan said he was extremely proud of his team and congratulated the Cougars and Coach Pelkey on a wonderful season.
"Academy came out in third quarter and forced us to make tough decisions. They forced turnovers which created easy baskets for them."
"Eddie (Pelkey) is a great mentor of mine both as a player and a coach. He's guided me throughout the season and told me that I'm going to fail before I succeed, it's been a great learning experience for myself and for the team," said Sablan.
Castro had game high's scoring 19 points, 16 rebounds and six steals in her final high school game. She said it took a while, but her team starting playing at their best level towards the end of the season. "We were doing so well and bonding great as a team but tonight it just didn't go our way," said Castro.
Castro congratulated Benavente, coach Pelkey and the entire Cougar team after the game as they shook hands in front of the scorers table.
"Coach Pelkey told me there is a lot of time for me to get better and I know it's true. I'm just going to move on and look forward to the future."
Consolation 3rd place game
The Dolphins used the home court advantage to pull ahead quickly and never look back to defeat the St. Paul Warriors 76-36 in the third place consolation game. The 2013/14 champion Dolphins played inspired basketball and used their size to out rebound the Warriors.
Marlisah Tenorio played another solid all-around game scoring a game-high 21 points to lead the Dolphins. Rena Campos had nine points, Nadine Calceta netted eight points for the Dolphins who finish in third place. Joy Pangilinan had 19 points for the Warriors in her final game, Chloe Miranda added 14 points.
PHOTO GALLERY BROUGHT TO YOU BY:

QUICK HITS
Guam MTB National Championship: Edward Oingerang and Jennifer Camacho are your 2023 MTB national champions. Oingerang finished the course in 1:13:24 while Camacho won her second straight title in 54:08.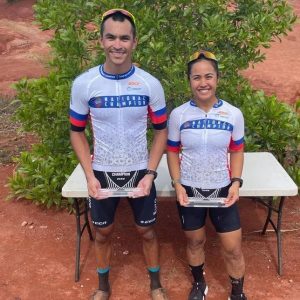 ——————————————
Kobe Miyashita, with St. John's coach Arvin Flores, was named the 2023 IIAAG Middle School Boys Volleyball MVP!