[useful_banner_manager_banner_rotation banners=58 interval=5 width=200 height=200 orderby=rand]
By Jay Leon Guerrero
The Southern Dolphins celebrated senior night on their home court with starting seniors having big games for the 69-53 victory over the St. John's Knights in the final game of the boys IIAAG basketball regular season. Seniors Diallo Cruz, Christian Lopez, and Ryan Teologo all contributed with double-digit scoring to help their team claim the 3rd seed in the Gadao division.
The Knights suited only six players in the season finale and the Dolphins capitalized on the size advantage by winning the battle of the boards 51-28. The Knights held their ground, but second chance points were in favor of the Dolphins.
Lopez and Teologo each posted double-doubles with Lopez scoring a game high 24 points and 11 rebounds, Teologo scored 15 points and grabbed a game high 14 rebounds. The Dolphins collected a total of 26 offensive rebounds that gave the second and occasional third chance points against the smaller Knight team.
"The team is looking better and we are improving every game. Earlier in the season, we all just wanted to score and get stats; now we are looking out more for each other by passing," said Lopez.
Lopez and Dolphins started off slow with the Knights attacking first with good outside shooting. Takumi "Curry" Simon did what he does best and made shots from three-point land to put the Knights up early. Michael Min made a mid-range jumper and Arvin Flores netted a corner three-pointer to force Southern to burn an early timeout as they trailed 13-6.
The Dolphins continued to trail until the second quarter. Seniors Dominic Diego and Cruz helped the Dolphins go on 12-2 run with mid-court steals and fast break conversions to seize momentum.
Michael Borja, Lopez, and Teologo helped maintain a double digit lead in the third period with good rebounding. The Knights simply had no answer against the big southern front court with Knight center Isaac Sim being the lone big man. Sim played the entire game and had to body against well rested Dolphins.
Despite the size disadvantage, the Knights closed the gap to single digits in the final period with freshman guard Michael Min leading the charge. Min scored on a lay-in and found Sim twice down low to force the Dolphins to bring back in their starting senior unit with 6 minutes left in regulation. The seniors answered with Diego and Cruz once again leading the way with a 6-0 run to secure victory.
"The Knights were a tough team, they have really good shooters. I know most of them are freshman and they are doing really well as varsity players; I can't wait to see them when they are seniors," said Lopez. Lopez entered the fourth quarter momentarily, but he had a double-double posted after three quarters. Lopez connected with Diego and Teologo for four assists.
Cruz had 16 points, Diego contributed 8 points for the Dolphins who will travel to Okkodo for their quarterfinal heavyweight matchup. "Okkodo is a strong team and we have to play the hard defense against them," said Lopez. The second vs. third seed matchup will be on Saturday.
Quarterfinal Playoff Seeding
Guam High @ JFK
Southern @ Okkodo
Sanchez @ FD
St. Paul @ GW
Stats
Knights:
Isaac Sim – 17 PTS, 8 REB, 2 AST
Takumi Simon – 12 PTS, 7 REB, 2 BLK
Michael Min – 13 PTS, 5 AST
Arvin Flores – 6 PTS, 5 AST, 2 3PM
Dolphins:
Christian Lopez – 24 PTS, 11 REB, 4 AST
Ryan Teologo – 15 PTS, 14 REB, 3 BLK
Diallo Cruz – 16 PTS, 5 REB
Dominic Diego – 8 PTS, 5 REB, 2 STL
Team stats:
Rebounds – SJ 28, SHS 51
Field goal percentage – SJ 49%, SHS 45%
Turnovers – SJ 8, SHS 9
Free throw – SJ 9-15, SHS 2-7
PHOTO GALLERY:

QUICK HITS
Guam MTB National Championship: Edward Oingerang and Jennifer Camacho are your 2023 MTB national champions. Oingerang finished the course in 1:13:24 while Camacho won her second straight title in 54:08.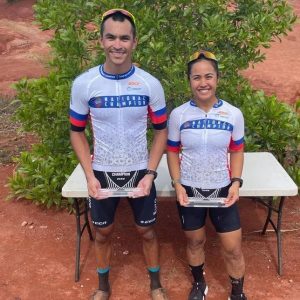 ——————————————
Kobe Miyashita, with St. John's coach Arvin Flores, was named the 2023 IIAAG Middle School Boys Volleyball MVP!