By Patrick Lujan
Sen. Tommy Morrison along with fellow senators of the 33rd Guam Legislature will be putting two bills up for public comment this week that deals with our local sports community.
Bill 039-33 will establish a sports ambassador fund to assist athletes and teams going off island to represent our island. The bill is co-authored by Sen. Tina Muna-Barnes.
Bill 003-33 will amend existing law that will evenly share the Limited Gaming Fund to three Government of Guam agencies for sports-related procurement for sports equipment and supplies. The bill is co-authored by Sens. Rory Respicio and Brant McCreadie.
Wednesday, March 11, 2015, 1:30 p.m.

:  Bill No. 039-33 (LS)
Committee on Municipal Affairs, Tourism, Housing, and Historic Preservation
Chairperson:  Senator Tina Muna-Barnes
An act to add a new Article 4, §§ 9401-9404, to Chapter 9, Division 1, Title 12, Guam Code Annotated, relative to promoting the Guam Product abroad through the establishment of a Cultural and Sports Ambassadorship Program Fund (sponsored by T.A. Morrison, T.R. Muna-Barnes) 
Thursday, March 12, 2015, 10:00 a.m.

:  Bill No. 003-33 (LS)
Committee on Committee on Finance & Taxation, General Government Operations and Youth Development
Chairperson:  Senator Michael San Nicolas
An act to amend § 5204(d) of Chapter 5, Title 11, Guam Code Annotated, relative to authorizing the procurement of sports equipment and supplies for youth and community sports program(sponsored by T.A. Morrison, R.J. Respicio, B.T. McCreadie)
ALL SPORTS FEDERATIONS, ATHLETES AND INTERESTED STAKEHOLDERS ARE ENCOURAGED TO ATTEND, TESTIFY OR JUST LISTEN AT THESE PUBLIC HEARINGS.

Foody's 5 Fun Facts
ND Royals Volleyball Setter Gabrielle Piper
DID U KNOW?
Guam National Track & Field sprinter and St. John's Cross Country/Track Star Madison Packbier is the daughter of former Track Star Tara Steffy granddaughter of GNOC's Bob Steffy.
COMING SOON …
– 1st Quarter High School Sports Kicks Off
– FIFA: Guam vs. Maldives Sept. 5
– Submit VI on Sept. 6
QUICK HITS
Former JFK All-Island lineman Christopher Parker transfers to De Anza College in Cupertino, CA. De Anza finished last season 10-1 and won the American Conference Championship Bowl. Good luck Chris!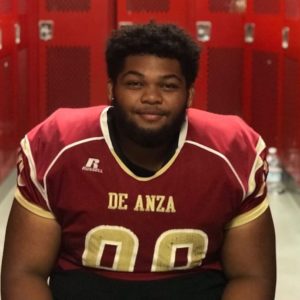 —————————————————-
Die-hard Rams fan Kenny Artero is in Hawaii to catch his beloved team play the Cowboys at Aloha Stadium in a preseason NFL game. Artero got a chance to meet Hall of Fame running back and Rams legend Eric Dickerson.