By Jay Leon Guerrero
The FD Alumni Basketball Tournament continued on Father's Day with several single elimination playoff games at played at the "Jungle". The 5-time champion class of 2006 grinded out a tough win against the "Cream Team" class of 1985 by a score 37-28. The Cream Team maintained a small lead for most of the first half until the younger class pulled away with 8 minutes left in regulation.
The Cream Team gathered the younger class before the game to down a beer before play started. The strategy worked in the first half as they led 17-15 at half time. The Cream Team played their usual intimidating defense as the younger class was unable to knock down long range shots.
Dave Quichocho and Steve Baza led the charge for '85 in the first half. Quichocho drained a 3-pointer and hit from the free throw line to score 6 points in the first half to lead all scorers.
AJ Reyes rallied the 5-time champions to tie the low scoring contest at 19-19 with 12 minutes left in regulation. Mike Sgro later hit an open three-pointer to go up 24-19, forcing '85 to call a timeout.
The offense did not stop for '06 after the timeout with Vinny Calvo hitting a baseline three-pointer with eight minutes left in regulation to go up for good 32-21.
"Our team is deeper this season, we always have 10-plus guys coming to game. We got Rob Leon Guerrero back to go along with key players Brian Aflague and Julius Yu," said Sgro.
The class of 06 is out for revenge after being denied a championship last season. "I hope we meet the class of 2013 somewhere in the playoffs, they eliminated us last year," said Sgro.
96/97 defeats 95
The rivals met in a seesaw battle that had the younger combined class win 44-42. Chris Fernandez and Eddie Pelkey led the offense for the combined class down the stretch to pull away in the final two minutes.
Fernandez found Pelkey who drove to the basket and was fouled by 95's Nate Denight to go up by four points 44-40 with less than 30 seconds remaining. Denight had an open look at a three pointer but his shot was too strong. John Cruz from '95 got the rebound and made the lay-in to cut the game to a two point deficit, but time ran out. Fernandez scored 18 points for 96/97.
99 advances with convincing 53-44 win over 00/02
The class of 99 led from start to finish as they contained Jimmy Yi and the 00/02 squad to advance to play 2006 next.
Will Valencia scored most of his 18 points in the first half as '99 built a huge lead. 00/02 got the game within 7 points in the last 2 minutes but '99 hit their free throws down the stretch to hold on for the win.
Other scores:
2008 defeats 2009, 58-49, Jason Baza 15 points
2013 defeats 2001/03, 42-30, Mike Sakazaki 10 points
2004 defeats 2005, 52-45, Will Stinnett 18 points
PHOTO GALLERY:

2022 GSPN I MÅS METGOT COMPETITION
2022 GSPN I MÅS METGOT COMPETITION
2022 GSPN I MÅS METGOT COMPETITION
2022 GSPN I MÅS METGOT COMPETITION
2022 GSPN I MÅS METGOT COMPETITION
2022 GSPN I MÅS METGOT COMPETITION
COMING SOON …
GNYFF Championship Saturday
2nd Annual Greg D. Perez Fishing Tournament on Saturday
GML Playoffs
1st Quarter Sports
QUICK HITS
Team Onslaught represented Guam at the National X-Ball League paintball tournament in Sacramento, CA. The squad finished in 3rd place out of 12 teams in the Division 5 category.
Front L-R: Frankie Borja, Robert Delos Reyes
Back L-R: Marvin Reyes, Ericka Camacho, Gavin Santos, Nick Rivera, Nikki Tan, Adrian Mora, Ralph Sgambelluri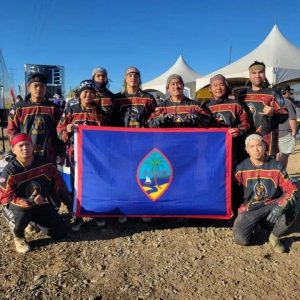 ———————————————–
Purebred Jiu-Jitsu Guam adds three more to their black belt stable. Daniel Cayanan, Cameron Mantanona and Peter Ungacta received their black belts on Saturday from Professor Stephen Roberto.