By Robert Balajadia
Tradition is a common word for Guamanians with the island built heavily on customs of old, getting a small and fine tuned update through generations. As simple a word and general a meaning, the word signifies everything about being an alumni of Father Duenas Memorial School.
For Dr. Andrew Eusebio, tradition and being an alumni of Father Duenas, Class of 1974, means more to him and his three boys every year, who have graduated with one still currently attending.
What ties the knots between them is not only their bond as a family, but their bond on the basketball court with each of the Eusebio boys blazing their own trail in the sport.
"As a dad, I've never been one to control my kids decisions in life. I always encourage them to try new things and most of the time they do. It just so happened that they grew up watching their dad play basketball and they all picked up the sport one way or another," said pops Eusebio.
Andrew Jr. Class of 2010, Cameron Class of 2012, and Brandon, soon to be class of 2016. Each of the three boys picked up the sport and each of them have displayed talent having played varsity basketball for the school that their father is so deeply involved in and passionate about.
The Eusebio family raise their kids faith strong and the incorporation of religion is just as important as academics and athletics.
Dad/Coach/Mentor
Dad has assisted in coaching for the school's junior varsity squad and has had the first hand opportunity to see his kid's games grow. Oddly enough, the boys have all developed a different skill set playing completely different styles and positions.
Andrew Jr. is a lights out shooter and has the sweeter stroke from behind the arc, resembling most his dads game.
"When it came to basketball, he has been my father, coach, and mentor. He has given us all the tools to succeed and I have been eternally grateful for all he has done because I would not be the player I am if it wasn't for him," said Andrew Jr.
Cameron is the quicker guard with the better ball handling skills and is more accustomed to creating his own chances to score.
"My dad has helped me succeed in basketball by sending me to numerous camps off island and coaching me and giving me pointers everyday," said Cam.
Brandon, the soon to be senior and tallest of the bunch, plays his game 10-feet from the basket with low post scoring and rebounding his biggest ally.
"[Dad] is a great player and coach since he has known the game for many years, I will succeed by listening to him," said the younger Brandon.
It may seem that dad would have a difficult time switching gears in all of his sons different styles of basketball, but the toughest part has instead been being able to hold back.
"You always want to see your kids succeed and be the best at what they do. It's hard being able to separate my being their father and being their coach because you tend to expect too much sometimes and you just have to be able to let them find their own way," admitted dad.
The youngest sibling is 10-year-old Drew Eusebio, a little girl who goes to the beat of her own drum. She's not quite into sports as much as her dad and older brothers, but she gives dad a different kind of 'change of pace' in being the family's little girl.
Game On
Who would win in a pick up game between all of them? Well, let's just say they have different opinions on the matter.
"Between my brothers and I, I would have to say me. I can't really speak against my dad because it would not be fair knowing the age difference between us. Probably because every time I asked them to play me one on one they would never want to challenge me. But in the end, if my dad was the same age as me right now he would probably beat me in a heartbeat," said Andrew Jr.
"I would win in a pick up game because I'm the best all around player while all of them can just shoot," said Cam confidently.
"I would only beat my Dad and lose to my brothers, it will be extremely competitive though. It will be an even match between my two brothers Andrew and Cameron, and I know I won't be the last because my Dad will be," laughed Brandon.
"I'd probably be able to get them in a game of H-O-R-S-E, but one-on-one all of my kids would be able to beat me. I was able to do way more when I was younger, but my boys are too quick for me," said dad.
Andrew Jr. is also following in dads footsteps in wanting to be a dentist and is finishing up his senior year of college at UNLV, Cam is pursuing a degree in business at UOG, and Brandon wants to get into engineering.
A Different Father's Day
For the first time ever a Father's Day will pass and the Eusebio family will be without an important member, Vincent Eusebio, father of Dr. Andrew and grandfather to the three boys and little sister. Vincent passed away late May and the family is still working through their loss, their first death in their small family.
"It has left a big void in me," admitted Andrew. "It's been difficult so this Fathers Day will be a little more somber since he's not going to be around. But every Fathers Day is always going to be a great Fathers Day because of my kids. You always want to express your love and you always want your kids to be around you and that's what always makes Fathers Day special. We'll get together, we'll shoot hoops, and it's always just a special day."
Fathers Day in 2015 falls right in the thick of the FD Alumni Basketball playoffs, a tournament held every year over summer for the alumni of the school. Each graduating class gets together and enters in the tourney as a team and competes against each other with good food, beverages, and basketball on tap for three straight weeks.
It's an event like no other on Guam and the Eusebio boys will all soon be alumni and playing as a part of the school that their father has given so much to. As for this particular Fathers Day Sunday, the boys will be in attendance expect for Andrew Jr., who had to leave back to college to finish schooling.
Being able to see all his boys graduate from the school he loves whole heartedly while playing the sport that he too loves is almost indescribable. The best part of it all? The journey.
"FD is very special to me and the fact that I've been able to not just help my kids but other kids as well. When you have kids come up to you and thank you for everything you've done for them you feel like you've done a good job. Being a part of the FD family has given me the opportunity to set the table for my boys and to use it as a vehicle to guide my boys. I'm so grateful that there have been quality people like Father Jeff, Tony Thompson, Eddie Pelkey, Jimmy Yi, to Chris Fernandez that my boys can look up to aside from their dad."
Special Shoutout
A Father's Day isn't quite a Father's Day without a special greeting from those who give you the right to celebrate the day. For Dr. Andrew Eusebio, the boys wanted to let their pops know just how much they appreciate him.
"I know this Father's Day is going to be an extremely painful one for you knowing you recently don't not have your father, grandpa, anymore, but just know dad that I love you and I will always be there for you. Thank you for being the best and almost perfect dad you can be to your kids and myself. You are the main father figure that I want to be exactly like when I have kids of my own in the near future. Just remember, anyone can be a father, but not everyone can be a dad, especially as perfect as you Happy Father's Day Dad!! I love you so much!!" – Andrew Jr.
"Happy Father's Day dad. I love you very much. Without you I don't know where I would be in life. Love you dad." – Cameron
"I wish my Dad the greatest Father's Day ever because he is the man who has helped me succeed on and off the court. I am proud for how my Dad is raising me to be a good Christian citizen. HAPPY FATHER'S DAY DAD! I LOVE YOU!" – Brandon

QUICK HITS
Guam MTB National Championship: Edward Oingerang and Jennifer Camacho are your 2023 MTB national champions. Oingerang finished the course in 1:13:24 while Camacho won her second straight title in 54:08.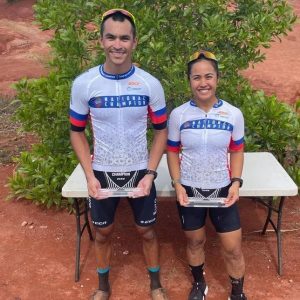 ——————————————
Kobe Miyashita, with St. John's coach Arvin Flores, was named the 2023 IIAAG Middle School Boys Volleyball MVP!