By John Baza
In a night that included match ups with familiar foes and old rivalries, the "jungle" was packed with fans eager to watch the first few games of the alumni tournament playoffs.
1975 – 25, 1984 – 24
Kicking it off with the first game of the night was one of the tourney's older teams going up against their opponents who were 9 years younger than them! The class of 75 wasted no time as they controlled the tempo of the game and built a comfortable lead by half time. It wasn't until the last 4 minutes that 84's Francis Diaz sparked an 11-2 run to tie the game at 24-all. As they went into a classic shoutout, 4 shooters had already cycled through until 75's Jim Espaldon hit the lone 3 pointer to win the game.
1989 – 41, 1988 – 21
In a classic rivalry game, the two classes had a keg on the line for who ever would win the game. An early surge led by 88's Dana Lujan helped his team to go up 16-9 at the half. 88 continued to roll on as they had a balanced night, furthering their lead and walking away comfortably with the playoff win.
1985 – 37, 1987 – 38
Another rivalry game ensued with the class of 85 "Cream Team" going against AD7, 87 would start off hot as Tim Leddy opened up with 5 points and a steal within the first minute. Action during the game was physical and tight, with 85 holding a slim 20-15 lead by halftime. 85's Steve "air-zori" Baza and Dave Quichocho held off a late surge from AD7 to hold on for the win.
2005 – 49, 1991/98 – 36
The tournament host class defeated a tough 91/98 squad with Neil Espinal leading the way for 05 with 14 points
PHOTO GALLERY:

QUICK HITS
Guam MTB National Championship: Edward Oingerang and Jennifer Camacho are your 2023 MTB national champions. Oingerang finished the course in 1:13:24 while Camacho won her second straight title in 54:08.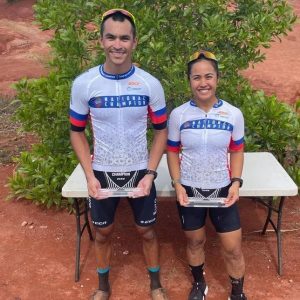 ——————————————
Kobe Miyashita, with St. John's coach Arvin Flores, was named the 2023 IIAAG Middle School Boys Volleyball MVP!