By John Baza
In a night that included match ups with familiar foes and old rivalries, the "jungle" was packed with fans eager to watch the first few games of the alumni tournament playoffs.
1975 – 25, 1984 – 24
Kicking it off with the first game of the night was one of the tourney's older teams going up against their opponents who were 9 years younger than them! The class of 75 wasted no time as they controlled the tempo of the game and built a comfortable lead by half time. It wasn't until the last 4 minutes that 84's Francis Diaz sparked an 11-2 run to tie the game at 24-all. As they went into a classic shoutout, 4 shooters had already cycled through until 75's Jim Espaldon hit the lone 3 pointer to win the game.
1989 – 41, 1988 – 21
In a classic rivalry game, the two classes had a keg on the line for who ever would win the game. An early surge led by 88's Dana Lujan helped his team to go up 16-9 at the half. 88 continued to roll on as they had a balanced night, furthering their lead and walking away comfortably with the playoff win.
1985 – 37, 1987 – 38
Another rivalry game ensued with the class of 85 "Cream Team" going against AD7, 87 would start off hot as Tim Leddy opened up with 5 points and a steal within the first minute. Action during the game was physical and tight, with 85 holding a slim 20-15 lead by halftime. 85's Steve "air-zori" Baza and Dave Quichocho held off a late surge from AD7 to hold on for the win.
2005 – 49, 1991/98 – 36
The tournament host class defeated a tough 91/98 squad with Neil Espinal leading the way for 05 with 14 points
PHOTO GALLERY:

Foody's 5 Fun Facts
Harvest Eagle Trinity Terlaje
DID U KNOW?
After winning the title with ND in 2019, Tiyan Titan head coach Conrad Kerber has the Lady Titans sitting at 2nd place in the league with one week left in the season, the highest placement the Titans have ever been.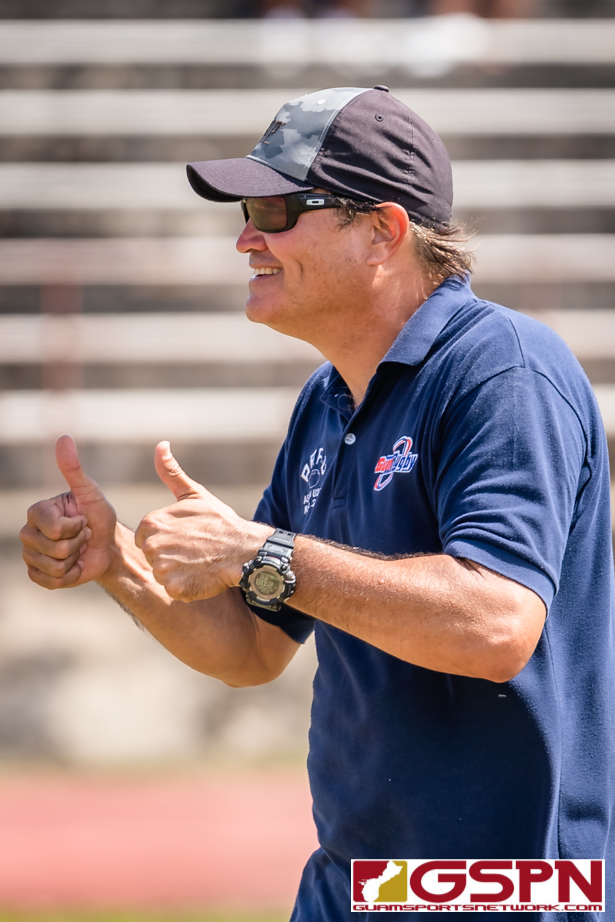 COMING SOON …
– Zach and Larry Return to Guam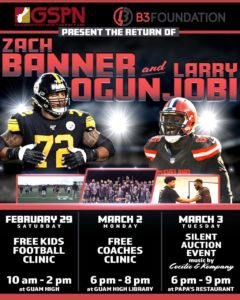 Brawl MMA March 13
QUICK HITS
One FC champion Brandon Vera and ambassador Miesha Tate visited the troops on Guam during a USO Tour.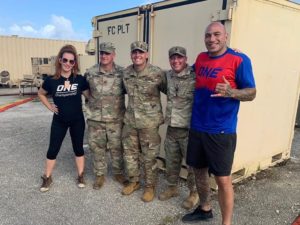 —————————————————-
190 runners took part in the 48th Hafa Marathon (half marathon).
Here are the top 5 finishers:
Ryan Matienzzo 1:13:17
Kris Lawrence 1:24:12
Taiga Sato 1:25:05
Chris Rasmussen 1:26:48
Carlos Leon Guerrero 1:28:46