[useful_banner_manager_banner_rotation banners=72,74,79 interval=10 width=120- height=600 orderby=rand]
By Jay Leon Guerrero
The FD Friars are another step closer to a perfect season after winning their dual meets yesterday over the Guam High Panthers (74-6) and the Okkodo Bulldogs (55-15) in the IIAAG Boys Wrestling league. The Friars are focused and determined to win the All-Island title after finishing third last year.
The Friars, who have more than enough wrestlers to fill each weight class, want to win the regular season title to clinch the rights to host the All-Island tournament. According to FD head coach Terry Debold, the boys regular season champion will have the rights to host the All-Island finale next month.
FD had yet another dominating performance at the Okkodo gym Saturday morning. The Friars remain the only undefeated team in the league with several potential all-island gold medallists in coach Debold's lineup. The female Friars, with wrestlers from Academy and ND, lost their meet against the Panthers and Bulldogs forfeiting a majority of their matches.
The Panther boys had a rough time on the mats Saturday, losing their second meet to the host Bulldogs and drop to 1-7 for the season. The score for the Sanchez vs. Okkodo meet was unavailable as of press time.
The Friars looked flawless at the Okkodo gym, winning all but one match against the Panthers. Nate Williams (170 lbs) scored the lone pin victory for the Panthers against the Friars. Ranie Ubaldo (132 lbs), Joshua Tenorio (160 lbs), Noah Taitano (182 lbs), Sean McManus (195 lbs), Noah Flores (220 lbs) and Derrick Artero (285 lbs) each secured pin victories for the Friars.
Home court advantage
"We want to keep up the good performance to win the regular season pennant but we will be heavily tested next week against the GW Geckos and the JFK Islanders", said Debold. The Friars will he put to the text next week as they face two tough opponents in the same day.
Leading the Friars is undefeated captain Cyril Maravilla (132 lbs). Maravilla has been bumped up in weight to help his team for more than half the season and is eager to finish off the season with a championship. "I'm doing fine but I'm really looking forward to seeing my teammates succeed more than I do," said a humble Maravilla.
"We want to win the regular season and host the all-island at the Phoenix Center because that's our place and there are small benefits to wrestling at home. Our parents and friends will be there; we know where to rest (in between matches) and we are accustomed to the area," said Maravilla on the importance of hosting the All-Island.
"It's going to be challenging next week but we are not going to hold back in practice when we go live against each other and put 100 percent into everything," said Alfred Bordallo (182 lbs). Bordallo lost a close decision (7-6) against his opponent from Okkodo, but he will bounce back and look to contribute against the Geckos and Islanders next week. "It's going to be our toughest matchup of the season, we all just have to go in their with the mentality that we can do it".
Sean McManus (195 lbs) won both his matches at the dual meet. He said his team needs to keep the momentum flowing and also improve with every meet and practice session. "We just have keep our pace and keep improving before the all-island which is our ultimate goal". McManus weighed in at 183 lbs but wrestles at 195 lbs to fill in for vacant classes. The Friars are stacked with 32 wrestlers, most of which weigh less than 152 lbs.
Lenny Calvo (145 lbs) won his match against his opponent via majority decision. "It will be a good challenge next week when we face two tough teams with really good wrestlers," said Calvo. Calvo suffered an injury last season and is eager to get to the medal podium this season. He wrestled one match Saturday and won via majority decision 18-6 against Okkodo.
Cruz added to coaching staff
"I'd like to attribute our success to coaches Terry Debold, John Lizama and new coach Jose Cruz III. Together they worked hard to bring our program to a success along with our supporters and parents," said Calvo.
Joining the FD coaching staff is Cruz who won the NAIA national title in the 184-lb. weight class as a senior at Embry-Riddle Aeronautical University earlier this year. Debold reached out to Cruz via Facebook to assist the team. "We actually all meet at a summer wrestling camp last year with alumni Micah Lopez. When I came back, I wanted to be involved in wrestling whether it be at Spike 22 or helping out with high school," said Cruz. Cruz was more than happy to accept the offer from Debold.
"It's been really fun watching them come from so far. Id frequently see the kids in the beginning trying for just half nelsons or just falling over trying to throw head locks. Now, you see them trying to hit tilts, getting cradles or hitting a granby… They are doing moves that will further progress them in the sport," said Cruz.
PHOTO GALLERY BROUGHT TO YOU BY:

QUICK HITS
Guam MTB National Championship: Edward Oingerang and Jennifer Camacho are your 2023 MTB national champions. Oingerang finished the course in 1:13:24 while Camacho won her second straight title in 54:08.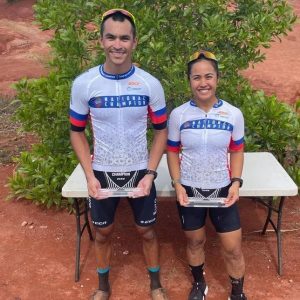 ——————————————
Kobe Miyashita, with St. John's coach Arvin Flores, was named the 2023 IIAAG Middle School Boys Volleyball MVP!