By Robert Balajadia
In a letter written on July 20 by Guam National Olympic Committee Attorney G. Patrick Civille, GSPN has been given the order to cease and desist any usage of the GNOC logo and Pacific Games logo.
It is the first time any sports organization has imposed such an order on GSPN.
"It saddens me that the GNOC has taken this this far," GSPN owner Patrick Lujan said. "The GNOC President doesn't want to comment on any issues, grant any interviews to GSPN, provide any information and once we opinionate our thoughts, he comes back with a legal scare.
"We have been ordered to take down all GNOC and Pacific Games logos from our site," Lujan added. "We used it as an identifier for the stories, which were hard to get, and it's for our athletes' purpose. We have used logos from PXC, IIAAG and other sports federations and not one of them ordered us not to use them. In fact, it only helps promote those respective sports organizations."
According to Lujan, GSPN also received a 'rebuttal' to his opinion write-up on the GNOC, which has received tremendous support from the community on social media. The story had generated over 1500 likes on Facebook alone.
"I've reviewed the rebuttal from the GNOC attorney and there are valid points," Lujan said. "My question is, why isn't that information provided by the GNOC to the public and why is it only coming out when an editorial is made? When no information is provided, you leave the public wondering. The truly sad part of this is that there are so many stories on the street about improprieties that I hope are not true."
Lujan said that since GNOC has now gone through an attorney, he has been forced to do the same. GSPN has acquired the legal services of Attorney Peter R. Sgro.

2022 GSPN I MÅS METGOT COMPETITION
I Mås Metgot Athlete Spotlight: April Flores
2022 GSPN I MÅS METGOT COMPETITION
I Mås Metgot Athlete Spotlight: April Flores
2022 GSPN I MÅS METGOT COMPETITION
I Mås Metgot Athlete Spotlight: April Flores
QUICK HITS
Guam boys Kekoa Toves and Matias Calvo went head-to-head on the rugby pitch as American International College took on Dartmouth College, both top-ranked men's rugby programs in the country.
Calvo (FD) is the captain of Dartmouth and scored, but Toves (Sanchez) and his AIC squad came away with the win in Springfield, Mass.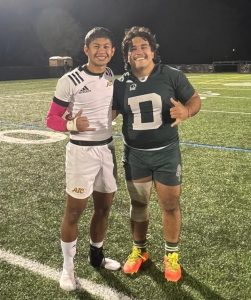 ———————————————–
1LT Belizabeth Nicole V. Rengiil is known to be the first female from Guam and Palau to make the All-Army Women's Rugby Team. She is an active duty Signal Officer with the US Army and is stationed at Joint Base Lewis-McChord in Washington.
Her team won the Armed Forces Women's Rugby Championship with a 4-0 record.
Belizabeth is the daughter of Edwin and Juliana Rengiil with siblings Johanna and Edwin-Isaiah Rengiil from Mangilao.