[useful_banner_manager_banner_rotation banners=72,74 interval=10 width=120- height=600 orderby=rand]
By Jay Leon Guerrero
It's mid-season for the Golden Hoops Classic Co-Ed basketball league and teams are battling for good playoff seeding heading into their double elimination playoff brackets scheduled for next month.
After dropping their first game to the top-seeded team Ambros, the Thunder bounced back and defeated JMI Edison I in their second game 51-38 to remain in 3rd place out of 12 teams in the league.
Joshua McCarrel earned the Wendy's Player of the Game honors scoring 19 points, most of which were in the paint, to hold off the smaller JMI Edison I squad. Joshua's brother, Jeremy McCarrel, also contributed in the second half; grabbing offensive rebounds and scoring in the paint to help the Thunder pull away with 4 minutes left in regulation.
JMI Edison had no answer inside, but guards (and cousins) George Ilao and Alschae Grape did most of their scoring. The cousins scored 32 of JMI's 38 points in the contest.
Grape, a sophomore sensation from JFK high school, cut the Thunder lead to a bucket after he hit a short jumper to trail 18-16 with 7 minutes left in the first half. The Thunder closed out the half with a huge run, out scoring JMI 14-2 to close out the half leading 32-18 by the break.
Tanya Flores from the Thunder was instrumental during the run, hitting a pair of three-pointers. Flores found herself wide open after the JMI Edison defenders were focused on protecting the paint.
The Thunder maintained a double digit lead in the second half, using their size to score. Joshua and Jeremy took turns scoring to go up by as much as 15 points with 14 minutes left in regulation.
JMI's Ian Inocencio and Grape sparked a comeback, utilizing their speed to go on a 4-0 run to trim the lead to 40-29. But size mattered in this particular game with the Thunder getting second and occasional third chance opportunities to score off the offensive rebounds to hold on for the win.
Grape led all scorers with 25 points, Ilao chipped in 7 points for the winless JMI Edison I team. Joshua McCarrell had 19 points, Skyler Benavente scored 8 points for the Thunder.
Elegant Reflections splits games against Bank of Guam teams
The Elegant Reflections Sticky Bandits also played a double header, defeating the Bank of Guam Ifit team 75-34. Brianna Benito from Elegant Reflections led all scorers with 18 points.
Ricky Hernandez scored 16, brother-sister duo Dustin and Derin Santos each scored 12 points for Elegant. Joseph Gumataotao scored 14 points to lead BOG Ifit, Joanne Gogue scored 12, Nicolas Camacho scored 9 points.
In the second game, BOG Express avenged the loss handed to BOG Ifit, defeating Elegant Reflections 59-53. BOG Express held a double digit lead in the second half and held off a late run by Elegant to improve to 5-1 for the season, and is currently in 2nd place.
The leagues leading scorer Symon Madrazo from BOG Express scored 23 points to lead all scorers. Sharp shooter Glen Gogue drained four 3-pointers for 12 points, Conrad Berg scored 11 points.
Elegant Reflections' April 'Speedy' Talledo scored 11 points, Chris Ueki chipped in 9 points. Elegant left the Tamuning gym with a 2-3 record with 9 games remaining.
PHOTO GALLERY BROUGHT TO YOU BY:

QUICK HITS
3rd place: Big ups to the Para Todu Rugby Club for finishing 3rd out of 16 teams in the Manila 10's Rugby Tournament today. Biba Guam Rugby!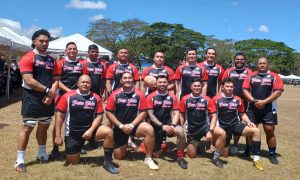 ——————————————
Guam MTB National Championship: Edward Oingerang and Jennifer Camacho are your 2023 MTB national champions. Oingerang finished the course in 1:13:24 while Camacho won her second straight title in 54:08.