2015 was a big year in Guam sports. In a year where Guam athletes represented the island on a national level, where gold medals were won at the Pacific Games in Papua New Guinea, and even some professional athletes and sports legends visited the island making up a memorable 2015. GSPN takes a recap of the year and compiled a Top-10 story list based on website reads, social media interactions, and impact to the Guam sports community. Each of the Top 10 will be featured on a day-by-day countdown as we ring in the new year, 2016! Today, we reveal #1!
The end of a 36-year drought in a Pacific Games Gold Basketball medal was the top story of 2015. The game was broadcasted online so the island was able to witness Guam's whopping 78-61 victory over Fiji to reclaim basketball glory. Former Guam resident and professional basketball player Tai Wesley anchored the team on both fronts and Guam's success in the games played a big part in the island's newest professional ballers in Willie Stinnett and Joe Blas. Blas, Stinnett Go New Zealand Pro Most Outstanding of Pacific Games
——————————————
Guam's two professional UFC fighters Jon Tuck and Jon Delos Reyes made onto the same card in May, the UFC's first ever event in Manila. Not only did they show up and represent, they accomplished the biggest wins of their young fight career. Delos Reyes picked up his first UFC win and also cashed in a huge 'Fight of the Night' Honors against Roldan Sangcha-an while Tuck briefly displayed some new techniques before quickly submitting his opponent Tae Hyun Bang. That same weekend, Guam's Baby Joe Taimanglo earned a vicious KO victory in his Bellator match. EVERYTHING UFC MANILA
——————————————
Not many outside of Guam believed the island could win a single World Cup Qualifier match, but a quick 2-0 start in Group-D put the rest of the world on notice. The first WCQ played in front of the home crowd had the Matao finishing with a 2-1 win over India. A few days later, Guam battled to a 1-0 win over Turkmenistan to give Guam the (2-0) WCQ start. Guam would later fall to a (2-1-4) record, but the wins did grant Guam it's highest FIFA ranking ever at #146.
——————————————
Guam's Jose Rapolla Cruz III, a Santa Rita Native, won the 2015 NAIA National Title at 184-lbs in March as a part of the Embry-Riddle Aeronautical University. 'JCIII' was dubbed as the first National Champion from Guam and GSPN CEO Patrick Lujan caught up with the champ post fight.
——————————————
GSPN CEO Patrick Lujan produced the most talked about sports editorial in the short history of GSPN after the Guam National Olympic Committee had placed a 'Media Ban' during the 2015 Pacific Games on athletes that prohibited them from sharing information to media outside of PDN, their lone media sponsor. After years of being left in the dark from GNOC, Lujan finally voiced out his opinion on the matter which sparked an overwhelming support from the local community and their too displeasure with GNOC. It resulted in legal threats from the GNOC to GSPN.
——————————————
The legendary Royce Gracie was only on Guam for five short days, but his impact on the island's jiu-jitsu community and fans alike was tremendous. Gracie was brought in by GSPN and the local community couldn't hold back by wanting to take photos, get autographs, or even just meet the most accomplished Gracie. Over the summer, Guam also got a visit from two professional NBA players in JR Smith and Gerald Green who joined Cleveland Cavaliers assistant coach Phil Handy for youth clinics. The most exciting part of their visit was an exhibition game they played against Guam's judicial system ballers, including now pro William Stinnett. NBA Ballers Exhibition Game Coach Phil Handy Clinic Kids Jiu-jitsu Tournament The Humble Royce Gracie
——————————————
Guam's Olympian Benji Schulte didn't leave the 2015 Pacific Games in Papua New Guinea empty handed winning a gold medal in the 400m Individual Medley after winning silver in his strongest category in the 100m breast stroke. Schulte is also preparing for a 2016 Olympic appearance after representing Guam in 2012.
——————————————
A local travel agent by the name of Frances Quinata threw the Guam Girls Softball team 2015's biggest curveball after failing to book the teams flight to the 2015 Little League World Series even after they had already handed over $51,000 to Quinata for the travel arrangements. The Little League stepped in to save the day by paying for Guam's way to compete despite the biggest sports scandal of 2015.
——————————————
USC Trojan Zach Banner threw up his Guam flag after a win over Arkansas State on his Instagram account in honor of his late grandfather and the support from the local community was astounding. Banner made it to the 1st Team Pac-12 and will be returning to USC for his final year of college. With a promising final year at USC, Banner could very well be on his way to becoming the first ever Chamorro to play in the NFL. Banner Honors Grandfather Banner Makes 1st Team Pac-12
——————————————
GSPN and Wendy's hosted the islands first ever All-Star Basketball Game in 2015 which turned out to be a huge success. The top two coaches of the season drafted the leagues best players and put together an entertaining two-hour event. The success of the Basketball All-Star Game sparked the islands first ever GSPN and Triple J All-Star Football Game in the same year. The teams were decided by the All-Island listing and the coaching staff from all eight teams made up the rest. With the success of the two events, the players and fans are already anticipating future events! All-Star Football – All Star Football VIDEO All-Star Basketball – All Star Basketball VIDEO

QUICK HITS
3rd place: Big ups to the Para Todu Rugby Club for finishing 3rd out of 16 teams in the Manila 10's Rugby Tournament today. Biba Guam Rugby!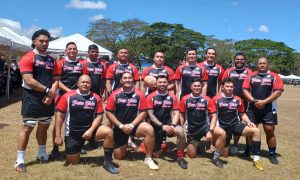 ——————————————
Guam MTB National Championship: Edward Oingerang and Jennifer Camacho are your 2023 MTB national champions. Oingerang finished the course in 1:13:24 while Camacho won her second straight title in 54:08.