Press Release – Guam International Raceway Motorcycle and Atv Corporation (GIRMAC)
2015 Guam New Years Motocross
This past Sunday Guam's motocross racers and fans were back out at the Guam International Raceway for a very special event the Gary Camacho Motocross Tribute. Gary, who was an avid motocross racer and was loved and admired by fans and by his fellow racers, had lost his life in a tragic accident just after midnight this past New Years Eve.
Riders both young old came out to participate in this very special event with a large turnout of both riders, friends, and family in support. Just before the start of the racing a large contingent of riders wearing blue #88 Gary Camacho t-shirts went on a parade lap around the GIR motocross track. The parade lap was held in tribute and memory of Gary with Gary's own children riding dirt bikes and driving a Utv leading the way around the GIR motocross course. With clear skies, cool breezes, and the smell of barbeque in the air it was a fantastic day of motocross all in memory and in tribute for a rider, husband and a father for whom all of our local motocross enthusiasts will most surely not ever forget.
Highlights
The youngest riders were first to hit the course on their 50cc mini bikes. In heat one of two Tommy King took the win aboard a Yamaha. Taking second was Mariana Wenden also on a Yamaha with brother #31 Richard Wenden taking third. In heat two it was Richard Wenden with the win followed by Trent King in second and with Mariana taking third. Overall Richard Wenden took the 50cc win with Mariana in Second and Trent and Tommy King tied for third.
Up next were the Open Mini bike kids where #2 Stoney Bucek aboard the Cycles Plus Kawasaki took the heat one win with #25 Ethan Turo in second and #1 Sasha Song in third. In the second heat it was all Ethan Turo in the lead leaving a pack of racers #11 Blaze Aiken, #1 Sasha Song and #2 Stoney Bucek to fight it out for second. The trio battling for second went back and forth with Bucek eventually taking the position for good in the closing laps of the heat. Third went to Blaze Aiken with Song taking a fourth. Overall it was Ethan Turo taking the Open Mini bike win aboard his Kawasaki with Bucek taking second and Aikens in third.
Other mini bike results
In the 65cc class Phillips and Sons supported #31 Robert Encina took the win with #76 Deven Encina also supported by Phillips and Sons in second and Laurence Limtiaco in third. All three were on Kawasaki machines.
In the 85cc class #2 Stoney Bucek on the Cycles Plus Kawasaki took the win over #75 Owen Rios in second on his Autoworks supported Kawasaki with #5 Jordan Leon Guerrero placing third on his Kawasaki.
In the 150cc mini bike class #25 Ethan Turo on is Kawasaki took the win with #11 Blaze Aiken on a Honda taking second and #1 Sasha Song placing third on his Honda.
Open Motorcycle class highlights
#1 JR Cepeda on his Cycles Plus Kawasaki is in a class all by himself as he took off from the start and simply left all the other riders behind, way behind! JR easily took the win with #57 Kim Aiken taking second aboard his Kawasaki and #75 Jeff Rios on his Autoworks supported Yamaha in third.
In the Over 40 Vet class #57 Kim Aiken took the win on his Kawasaki with #75 Jeff Rios in second on the Autoworks supported Yamaha. In third was #100 Steve Turo on his Kawasaki with #768 James Gallagher in fourth on his Yamaha.
In the 450cc motorcycle class #75 Jeff Rios on the Autoworks supported Yamaha took the win with #768 James Gallagher on a Yamaha in second and Kawasaki mounted Larry Limtiaco taking third.
In the 250cc motorcycle class #1 JR Cepeda on the Cycles Plus Kawasaki took the win. Taking second was #57 Kim Aiken on a Kawasaki followed by #100 Steve Turo on another Kawasaki in third.
Next up for Guam's motocross racers will be an event on Sunday February 8th in Yigo. For more information visit www.GuamRaceway.com or contact GIRMAC president Rob Bucek at [email protected]

QUICK HITS
3rd place: Big ups to the Para Todu Rugby Club for finishing 3rd out of 16 teams in the Manila 10's Rugby Tournament today. Biba Guam Rugby!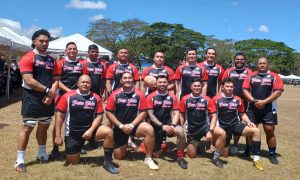 ——————————————
Guam MTB National Championship: Edward Oingerang and Jennifer Camacho are your 2023 MTB national champions. Oingerang finished the course in 1:13:24 while Camacho won her second straight title in 54:08.