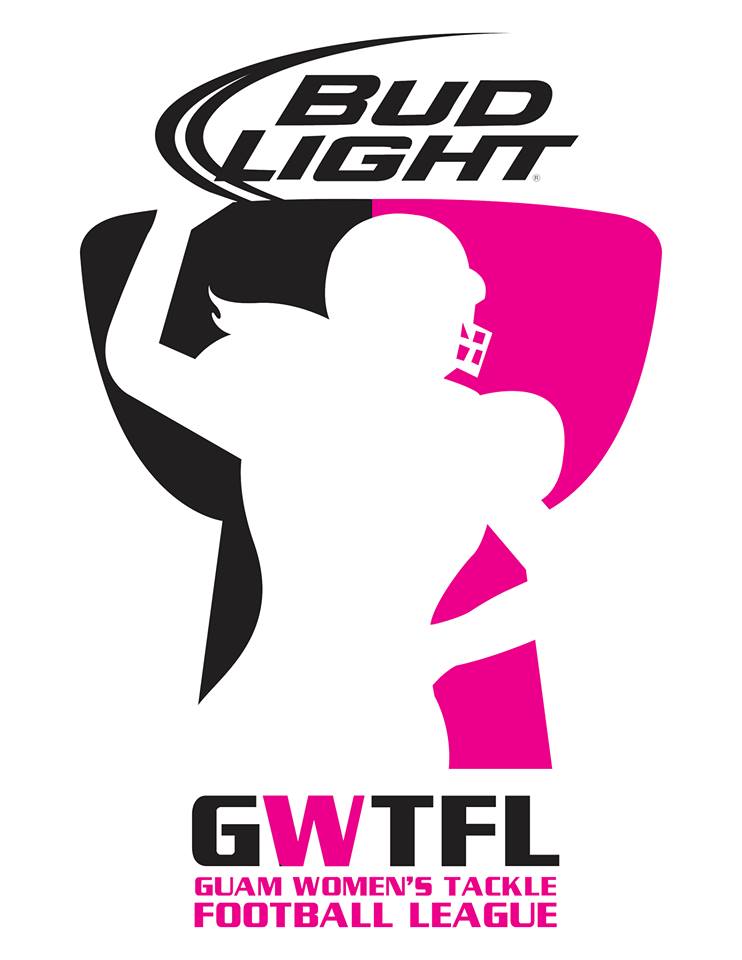 PRESS RELEASE – Hagåtña, Guam-The Bud Light Guam Women's Tackle Football League (GWTFL) proudly announces its exhibition game partnership with the Japan Blazecats, an all-female, full-tackle football team from Osaka and Tokyo, Japan.
Together, they will host the 1st annual Pacific Rim Sun Bowl, Sunday, July 19th at 3:00 p.m. where these fierce females will go head-to-head in an 8-man official game. An 11-man exhibition game comprising of the Japan Blazecats and the 2015 GWTFL's All-Star Players will go up against the 2015 GWTFL Latte Stone Bowl Champions, Team Legacy, at 4:30 p.m. Both games will be at the Guam Raiders Field, Tiyan.
Football fans, family, and friends are invited to join the GTWFL and the Japan Blazecats for the Pacific Rim Sun Bowl to witness a high-level of energy and love of the game.
The Bud Light GWTFL, who just finished its fourth season, is excited and thrilled at the prospect of yet another opportunity to play with an international team. "It is wonderful to see that the interest in female full-tackle football is growing and that the GWTFL and its teams are gaining international recognition," said Vanessa Losongco, Public Relations Officer, of the Bud Light GWTFL.
"We'd like to thank the Guam Raiders Football Association for allowing us to use their field for this event. It is essential that we as football lovers work together to grow the sport, both locally and internationally," said Linda Salas, president of the Bud Light GWTFL.
"I'd also like to recognize Ambros for their continued commitment to the league and the sport. We thank them for their generosity and support."
The Tiyan gates open at 12 p.m. $2 entrance fee per person or a $5 fee for vehicles with three or more people. For more information, please call 685-5302 or 788-3856.
JAPAN BLAZECATS lineup: COACHES: ZIN YOSHIDA(Tokyo Blaze), YOSHIYUKI YAMADA(Wildcats), STAFF: CHIKA YAMADA(Wildcats), MAI HORISAWA(Tokyo Blaze) and YOSHIMI NAKAMURA(Tokyo Blaze). Players: WILDCATS (ATSUKO TAKASAKI, YOSHIKO NAKAO, SADAMI IWAMURA, AKI NAKANO, MIHO GOTO, YOSHIKO TAKAHASHI) and TOKYO BLAZE (ANNA TAKAYAMA, KEIKO SUGIYAMA, HARUKA USHIYAMA and EMI KANETAKA.
STEEL BLAZERS lineup: COACHES: IGNACIO MENO AND CHRIS MENO. Players: TJ RODRIGUES, CASSANDRA TAJALLE, SHARAE FEJERAN, TIA TAITINGFONG, JERRICA TAITINGFONG, PATRICIA MARTINEZ, ROSE CHACHI FRANCISCO, SHELLIEANN HOCOG, ANGIE PRICE, LYCIA MENO, LUCY ANGELES, MEL MANGLONA, TABITHA REYES, AND DEE CABRERA.
EXHIBITION GAME: 4:30 p.m. (Japan Blazecats/Guam All-Star vs. Team Legacy)
ALL-STAR TEAM lineup include: OFFENSE: Jennifer Andrews, Brandi Potter, Kimberlyn Tupaz, Carmen Untalan, Christine Deleon, Tricia Taimanglo, Rose Ann (Chachi) Francisco, Vanessa Camacho, Constance Hargrove, Gia Righetti, Shawna Mailloux, T.J. Rodrigues, Kayla Bero, Latoya Mojica, Nikki Guerrero, Athena Mccarrel, Charmaine Quidachay, Celynn Aguon, Raylyn Brub, Cassandra Tajalle, Tomisha Roberto and Irish Iriarte.
DEFENSE: Nikki Perez, Jessica Sayco, Lynn Asanoma, Chelsea Guevara, Irish Iriarte, Vanity Palomo, Maylani Chaco, Therese Diaz, Kayla Bero, Lyn Fernandez, Jessica Concepcion, Akesa Lee, Nadine Perez, Dee Lynn Cabrera, Mel Manglona, TrinaJae Apatang, Adrianna Cruz-Aguon, Jessica Taitague, Danyelle Saboy, and Alyssa Meno.
TEAM LEGACY "LATTE STONE BOWL CHAMPIONS" lineup: COACHES: Joaquin Salas, Frank Rosario, Earl Aquai, Jess Untalan, Gene Taitano, Jim Naholowaa, John Roberto, Mark Mesngon, and Oscar Santos.
Legacy Lineup: Olivia Flores, Dana Benavente, Kineshia Flores, Ianna Mariano, Morgan Reyes, Monique Bordallo, Ewy Malaca, Joyce Borja, Shawnel Castro, Cerena Camacho, Kaylani Plain Cruz, Lorraine Santos, Lynda Hiton- Santos, Corina Blas, Jackie Taitano, Frankie Jo Rosario, Freda Arii, Taylor Taitano, Kia Cepeda, Geraldine (Geri) Salas, Angelica Roberto, Gina Fejerang, Tiara Salas, Angelina (Bubba) Simpson, Anisha Pangelinan, Elsie Wilson, Daphne Cepeda, Chris Cano, Myra Castro, Lucy Johnson and Kaylani Martinez.

QUICK HITS
3rd place: Big ups to the Para Todu Rugby Club for finishing 3rd out of 16 teams in the Manila 10's Rugby Tournament today. Biba Guam Rugby!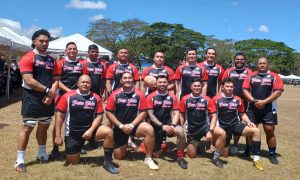 ——————————————
Guam MTB National Championship: Edward Oingerang and Jennifer Camacho are your 2023 MTB national champions. Oingerang finished the course in 1:13:24 while Camacho won her second straight title in 54:08.